It's that time of the year that I can dress like actual tinsel, and nobody will bat an eye! Party season is now in full swing, and as it only comes once a year, finding the best outfits to wear is a must.
I only wear glitter and sequins this time of year so I tend to go all out, so when my friend hosted Friendsgiving this year, I jumped at the chance to wear this H&M glittery jumper and matching mini skirt. The jumper is so fluffy and warm – I was so surprised as it wasn't itchy at all. The matching skirt has an elasticated waist which is perfect to hide my bloat after I ate so much food! I was obsessed with the cheeky little slit at the front of the skirt, too – it added some subtle sexiness.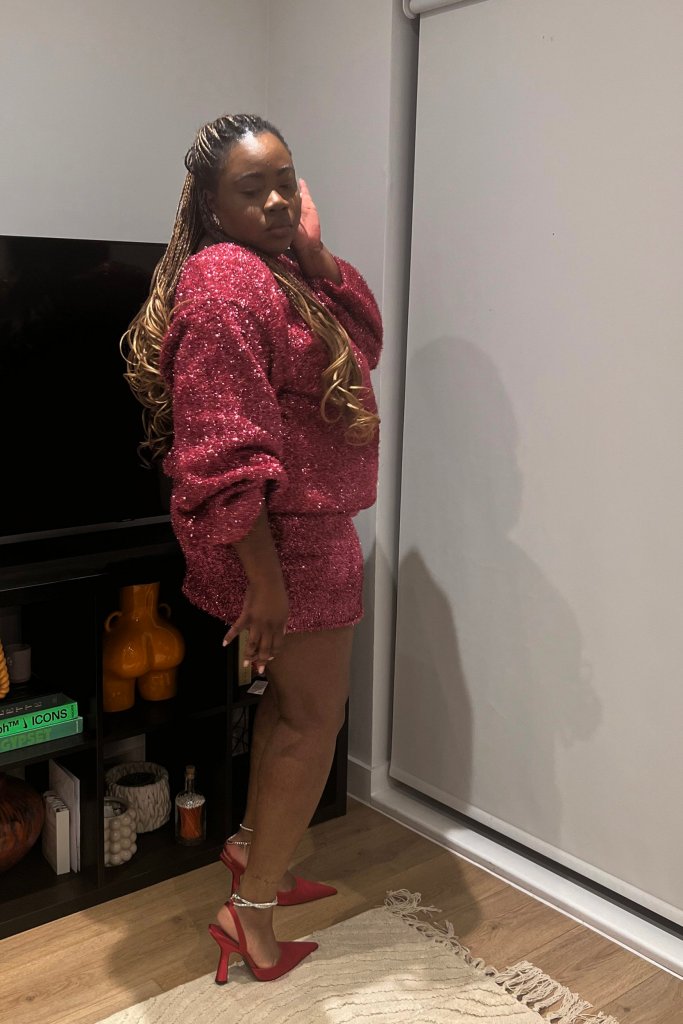 I paired it with these satin pink court shoes; I loved the fact the heels were decorated with a detachable rhinestone chain. To finish off the look (and to match my heels), I wore these pretty dangly rhinestone earrings. This was a last-minute outfit but I love that you can get an entire affordable look from the high street for less than £100 – it's very rare these days! H&M, you saved the day.
Last week was a hectic week for me but I managed to squeeze in a few things worth shouting about. I visited the Kai Collective sample sale – if you haven't heard of the brand then you must be living under a rock. Kai Collective is a contemporary, luxury London-based fashion brand founded by Fisayo Longe, I can bet you've spotted one of her designs on Instagram. I own several Kai collective dresses and their robes, so I had to pay a visit to the sample sale and pick up some bits for my upcoming holiday.
One of the pieces I'm so excited to wear is a metallic corset which was half the price. I couldn't get my hands on the matching trousers, but it might secretly be a blessing because I really don't need any more co-ords. Even though the sample sale has come to an end, Kai is a brand you should all check out – I love their campaign imagery, am obsessed with their founder Fisayo and any brand that's creating clothes for people of all sizes gets my money straight away.
Next week I'm heading to Eliza's launch party and the MOBO Awards. As I'll be working at the awards, I must wear black, and you think that would narrow it down, but I've been very torn about what to wear. As part of my H&M haul I picked up this dress, I love the massive bow, however I wasn't sure it was right for the occasion. Instead, I took advantage of the black Friday sales and ordered this faux leather set from Topshop on ASOS. Affordable, and I can throw on a pair of simple court heels or change into crocs when running around. What do you think? See you all next week!