H&M are the latest brand to team up with positivity campaigners Smiley®, bringing all the good vibes to their smiley designs. Joining in with Smiley's 50th Anniversary celebrations, this collab features lots of the iconic smiley faces on a mix of athleisure and rave-ready separates – all using the iconic symbol that's represented good news and positivity from the very beginning.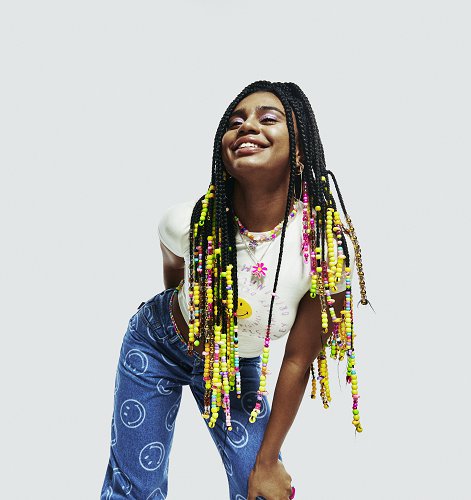 When can I shop the collection?
Shop the new Smiley® collection from Thursday 30th June, with H&M members getting early access the night before from 6.30 – 8.30pm.
Signing up for membership is a no-brainer, as it's completely free and you'll get 10% off your first order. You'll then be let into special member prices and discounts, with loads of extra benefits, including 25% off an item on your birthday.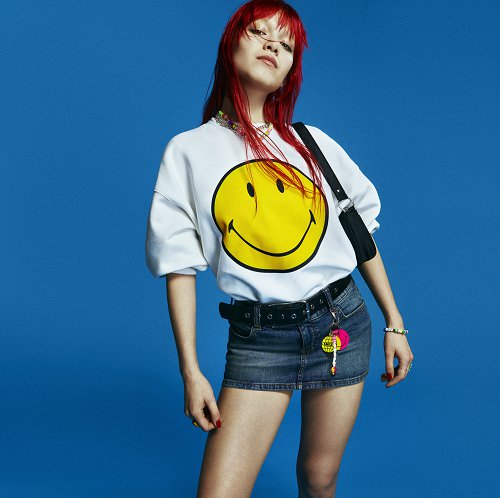 Who are Smiley® and when did the smiley symbol come about?
For the past 50 years, these happy faces we've become so familiar with have been the face of Smiley®'s campaigns, a brand celebrating optimism, creativity, and collaboration. All showcased to a tee (there are many of those!) in all of this year's smiley designer collabs. 
Smiley®, as a company, all started back in 1972 when newspaper France Soir used the smiley as a symbol for good news. But that recognisable smiley face symbol has had a much more sparky history. There was Harvey Ross Ball's first graphic design in the US for an insurance company (meant to boost employees' morale) and its early days in the 70s when brothers Bernard and Murray Spain put a smiley face onto buttons with the phrase "Have a Nice Day" – reportedly selling millions of smiley merch.  
Fast-forward to the hedonistic 80s and the smiley is a symbol of defiance, rave culture, and downright dancing like nobody's watching. Inspired by world-famous Ibiza club Amnesia, DJ Danny Rampling uses the symbol to promote his club, Shoom, and the smiley took off as the emblem of love, grinning ear to ear and acid-house.
What does the Smiley symbol mean today?
Today, the smiley symbol has gone from underground to mainstream, with all of us using emojis every day. Regardless of its rises, demises and toying with popularity, it never seems to have lost that nostalgic, off-beat, cheekily optimistic feel to it. After all, as Smiley® says, the act of smiling can actively increase serotonin levels. And we all need a bit of that.
Why we love the H&M X Smiley® collab
The smiley collection is full of upbeat pieces perfect for wearing to a festival or wearing out over the weekend, whether you're hanging out with mates or chilling at home. My favourites are the tank top and the zip up hoodie. The mini fitted t-shirt would also fit right into this summer's Gen Z Fashion Trends.
Shop the best of the other Smiley® collabs
Let's be frank: smiley face clothes aren't your next serious workwear buy, and if you don't see yourself anywhere on the rave culture spectrum – from ironic to nostalgic and anywhere in between – you might have decided huge smiley face tees aren't exactly your vibe. But there's other ways to bring them into your wardrobe, especially for days you're not taking yourself too seriously.
Personally, I love a smiley face ring that brings a bit of cheekiness to your accessories in a more subtle way. For sporty separates, turn to athleisure favourites Champion and iets frans.
On the more expensive side, Reebok have done 50th Anniversary trainers, otherwise look to French brand Palladium for some smiley high tops. I love the back of this oversized tee from Bershka too!
Stradivarius has made some cute sets of rings, earrings, and necklaces, as well as Fossil where you can find a selection of Smiley® accessories, including cute studs and this statement ring.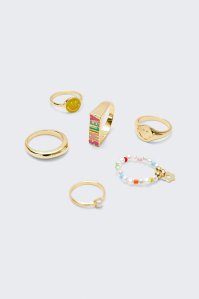 Havaianas and Bershka have got your last minute holiday pieces sorted. While Vilebrequin has a more expensive, but smiley, bikini on offer too.
If you're in a splurging mood, turn to Sandro and cashmere-brand Chinti and Parker.
And finally, if you're into designer (but have a max budget of £100) there's the Philosophy x Smiley® collab (which are now in the sale!)