It's official, snuggle season is here. Yep, that means cosy nights on the sofa bingeing true crime docs (or You when it drops, if that's more your thing), sipping endless flat whites to stay warm on your walks, and of course, the big new year wardrobe clear out.
And, if post-clear out, you've found your wardrobe a little light on the knitwear front, worry not as we've got a handy guide to all the knitwear trends and styles you need to know for this season and beyond. Happy shopping… 
The fitted cardi
The new kid on the knitwear block, fitted figure-hugging cardi's stepped into the fashion spotlight in the summer thanks to the Jacquemus' cropped styles becoming the go to for Bella Hadid and Kendall Jenner.
For the cooler months, step away from hyper bright shades and instead pair a black or navy ribbed cardi with a high waisted bodycon skirt for the perfect date night look. Want to make it more daytime appropriate? Go for a figure-hugging full length cardi and pair it with slouchy 90s inspired jeans and a pair of skater trainers.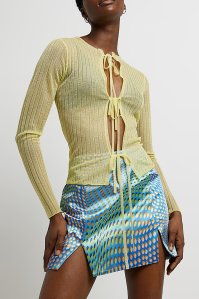 The cable knit
The most classic knitwear choice, chunky cable knit styles come around year after year, making them a great piece to invest in as you can guarantee maximum cost-per-wear and longevity in your wardrobe.
If you want your knit to work in endless outfit combinations without feeling overdone, a neutral shade is ideal, go for rich creams and warm greys to keep things cosy without the tone being too overpowering.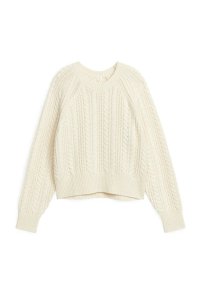 The high neck knit
Whether you opt for a full-on roll neck or a looser funnel neck style, high neck knits are an essential when the autumn and winter chills hit.
These styles look great tucked into leather or faux leather trousers for an elevated feel. And don't be afraid to branch out when it comes to colour, with simple shapes like these you can afford to go bolder when it comes to the shade while still achieving a classic look.
The cut-out knit
This is basically a more grown-up version of your favourite night out knit, perfect for date night or dinner and drinks. Cut out jumpers look best in fitted or ribbed styles as they'll hug your figure for a sleek silhouette.
Not sure where to start with this knitwear trend? Cut outs around the decolletage will give an air of understated sexiness or try a jumper with a cut out back if you don't mind going bra-less. Either way be sure to add a sweep of highlighter across your bod to really show it off.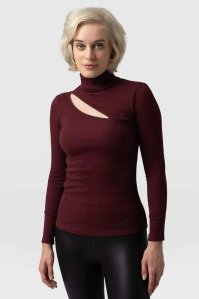 The oversized knit
For one of the most easy to wear knitwear trends of the season, embrace the oversized. Toteme are leading the way when it comes to oversized jumpers with their Parisian inspired Breton jumper being the go-to for all our favourite influencers. Take inspo by opting for a striped jumper in a size or two bigger than you'd normally go for to ensure the perfect loose fit.  
If stripes aren't your style, there are so many great oversized options on the high street, from brights to neutrals, these work with everything from leggings to jeans or even as a mini dress if you're on the petite side.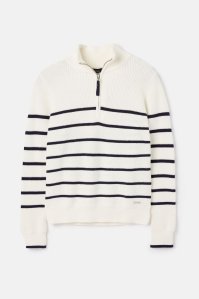 The sweater vest
If you haven't got a sleeveless sweater vest in your wardrobe already it's time to get on board. Preppy yet polished, these sleeveless styles hit our fashion radar in 2021 and they're still one of the go-to knitwear trends this year too.
Wear alone with a pair of wide leg trousers or layer over a puff sleeve shirt or midi dress for an extra level of cosiness which will hopefully mean you can ditch your coat for just a little bit longer.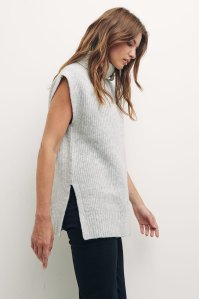 The slouchy cardigan
For all the comfort of loungewear that still looks chic enough to wear outside the house, look no further than a soft, sloughy cardigan.
If it's dressing gown inspired vibes you're after, go for a coatigan with an oversized fit and push the sleeves up for a relaxed feel. Wool and wool blends are also a winner to ensure even more comfort, just be sure to check the wash instructions so you can avoid any dry clean only styles.