Ah January, we meet again. After a semi low-key Christmas period, I'm not quite back into the swing of things and am enjoying a slow return to civilization – and to getting properly dressed again.
The one thing that I always do to ring in the new year is by going through all my stuff treating it like an end-of-year review. I stand in front of my wardrobe asking, "How did this top perform last year" and if the answer isn't glaringly obvious, then they are out.
Often, the clothing that's left behind are the pieces that I feel represent me most in that particular stage of my life and for the most part, they speak to the person I want to be on a daily basis.
For the past few weeks, my clothing choices have favoured stretchy waistbands, luxe loungewear and a lot of chunky socks and even chunkier knit combos (I mean, I don't really want to put the heating on if I can help it).
But I woke up over the weekend and realised being back to work means a return to in-person meetings. Thankfully, after my extensive wardrobe culling, I'm left with a few fabulous back to work outfit formulas that will be carrying me through this very long month…
My New Year wardrobe outfit ideas
Midi dress + leather coat + boots
My wardrobe is full of beautifully patterned midi dresses, which when you're only 5ft 2, sometimes look like maxis. I always feel put together in them, and a floral one like this from Kitri is a firm favourite.
I teamed it with this leather trench from Aligne (which I know is a bit spenny so may not be for everyone) and some very old boots. You'll look ready for anything that the new year throws at you!
Cashmere knit + wide leg trousers + chunky boots
Knitwear is something that I'm very glad I've invested in, especially in recent months! Even though cashmere tends to be higher maintenance and costs a little more, it does feel amazing on and lasts forever. I have some cashmere pieces that I have had for 5+ years now that still look new.
Wide-leg black trousers should be in everyone's wardrobe. These have an elasticated section on the waistband meaning that they are perfect for bigger bums and hips too.
Colourful knit + denim skirt + over-the-knee boots
This one may be a bit too casual for some offices, but for those who can get away with it, try a colourful knit. Not only does it look good but I'm sure it will inject a little joy into your co-workers days.
Long denim skirts have been a popular micro trend for a few months now, but if you're like me and not keen then reach for an existing A-line denim or neutral skirt for a fun way to inject some colour into your day.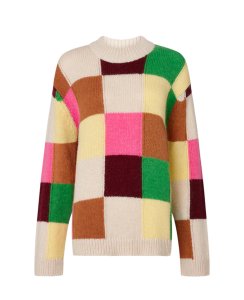 Knitted midi dress + gilet
I love a simple knitted midi. Choose muted tones like khaki or beige, which you can wear year after year. Sometimes the office can be a bit chilly (whoever thought it was clever to have AC on in January needs to be stopped!) so I love a faux, shearling gilet to help keep you toasty but still look smart. You literally can't go wrong!