There's nothing like Paris in October, and autumnal Parisian style is quite frankly my wardrobe goals.
It's no secret that the local Parisian woman knows how to dress, so it's no wonder we've all been lusting after that effortlessly classic, 'je ne sais quoi' vibe for years.
With that in mind I took my 5ft 1 self to the heart of Paris following Paris Fashion Week to road test some of that tres chic Parisian styling and to see if it would work on someone without the lengthening proportions. You can't say I'm not committed.
So, here's everything I learnt from my three days away studying the art of nonchalant classic dressing…
1. Be cliché
Now, let's not get ahead of ourselves, I don't mean resurface that beret obsession we all had back in 2014. I mean stripes. The trusty old Breton stripe is still alive and well across Paris and was certainly a sight for sore eyes.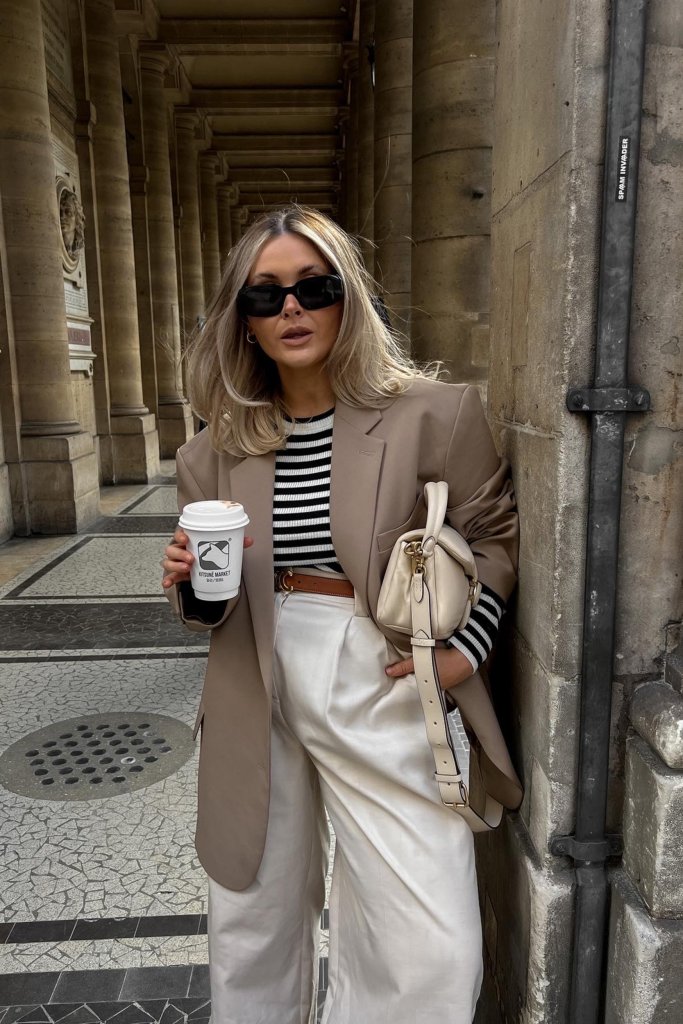 What's even better is that this classic can be styled in so many ways and never goes out of style. Being shorter can mean patterns can easily drown our silhouettes or make us look too fussy, and no one wants to be overwhelmed by a stripe.
I tend to stick with finer stripes in a form-fitting fabric to help balance out my proportions. This way, when teamed with high waisted trousers, you have that leg lengthening layer working with the stripe and not against it. Finish with another neutral layer to help break up the pattern and keep things balanced and working seamlessly.
2. Don't wear your size
A little controversial, I know, but Parisians are known for that effortless 'oh this old thing' look we all try to emulate. Nothing says just that like wearing an oversized blazer – preferably in black to earn extra Parisian style points.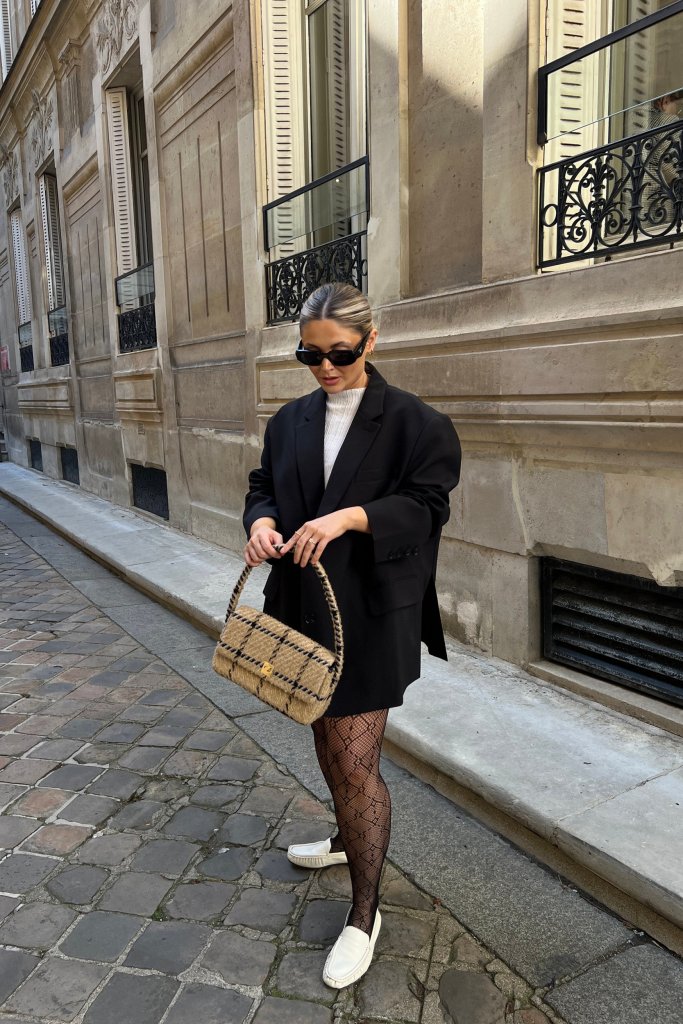 Being petite, it can be challenging wearing oversized silhouettes, especially given every message we get is to avoid exactly that. I say be a French rebel and wear that oversized blazer, just make sure you still enhance one part of the body for balance, whether that be skinny jeans, slim leather trousers, or in my case, I've gone for baring the leg in these lace tights. It ensures the whole look is still flattering for my frame, but with a touch of that 'I just threw this together' vibe.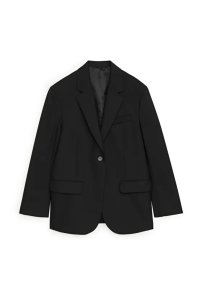 3. Wear the mini
One thing I really admire about the French is their boldness in their femininity. They are not afraid to wear something a little bit flirtatious, but still cool ofc.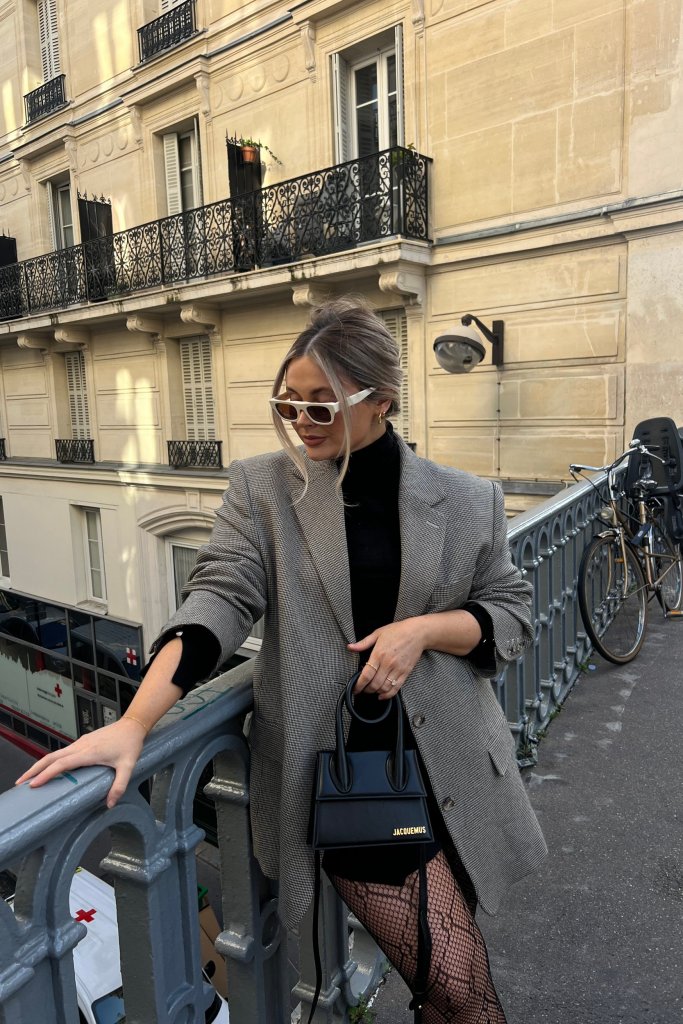 A trend I spotted was embracing the pins and wearing bare legs in the cooler weather. I'm not as brave so I opted for some patterned lace tights – they're still cool and flirty but with some added coverage (and warmth). This is an easy trend for us to adopt as this suits our frames perfectly! A mini skirt will help elongate our legs and help us appear much taller. Pair with some heels and you've got inches, girl!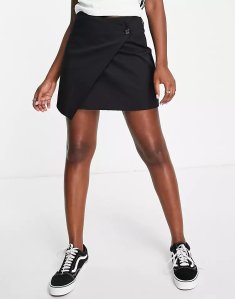 4. Match your scarf to your coat
I believe this new rule has come from the viral sensation that is that lustworthy scarf-coat hybrid Toteme brought out last year, and have rereleased this year in extended shades.
The local Parisian fashionista was never without her woollen scarf, which just so happened to be the exact colour match for their coat, cardigan or cape.
With this genius chic idea in mind I decided to adapt this styling tip for a petite frame. Again, I swerved anything too colourful or printed to avoid overwhelming my silhouette. Instead, taking on a cool grey palette that will work with everything I style.
I also think it's worth noting the scarf length here: make sure it hits the same length as your coat and this will keep the eye drawn downwards uninterrupted, again giving you the appearance of being taller. It's all in the details, mon cheri!
5. Chanel tweed is back
It's true what they say – no one does those Chanel dupe tweed jackets quite like the Parisians. Now Chanel is probably on everyone's luxe wish list but is way out of budget.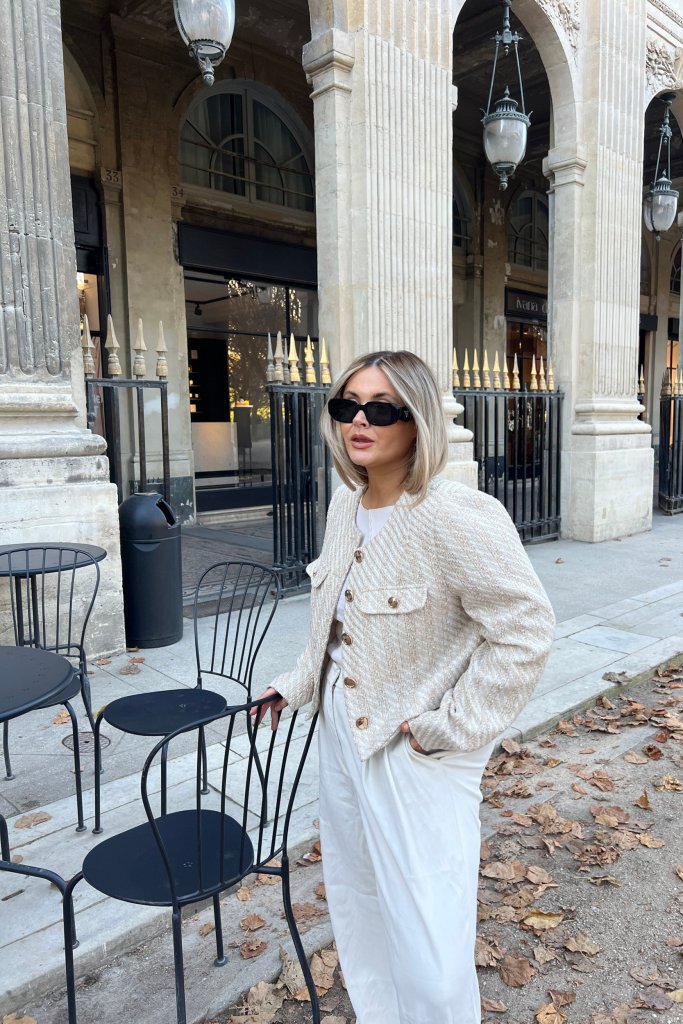 However, dupes are worth seeking out as I really recommend the boxy shape and cut for anyone 5ft 3 and under. It also falls to just above hip length which makes it perfect for high waisted styling. I like to pair mine with the same colour palette to give that model off duty look and a monotonal effect to give more height to my frame.