This may be a bold statement but I'm pretty sure the best platform heels were designed with petite girls in mind. Don't believe me? Well, the chunky shoe trend has been around for a while now – from dad sandals to hiker boots – and while I've always admired them from afar (and placed many an order in the hopes of finding my perfect pair) the shoe has never quite fit, excuse the pun. Until the platform heel made a revival that is.
You see, as someone who stands at just 4ft 11in, chunky shoes have always left me looking, well, out of proportion. They can make me feel like a child who's put on her dad's shoes. Let me tell you, it is not chic.
So, when I started spotting the platform heel on all my favourite influencers last year, I let out a little yelp of joy. Finally, a chunky shoe I could not only get on board with but these chic stompers were practically made for those of us with petite pins.
While in a traditional heel I can get away with around 4 inches before looking like Bambi learning to walk, the added platform gives me a whole 6 inches. Yep, they take me to an above average 5ft 5in – and heights I've never seen before.
Plus, with the added bonus of platforms being way more comfortable to walk in than stilettos, it's safe to say platform heels are definitely going to be my shoe of choice when party season rolls around.
So, when did platform heels actually begin?
Whether you're in your 20s, 30s or beyond, this probably isn't the first time you've slipped your toes into platform heels.
While their origins can be traced all the way back to the Ancient Greeks, the platform first took its place in fashion history in the 1930's, when Salvatore Ferragamo designed his stacked rainbow platform for Judy Garland. A style dubbed so iconic they've re-released them as part of the Creations collection.
For us 90's babies though, the power of the platform can be owed to one girl group in particular. Yep, The Spice Girls, who stomped through the 90's throwing up peace signs in the snazziest platform boots, trainers and heels around.
If you don't have a picture of yourself taken on a disposable camera imitating your favourite spice girl, I'm not sure we can be friends.
And let's not forget the 00's, where another iconic girl group kept the platform alive. Enter the WAG's, fronted by Victoria Beckham of course, who's love for Alexander McQueen platforms and Christian Louboutin Daffodiles had us all going platform-crazy once again. Paired with a bandage style bodycon dress and a spritz of Coleen perfume, and I thought I'd never looked better – boy was I wrong.
Spring forward to 2023 and there is an endless array of platforms on offer, perfect for whether you're petite or not. From strappy sandals to stacked mules, here's my pick of the best styles to buy right now. I promise you'll love them just as much as I do… 
How to style platform heels in 2023
The designer-inspired pair
No doubt, you'll have spotted Versace's sky-high satin babies on all your favourite influencers. Well, these give them a run for their money. Wear with a blazer and contrasting colour block dress for the perfect autumn wedding guest outfit.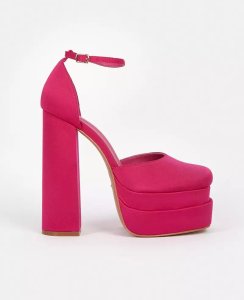 The 70s-style sandal
Sandal platforms are great for those of us with petite proportions as the strappy design means they won't overwhelm small legs. I'd go for a metallic pair to really make a statement and wear with a simple LBD.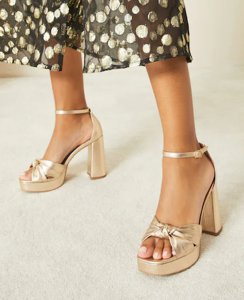 The platform mule
Okay, so a platform mules are definitely a taxi to table type of heel, so don't plan to wear them for your next big night out, but, they do look great with printed dresses making them perfect for bottomless brunch or a boujee lunch.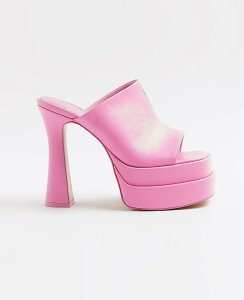 The printed platform
As if platform heels weren't attention grabbing enough, you can always take it up a gear with a punchy printed pair.
To ensure they form the focal point of your outfit wear with a bodysuit and light blue denim for the perfect pub outfit.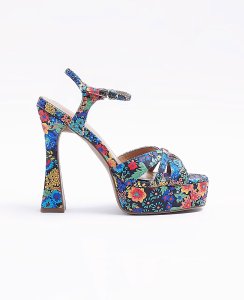 The platform loafer
Sky high heels not your style? The platform loafer is a more wearable route into the trend.
Channel the preppy vibes by wearing with a chic shirt and either straight blue jeans or tailored trousers for an office appropriate look.