As sartorial challenges go, dressing while pregnant has long been acknowledged as one of the trickiest. An ever-changing body shape combined with a deluge of jersey wrap dresses is enough to make anyone lose the plot.
Finally though, maternity style is upping its game. Thanks to Rihanna's recent pregnancy parade of high-fashion looks, an entirely new attitude towards maternity dressing has been inspired – one that doesn't mean sacrificing on personal style.
See also Adriana Lima, who demonstrated that bump-friendly occasionwear doesn't have to equal tent dresses, by hitting the Cannes Film Festival red carpet in a slinky peek-a-boo Balmain gown.
Even for those who don't have access to a celebrity designer wardrobe, the improved high-street maternity offering and chic independent brands means finding stylish bump-friendly clothes is easier than ever.
When I was pregnant with my first child two years ago I stocked up on pretty A-line dresses and stylish, stretchy separates from Beyond Nine and Isabella Oliver. My one stumbling block was maternity jeans; the limited selection of boyfriend or skinny styles felt very 2013.
What to wear postpartum
However, if dressing pre-birth was easier than expected, dressing after it has been a whole lot harder. As someone who has always loved clothes and found putting outfits together both easy and fun (so much so that I made a career out of it as a fashion editor), I didn't give postpartum dressing a second thought.
But nineteen months after having my son, I've lost count of the times I've stared teary-eyed at my wardrobe feeling totally lost.
My traumatic birth got me off to a difficult start. An emergency caesarean meant I couldn't wear a waist band for weeks, so nighties and enormous knickers became my daily uniform.
Even when I could wear trousers again, the thought of anything tight against my tender stomach made me wince, which made getting back into my jeans – a fraught concept for any new mother – even more complicated.
By the end of my fourth trimester, my untouched pre-baby clothes felt like they belonged to somebody else; someone who went to nice restaurants, not the local soft play. Instead of the chic midi dresses and cashmere loungewear I thought I'd be sporting to push my son around the park, I wore an endless rotation of baggy leggings and T-shirts.
My accessory du jour? A sicky muslin thanks to severe baby reflux.
Of course the first few moments of motherhood are unlikely to be a catwalk; there's far too many nappy changes and far too little sleep for spot-on sartorial choices.
I anticipated those no-time-to-shower days spent in milk-stained bras and tracksuits. What I hadn't anticipated was how disorientating it would be to lose all sense of your personal style – and how long it would take me to find mine again
How to rediscover your personal style post-birth
I'm far from being alone in my new-mum style meltdown. "I don't recognise myself", a recently-postpartum friend tells me over the phone. Experiencing a loss of identity after having a baby is a very real issue – and not knowing how to get dressed can exacerbate an already confusing time.
The unflattering associations with 'mum style' doesn't help. For some reason, once you've given birth you're expected to only want to wear wipe-clean fabrics and sensible shoes. Even the word 'mumsy' is synonymous with all things frumpy.
One of my biggest stumbling blocks was when I was shopping for a changing bag. Having spent the last decade with a chic designer handbag swinging from my arm, I was horrified to discover the options were either ugly backpacks or naff kitsch-print satchels. After hours of searching I finally found a minimal black nylon bag from Tiba + Marl, which I could trick myself into thinking was 90s Prada.
Postpartum underwear that's actually comfortable
Gradually I've pieced my sense of personal style back together. A big help was overhauling my underwear after I'd finished breast feeding. Although maternity bras are wonderfully comfortable (mine from Six Studio were also very pretty) putting on a bra that isn't designed solely with lactation in mind felt like I was regaining a shred of sex appeal.
As boobs tend to fluctuate in size throughout pregnancy and the postpartum period, it's well worth getting measured to ensure you have the right fit.
I used the in-store fitting service at The Pantry Underwear, however it also does highly-recommended virtual fitting appointments that can be timed around naps.
Sustainable underwear brand Nudea offers fitting services over Whatsapp and offers a great selection of soft-cup and underwire bras, plus briefs to match. On the subject of which, I switched my ugly C-section pants for full briefs from Stripe & Stare, which don't give a VPL and come in lots of lovely colours and prints.
My top tips for dressing like yourself again
Once I had some feel-good foundations in place, the rest of my wardrobe began to slot together again. I packed away anything and everything that made me feel scruffy, switching leggings and sweaters for decidedly chicer (but no less comfortable) loose-cut chinos and soft cotton shirts from GAP and COS.
I also reacquainted myself with my pre-baby jeans, but only those with a high-cut waist which don't flash my pants when I'm crawling after my son in the park. Levi's and Albaray are my go-to.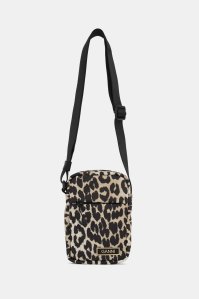 Dresses (once my summer failsafe) aren't practical for all the bending down involved in looking after a toddler, so instead I've been wearing A-line shorts and cropped trousers from Jigsaw and Aligne, which create a similar silhouette and look great with a classic T-shirt and slides. I've also temporarily shelved shoulder bags; hands-free cross-bodies and luxe bum bags are far easier when pushing a buggy. I've worn my Ganni 'festival bag' on repeat.
There's one wardrobe item I won't negotiate on: my hoops. Everyone tells you not to wear jewellery when you have a baby, and they have a point – grabby little hands yanking on your earrings really hurt.
But gold hoops have been my style staple since my mid-twenties; I even wore a pair (pearl encrusted from Astrid & Miyu) on my wedding day. So even though my son gives them an eye-watering tug every now and again, it's a small price to pay to look in the mirror and feel like myself again.