Party season is well on its way, and I've been prepping like I'm getting ready to run a marathon (in heels!). This is looking like it may be the first real party season after the pandemic; and that means one thing… it is going to be BUSY. And for a booked schedule, we need stylish outfits.
By now, you'll know that I champion fashion rental for every single occasion and I make use of what each platform has to offer. I rent every dress I can, but one place I always fall short is in the bag sector. Now, peer to peer rental is great but I want to be able to use bags for a longer period (or multiple events in my case).  
I love a designer handbag and I may even have one on my Christmas wish list (the Loewe Puzzle Hobo Bag if you're wondering), but, in the real world, luxury isn't that attainable, especially during a cost-of-living crisis. What if you were able to access designer, luxury bags to elevate your looks, without the hefty price tag? Enter Cocoon.
How do you rent designer bags?
Cocoon club is a subscription-based bag rental platform that allows you to access a variety of different, cult designer pieces, but for a fraction of the price. They offer different levels of membership; the higher the plan, the more bags you can access in a month.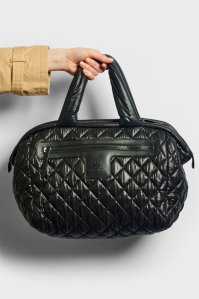 Over the past two months, I've been road testing the membership, trialling out the pretty bags and dare I say, loving every comment I received. Read on to find out how it went when I decided to rent designer bags…
How much does designer bag rental cost?
I have a Deluxe membership, meaning that for £99 per month, I can rent one bag from the entire collection, which includes bags valued up to £3,500, while the Premium membership is £79 p/m for bags valued up to £1,500. They also offer a flexi membership which is ideal for the commitment-phobe. Pay an upfront fee of £19 for access to the COCOON collection, and then you can rent bags on a weekly basis depending on the pass you buy (Premium membership £45 p/w and Deluxe is £55 p/w).
How long can you rent the bags for?
Cocoon gives you the ability to swap for a new rental twice in a month. You can even keep certain bags for up to 3 months.
What happens if it gets dirty?
Cocoon Club covers general wear and tear of your rentals and when they feel that a bag is no longer fit for rental, they either repair it or resell it.
How does the process work?
The process was super easy. I signed up and sent over my ID for verification which was approved on the same day. After that, all you need to do is select your favourite bag!
I found it best to go through the website and add all the bags I loved to my wish list. That way if they were out with another member, I received email notifications as soon as it was back in stock and available to borrow again.
Making swaps mid-month is also simple. Just make your selection and complete the transaction – your current bag is collected the next day by a courier service, and your new bag is with you the very next day. I've been so impressed with the service, my only qualm is that you do have to move very quickly for very popular bags as they get snapped up really quickly.
What are the best bags to rent?
I went in for the big guns and rented the most luxe designers and coveted bags of the season. After all, that's what it's all about, right?
Saint Laurent's bubblegum pink leather bag
Buy it for: £1590
Rent for: £99
This bag was the first rental I tried and I was lucky to get it as it seems to always be booked out with other members. As soon as I got it I could see why. This is the absolute perfect shade of bubblegum pink, perfect for all your upcoming festive parties.
Loewe's mini Puzzle in jungle green
Buy it for: £1500
Rent for: £79
Next up was the Loewe Mini Puzzle bag which is valued at £1,500. I love that this came with a crossbody strap so I could wear it in a few different ways. Even though this bag may appear pretty tiny (and possibly impractical), I can assure you that it can fit an iPhone 12 Pro Max inside along with a card wallet, keys and even some makeup essentials. Perfect.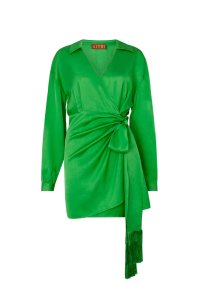 Prada's crystal studded Hobo bag
Buy it for: £1800
Rent for: £99
OMG this bag. Be still my beating heart. This bag definitely brings. The. Drama! This show-stopping bag will be turning heads this festive season. I think a simple all black outfit will allow this beauty to shine in the way it truly deserves.