News flash! Footwear that doesn't take itself too seriously is in. Clompy shoes, colourful shoes, comfortable shoes and even, dare I say it, ugly shoes, are all enjoying an extended moment in the sun.
This penchant for playfulness is no better illustrated than by the renewed enthusiasm for wedge heeled trainers (yes you read that right, the noughties favourite popularised by French brand Isabel Marant is back), hiking sandals and Ugg boots.
There's a whole host of brands, old and new, all flying to varying degrees under the radar, that are tapping into this idea of shoes with a side of humour; from Alohas' colour-block sandals that are perfect for your impending summer events, to Camper's fresh take on the humble loafer, and Miista's multitude of printed, patent, stitched and square-toe offerings. Take your pick!
Best for wedding-ready sandals: Alohas
Sometimes those targeted Instagram adverts get it a bit too right. Eerily (and irritatingly) so. This was certainly the case when I saw Spanish brand Alohas pop up on my feed. I was instantly seduced by a pair of orange and fuchsia strappy suede sandals, which I mentally assigned to the string of summer wedding guest outfits that lay ahead, and so clicked through to investigate.
What I found was a treasure trove of footwear. From said strappy sandals, to chunky cool-girl flats, minimal 90s-inspired platforms and knee-high boots, the Barcelona-designed, Alicante-made brand wields a multitude of covetable options with a reasonable price tag.
What's more, Alohas operates a unique 'on demand' model, whereby shoes are available to purchase with a 30% discount for the first three weeks after the collection launches. After that, the discount is reduced to 15% and then once production starts the shoes are only available at full price. This pre-order system allows the brand to calculate exactly how much of each style they need to create, thus tackling the issue of over-production head on.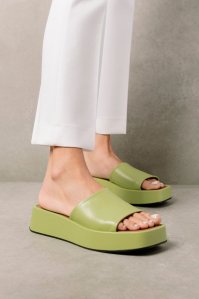 Best for out-of-the-ordinary footwear: Camper
Also hailing from Spain, is quirky Mallorcan shoe brand Camper. First launching in 1975, Camper is no newcomer to delivering footwear with a unique twist. The best styles are those that would truly flummox your gran.
The extraordinary looking Kobrah shoe, for example, was the first to catch my eye. A chunky, curved high heel sandal, available in green and orange as well as black and white, the Kobrah shoe says 'I'm stylish but I don't take myself too seriously'. Ideal! It's also made 100% from recyclable materials (Camper is committed to creating all of its shoes from renewable or recycled materials by 2025). 
I've also been ogling the Twins shoe; a pair of chunky loafers available in mismatched colourways, delivering just the right amount of eccentricity, and the Dina sandal; a kitten heel style that comes in yellow or black, offering a playful-but-chic finishing touch.
Camper caters to the 'ugly' shoe brigade; those partial to a Birkenstock, Croc or Ugg. What's not to love?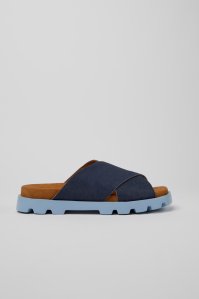 Best for a one-of-a-kind aesthetic: Miista
Can a brand be considered 'under the radar' once donned by the Kardashians, Jenners and Hadids? I'm not sure. But I'm including Miista, East London's worst kept secret, here regardless, because the shoes are to die for and, just like the aforementioned families, I can't get enough.
Brands offering shoes that genuinely feel unique and that stand out amongst their counterparts are few and far between, and Miista does just that. Think clompy cow print mules, square-toe ankle boots with contrast stitching and patent wedge platform sandals. These are the shoes you'll want to live in every day.
And it's not just Miista's designs that are unique, but their practices too. Shoes are designed in London and produced in the brand's own factory (self admittedly retro) in Spain. All Miista items can also be mended as the brand doesn't believe you can call a product 'luxury' if it can't be repaired, also operating using a slower-than-average 7 month production model. You can't rush perfection.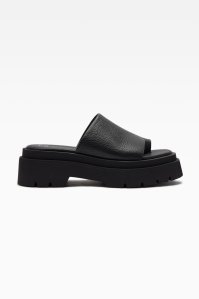 Best for super comfortable boots: Mou
London label Mou's signature Eskimo sneakers (a sort of trainer-boot hybrid) have noughties nostalgia written all over them. They're a little bit Ugg and a little bit Clarks desert boot, but also entirely their own thing via contrast stitching etched along the seams and a high-top moccasin-esque silhouette.
The brand, which began life in 2002 on Notting Hill's Portobello Road, has not strayed too far from its Provence-meets-Portobello aesthetic roots, offering up the aforementioned Eskimo boots, as well as sandals, moccasins, clogs and cowboy boots with, as the brand puts it, 'a maverick spirit'.
These shoes march to the beat of their own drum and, considering fashion's cyclical nature and its continued fixation with all things Y2K, they'll no doubt have lasting appeal too.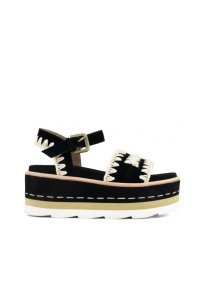 Best for practical-but-cool sandals: Suicoke
Cult Japanese brand Suicoke might have been around since 2006 but it still manages to fly under the radar. If you know, you know. You know? This is gorpcore at its finest (meaning, technical wear given a fashion-y spin, think also, fleeces, anoraks and parachute trousers), via utilitarian-looking sandals with a polished edge.
These are the type of shoes you might just as soon go for a hike in as you would style with some slouchy linen trousers and a tank top on holiday, or jeans and a T-shirt for mooching around at home; versatile, practical and oh-so-cool.
Minimalists should seek out the khaki nylon Deba-Cabs, while those who like a little extra zhuzh might opt for the tasseled and beaded WAS-4ab Ws, or a style from the brand's highly covetable collaboration with French fashion house Lanvin.