I'll be honest, when it comes to being practical with fashion, I've always been pretty terrible at it. On a weekend away, I'm the person in the group who packs their slightly grubby Stan Smiths as their walking shoes and a trench coat as my only form of outerwear for chilly walks. I've lived in London my whole life so country bumpkin I am not. However, when it comes to going for a stroll around my local area with a friend or meeting someone at the café in the park, I'm well within my comfort zone. 
And while most of us are now very well-versed in going for a walk with a friend after the last couple of years, you might still feel you need some guidance when it comes to what walking outfits to wear. If you want to stick to leggings or tracksuits, then you go for it. I like to get my joggers on as soon as I get home, but I'm also happy to mix it up, especially when I feel like I've spent too many days WFH and I'm starting to lose my sense of style.
So, whether you're going out for a walk with a pal (70% chat: 20% walk) or a catch-up with a friend along the canal, I've listed all the ways that you can nail functional walking outfits. If you are looking for a way to add some playfulness to your wardrobe as the temperature starts to rise, then you're in the right place.
Scroll on for chic walk-worthy outfits. 
The hero quilted jacket
One of the hero items of spring, a quilted jacket is the perfect combination of practical and stylish. The light quilting makes for a great top layer to any outfit, without being too thick if you decide to pick up the pace. The Frankie Shop's khaki version reached cult status, becoming so popular that many a high street brand followed suit.
Stick with khaki with this more affordable version from H&M:
Or Hush has a chic and lightweight cropped style in black:
Try an oversized jacket like this from M&S:
Or spend a bit more on a longer quilted coat from Arket:
& Other Stories also has this padded quilted coat, perfect for protecting you from the wind:
Sporty chic walking outfits
There's nothing wrong with being the kind of person who wears workout kit but doesn't actually workout. Plus, walking to meet a friend for a leisurely stroll with a coffee in hand counts as a workout in my book. Go for athleisure chic with leggings, hoodies and bum bags.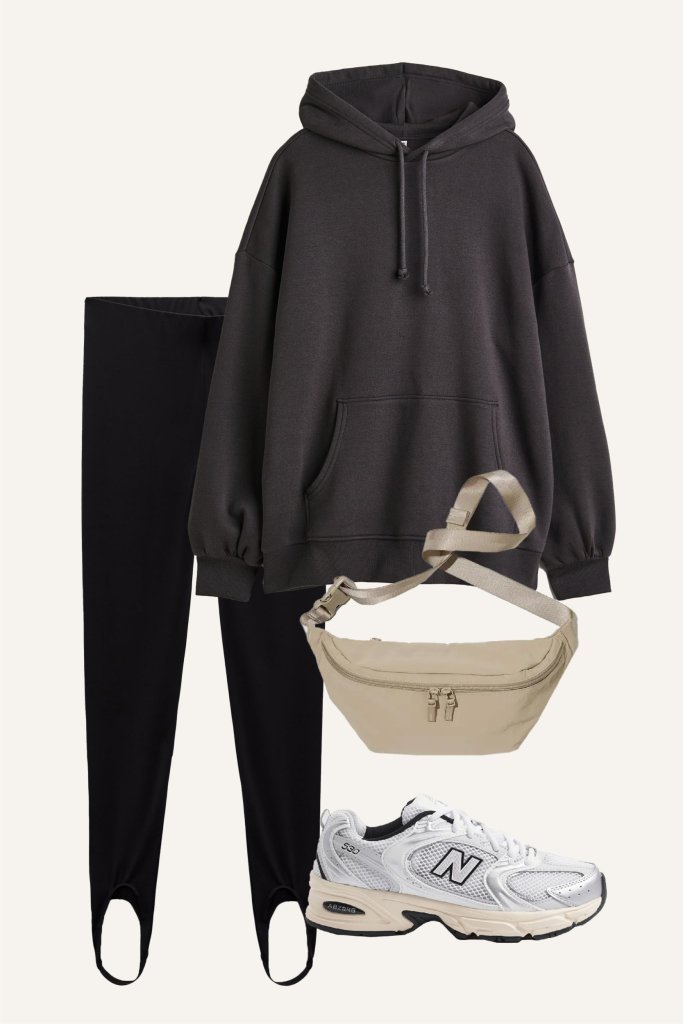 For a stylish sporty look try stirrup (or fuseau) leggings:
Then stick to an oversized hoodie like this one from H&M:
Keep accessories simple with a hands-free crossbody bag or bum bag:
Running trainers not necessary, but a chunky alternative will look great while being comfy and practical too. 
If it's raining
It might be a cliché, but a trench coat is your best friend in spring. Lightweight and chic, all while protecting you from the fickle British weather. As a staple that never goes out of style, it's worth spending a little bit more on a good quality one – if you can find a vintage Burberry trench, even better, but the high street do great alternatives.
Zara has just dropped this oversized trench coat that's water-repellent for £89.99:
Uniqlo has a super-chic black trench coat for £109.90:
While Pull & Bear has a trench coat for only £49.99 in navy, grey, sand and khaki:
Add a cap for extra style points:
Tonal outfits
Tonal dressing is always a winner, but even more so for an easy way to make any outfit feel styled. Especially if all you feel like wearing is a T-shirt and jeans.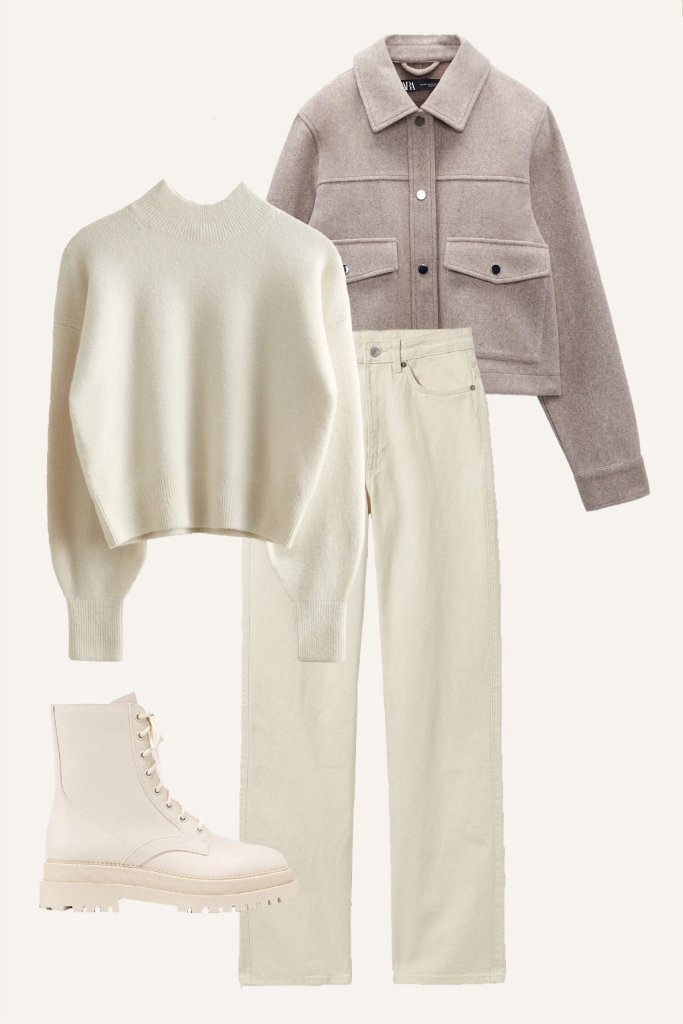 Start with a turtleneck sweater:
Wear it with some ecru jeans:
Then throw on a pair of tonal track sole boots to get you around the park without soggy feet:
A wool shacket in a similar colour makes the perfect light layer to go over the look. NA-KD has a choice of both cropped and long: 
Pretty and practical walking outfits
Who says you can't wear a dress for a walk?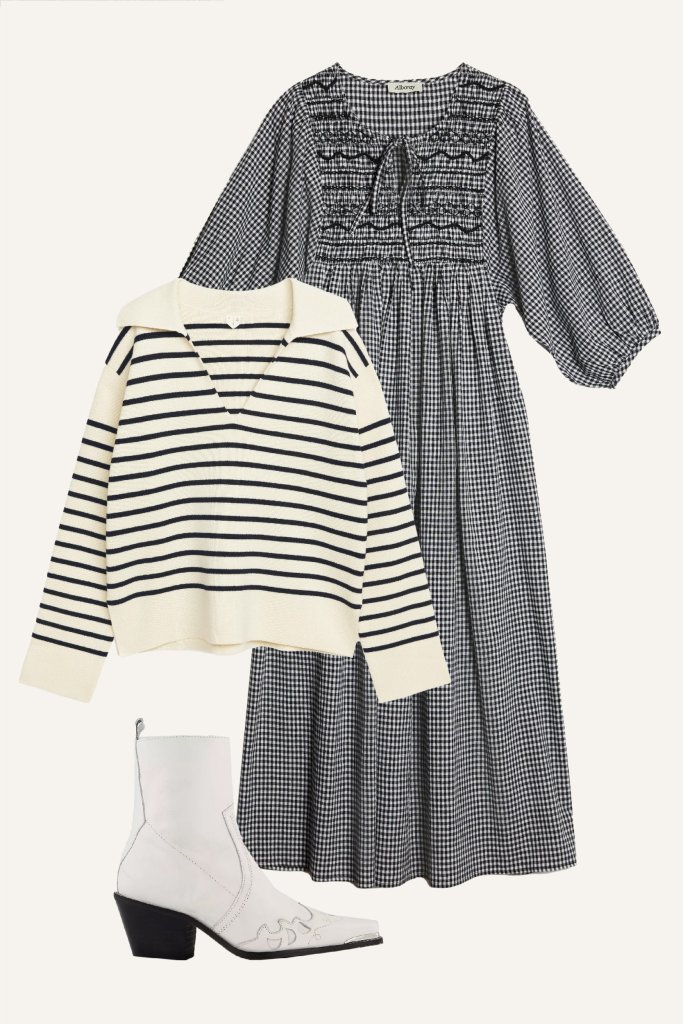 Make it a printed midi like this gingham dress from Albaray:
Then pop a knit over the top – or draped casually over your shoulders if it's warm:
Pair with white boots and you'll look stylish whilst staying cosy. A western style would round off the look, like this pair from Office:
Statement coats
It might not quite be time to pack away your winter coats, though by this point in the year the big duvet styles can (usually) start edging towards the back of your wardrobe. But if you have to wear one, why not make your coat the focus point of your look?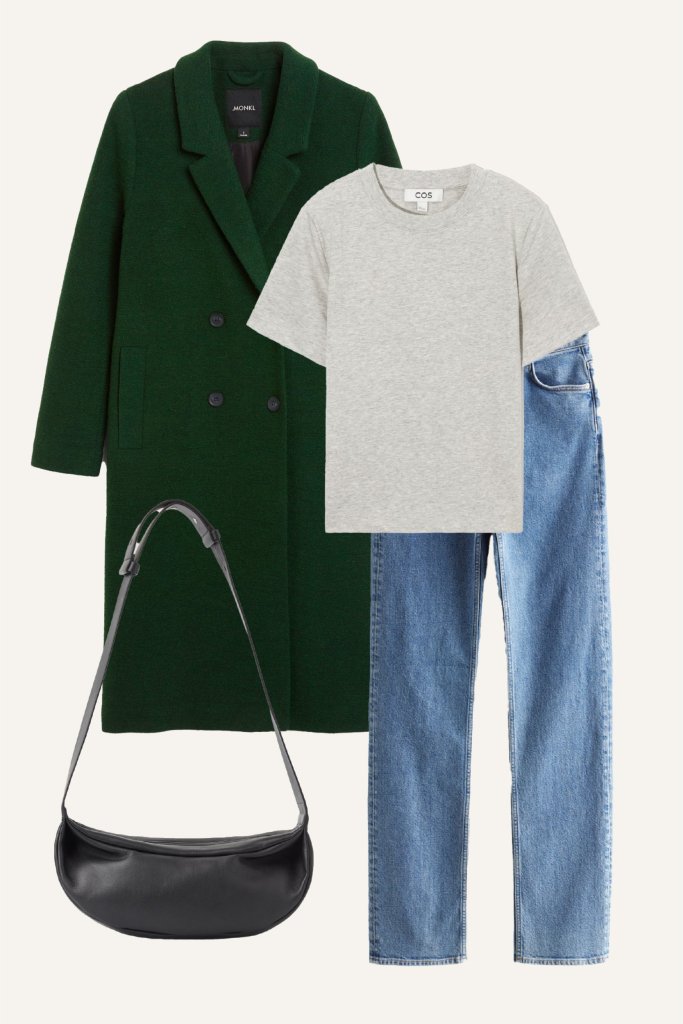 Green is having a moment in the spotlight, especially in frog green:
Sticking with the pop-of-colour theme, try this boxier blue version from River Island:
Let the coat do all the talking and style it with straight-leg jeans:
With a simple t-shirt:
And a crossbody bag to finish the look:
Dress like Diana
Undoubtedly one of the biggest style icons in history, Princess Diana gave good off-duty looks just as much as she did ballgowns, and the fashion set is always copying her oversized sweatshirt, cycling shorts and chunky trainers look.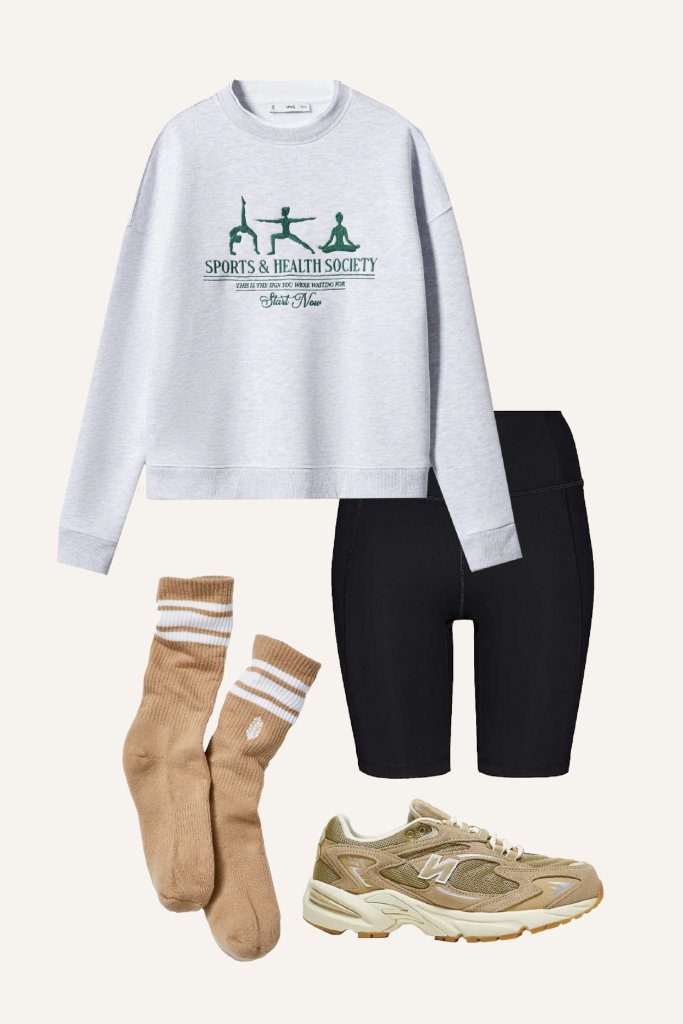 Recreate it for spring walking outfits – you'll look like you've just stepped off the tennis court with these super-cool Girlfriend Collective cycling shorts:
Teamed with a logo sweatshirt – size up for the best fit:
And chunky trainers:
Don't forget thick sports socks:
Name a comfier walking look, we'll wait.  
Oversized blazer and shorts combo
A blazer for a walk? Think me mad, but there are so many ways to dress down a blazer. Wearing an oversized style and adding a pair of teeny shorts is a sure-fire way to look effortlessly cool come warmer months.
A great off-duty blazer like this one from Arket will see you through to next winter, too:
Cut-off denim shorts will instantly relax the look:
Or go for a fashion-forward leather pair:
If your pins aren't ready to come out, then try fun patterned tights:
With box-fresh trainers: