It's undeniable that jeans have earned their place in our wardrobes as a fashion stalwart, and for me, they're the item of clothing I find myself reaching for most often. Until recently that is.
Even for a denim aficionado such as myself, there are times when my jeans just don't make the cut. Whether it's because I'm after something a bit smarter or looking to wear a fabric more forgiving than rigid denim, or I simply just want to mix up my look – I've really started to appreciate the value of a good pair of trousers (or three) in my wardrobe. In the past I've tended to shy away from trousers, especially anything too tailored, as they felt a bit fusty compared to their denim counterparts. But they're now fully on my radar, and truth be told, are currently on rotation more than my trusty jeans.
And there really is a trouser style out there for everyone. Fashion is more fluid than it's ever been; there's no one style expected to suit all. Whether you're more of a flared girl or prefer something more tailored, see yourself in cargo pants or a bold printed style, you'll find a stylish pair of trews to update your wardrobe whilst looking on trend.
Not sure where to start? These are the 6 trouser styles to try now – but be warned, once you do, you'll find your denim collection collecting cobwebs.
Tailored trousers
Tailored trousers are having a *major* fashion moment, and their popularity shows no sign of abating. With a masculine edge to them, a pair of suit-style trousers has filled a gap in my wardrobe, I didn't even know existed. And you don't need to be going into a corporate environment every day to justify a pair – in fact, the wide leg, front-pleat styles trending right now look best worn anywhere but the office.
Pair yours with trainers and a fitted cardigan or a jumper and loafers for off-duty style. Or contrast the oversized style with a fitted bandeau top and chunky heels for a drinks date. Low waisted styles with a contrast waistband like this Reserved pair are particularly on trend, but if they're a bit too Y2K for you, don't worry – a high waisted pair will still look equally as stylish.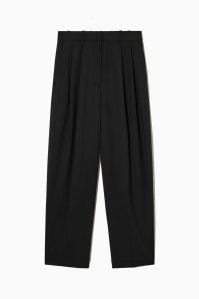 Leather trousers
Over the past few seasons, leather trousers have become a must-have, particularly for autumn winter. With their growing popularity has come a new wave of styles; leather trousers now come in vegan alternatives, an array of colours and every cut from super fitted patent to soft, slouchy designs. And whilst proper leather styles can be eye-wateringly expensive, the high-streets' faux leather alternatives are a great, affordable option.
If you're looking to add your first pair of leather trews to your wardrobe, you can't go wrong with a black, straight leg pair like these from Never Fully Dressed; they'll go with everything from a white shirt to a chunky jumper. If you're looking for more of an off-duty style, these Mango jogger-style trousers have been a firm favourite of mine for the past year – extra bonus points for being as comfortable as they are chic.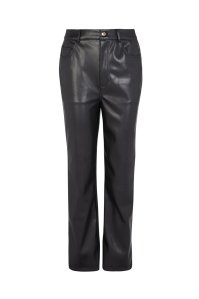 Cargo pants
I never thought I would be writing about the resurgence of cargo pants – much less seriously considering investing in a pair myself, but such is the cyclical nature of fashion that these noughties must-haves have made a comeback. Whilst I'll still never understand the need for quite so many pockets, if they're good enough for Hailey Bieber, they're good enough for me. Perfect for off-duty days, they look equally as stylish paired with a chunky boot or a dad trainer (cropped top a là Mrs Biebs optional.)
And don't think the utilitarian style of these trews makes them for daytime only; a pair of cargo pants looks especially cool paired with a strappy heel and more fitted top for a night out.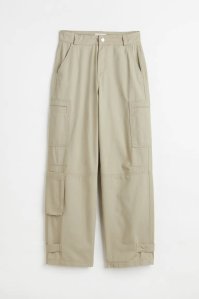 Printed
Lately when I'm having a "nothing to wear" moment, I've been finding myself turning to a pair of printed trousers. As someone with a more pared-back, classic style, it's quite a bold choice – but that's exactly why I go for it. With a pair of fun, printed trousers – whether it's stripes, an animal print or something a bit more abstract, I don't have to put much thought into the rest of my look.
The easiest formula is to pair your printed pants with a tee/vest/jumper in a similar colour to one featured in the design. But they look equally as great with an oversized white shirt, a denim button-up or if you're feeling adventurous, a contrasting print.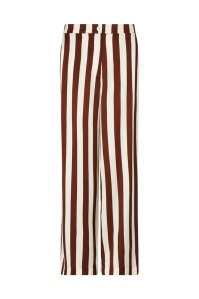 Flared
A 70s flare never looked as cool as it does this season. After taking a back seat to skinnies for the better part of a decade, flares are firmly back as a favourite of the fashion set. And what's not to love? The exaggerated shape creates a flattering silhouette by elongating the leg and the style tends to be cut from more forgiving (read: stretchy) fabrics than other styles.
This season flares are falling into two definite camps – smart or relaxed. I can't choose so I'll be reliving my late teens in a pair of black flares, a black bandeau top and kitten heels for a night out, whilst living in a boucle pair on relaxed weekends.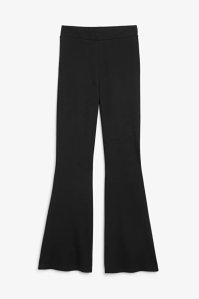 Plisse trousers
When it comes to comfort, plisse trousers win hands down – in fact, whenever I wear mine, I wonder how I'll ever go back to denim. With a drawstring or elasticated waist and wide fit flowy legs, they might sound like the antithesis of stylish dressing (surely nothing so comfortable can look good?) but styled correctly they're a chic, low effort alternative to jeans. I love wearing mine as a part of a co-ord.
For a minimal effort, maximum effect look – just add chunky black loafers. But plisse trousers are also surprisingly versatile; pair with a tee and trainers on weekends or dress up with a fitted body, blazer and heels for a low-key but sexy evening 'fit.