Can you believe this is my fourth and final column for the festive season? The party season is in full swing now, and I kicked off last week attending Eliza's fabulous launch party. I just knew that the PR/Journo girlies would not disappoint with their outfits, hence why I went all out with my look! Pink is the brand, after all.
I appear to have a not-so-secret love affair with pink/lilac at the moment because it really suits my complexion, so this week I'm sharing another pink/lilac outfit.
I wore this purple shirt dress which reminded me of the very pricey Attico satin shirt dresses. I paired the dress with last week's cute pink rhinestone heels, and because there's no such thing as too much sparkle, I added this rhinestone bag. The bag felt like I was carrying Mary Poppins bag, it was able to hold my six lipgloss choices (I know, but I'm currently obsessed with Refy's glosses!)
So there you have it … another full H&M look! If you take anything away from my columns it's that I love the high street, and when all fails, pop into your local H&M store and you can be sure to find a banging outfit for under £100!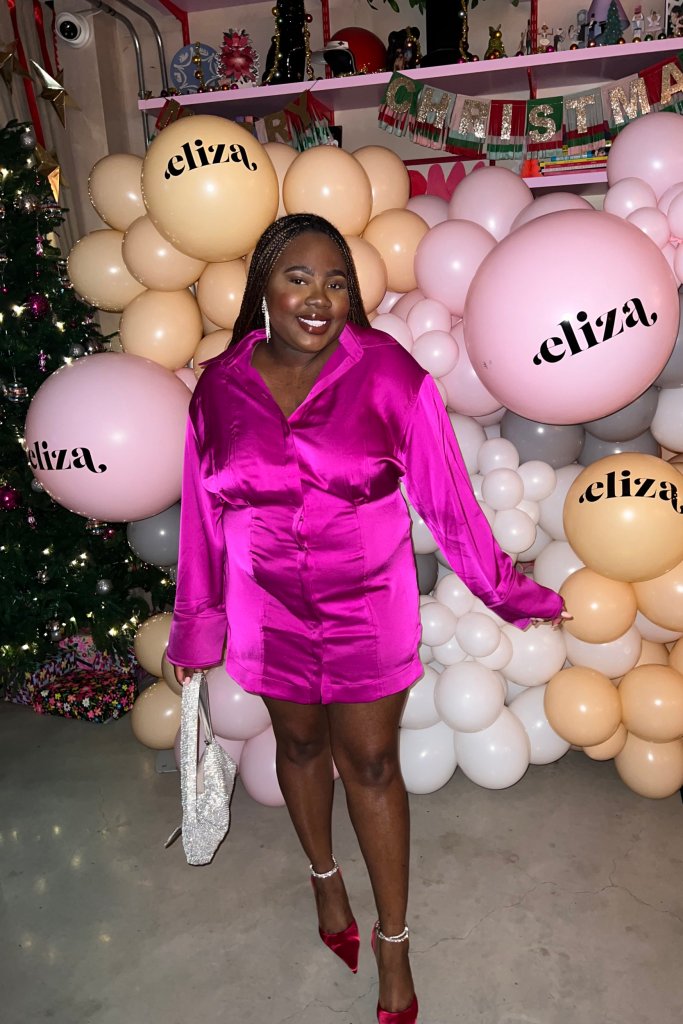 Another dress I was considering wearing to the Eliza launch party is this gorgeous lime & Other Stories number, which I thought would be great to wear on Christmas Day instead (I can't be the only person that dresses up for Christmas dinner?!). 
For Christmas I'll be in Ghana for a friend's wedding and 'Detty December'. 'Detty December' is when Africans return home for the festive season to visit family, attend concerts and party into the early hours of the morning all the way until mid January! This year is my first one, and for the all white-themed wedding, it's proven very hard to find a dress for the occasion. Despite settling to have a dress designed by the incredibly talented Lace & Needles, I was looking at renting this Alexandre Vauthier ribbed white gown from Front Row.
Another option to rent was this timeless one shoulder AJE dress which I spotted on by Rotation. I actually ended up settling for a combination of the dresses, so follow me on Instagram to see what I end up wearing…