There are few things that signal the height of summertime in England more than Wimbledon. While we suddenly all become armchair-tennis experts ("How could she miss that backhand?") during the championships, let's be honest – the celeb spotting and summer-outfit inspo is really what we're here for.
From royals to Hollywood A-listers to fashion's elite (Anna Wintour is a big tennis fan), no Wimbledon fortnight would be complete without some serious star power – and the looks to back it up. 
There are years worth of seriously chic looks to take inspiration from. Whether it's how to mix prints or the importance of a classic white shirt (impeccably styled, that is) these are the style tips to take from SW19's best-dressed guests of all time for anyone wondering what to wear to Wimbledon this year…
1. Suiting will never go out of style
Princess Diana was a regular at Wimbledon and at every tournament, she made a stylish entrance. From polka dot dresses to oversized collars and wide waist belts, she always looked chic, but it was her suiting that looked the most on-trend – and it's still a popular look for Wimbledon today. Just look at Rochelle Humes at this year's Wimbledon.
Keep it classic with a neutral style, like the one Rochelle Humes wore this year (which is from her collection with Next). Or go for a more eye-catching bright colour like Clara Amfo did (she wore a chic green suit – more on that later) with one of these suits from Coast and Mango.
2. The little white dress is summers answer to an LBD 
A LBD is a wardrobe staple that can take you from the office to dinner to client meetings to drinks with your friends. It's a chic all-year staple, but come the heat of summer, a little white dress is often a more appropriate choice.
Mollie King's 2023 Wimbledon look is a perfect example of how this simple piece can be elevated, opting for a Chanel number with black detailing. To finish off the look, she styled the dress with a matching black and white handbag, pointed-toe heels, and black cat-eye sunnies. And we think this look is utter perfection.
A little white dress is as much of a must-have in your wardrobe as its darker counterpart.  This option from Reiss has a sporty halter neckline, classy A-Line skirt, and cleverly concealed zip, and its simple style allows for some exciting statement styling.
Other suitable iterations of the little white dress could include scallop hems, boucle button-up styles, and floaty boho dresses. The options are endless.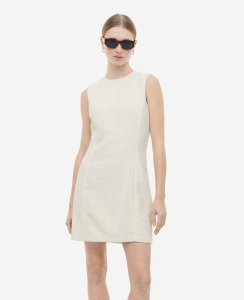 3. Three piece suits are great for summer
If you run hot and don't think you can handle wearing a full suit all day in the summer sun, go for a three-piece suit like Clara Amfo at this year's Wimbledon. That way, you can turn up to the event suited and booted but you still have the option to shake off the blazer as the day goes on.
A waistcoat and smart trousers combo is just as refined and stylish as a regular suit. Plus, you'll get plenty of wear out of all three pieces. Ditch the waistcoat and wear the trousers and blazer with a lacy bra for date night, wear the blazer alone with jeans and a top or slung over the shoulders with a slip dress, and wear the trousers solo to work with a shirt and loafers. The options are endless.
For Wimbledon, we'd pair ours with strappy heels, just like Clara, but you could also get away with a neat pair of white trainers, too. And don't forget to add some bold sunnies and a matching handbag.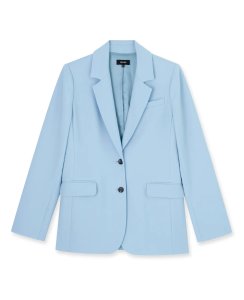 4. Accessories are key for elevating your look   
Remember when you thought you had to match your shoes to your bag to your belt? Thankfully, that style 'rule' has become redundant, and we've learnt mixing and matching is a much more stylish alternative. But a little style tip to take from Katy Perry attending this year's Wimbledon tournament, is to subtly match two accessories in your look whilst keeping the rest contrasting.
As seen on her, it doesn't have to be an exact colour match – in fact, it's better if it's not – but the navy blue of her top ties in almost imperceptibly with the base colour of her scarf and her heels, and the white polka dots on the scarf match the skirt. These little details subtly tie her look together.  
5. Jumpsuits are just as chic as dresses 
 Dresses often reign supreme at Wimbledon as spectators – celebrities included – tend to stick to more traditional styles of dress. However, Poppy Delevingne's cream jumpsuit from 2021 proved just why sometimes taking a bit of a risk works.
A little bit more modern than a dress, cut to flatter and with simple detailing at the neck, this halterneck jumpsuit was one of the best outfits from the entire 2021 tournament. So, for your next event instead of opting for a dress like you always would (and everyone else most likely will), try switching it up for a monochrome jumpsuit that is sure to turn heads.  This one from Liars and Lovers is a close match to Poppy's, from the halter neck to the flared legs.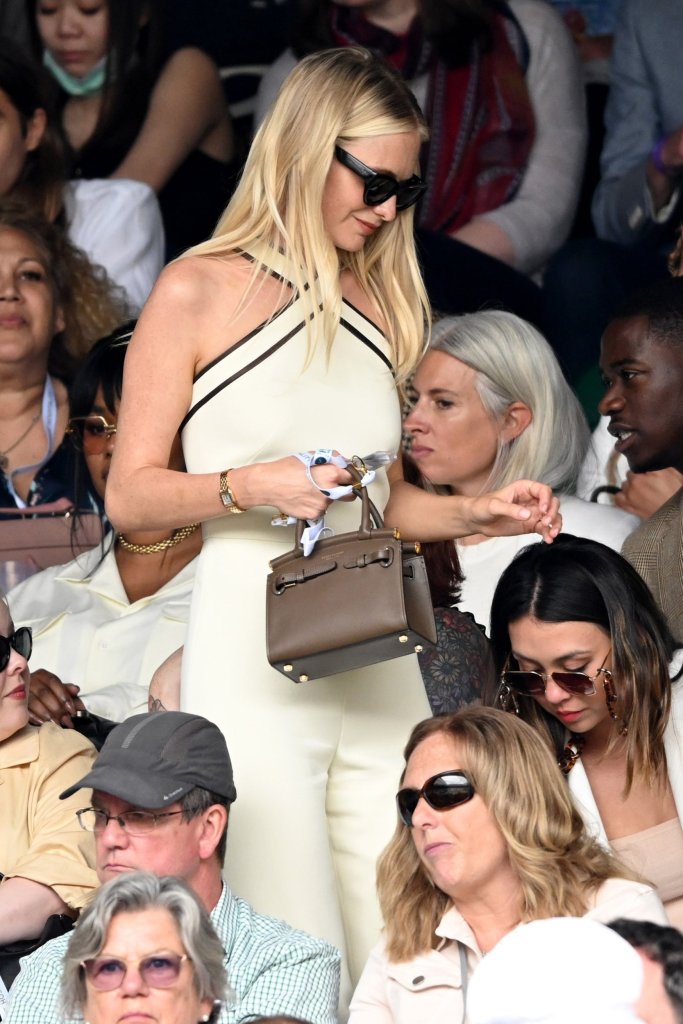 6. Co-ords are a style fail safe
Sienna Miller is always on the best-dressed list, and this brightly striped co-ord look from 2021's Wimbledon tournament proves why. Although her look is bold, it's also effortless – and it's the kind of look that's easy to replicate for the simple reason that it's a co-ord.
A matching top and trousers looks considered in a way that separates never can but it's an incredibly simple formula – that once you find a set or two you love – you can throw on at a moment's notice, for a fail-safe outfit no matter the occasion.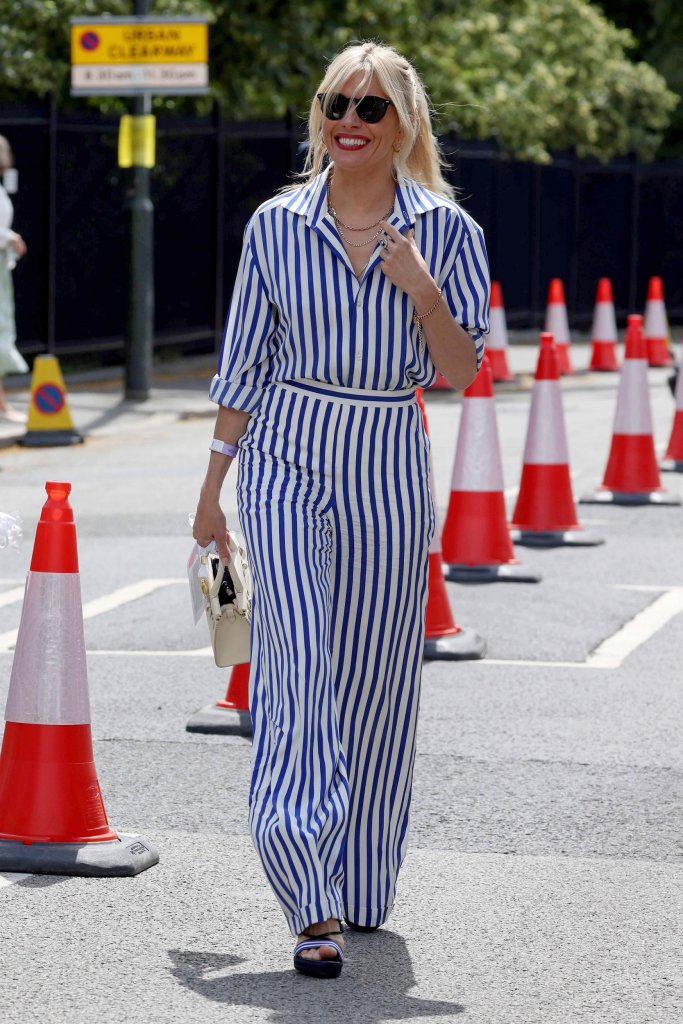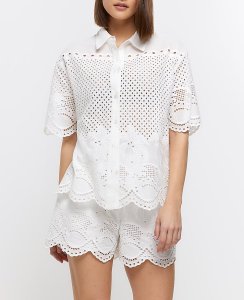 7. The importance of the perfect white shirt  
 Meghan Markle has aced her Wimbledon looks over the years, with her signature style that's modern with a nod to the classics. And it doesn't get more classic than a white collared shirt like she wore to the championship in 2019, paired with a pleated skirt.
Whilst it may be considered a 'boring' staple, the styling of this shirt really elevates it – the just-right sleeve roll, pared back jewellery and monochrome skirt work perfectly – showing that sometimes less is more. It's also an important style lesson in investing in classic pieces – like a white shirt – that you can wear many different ways, for years to come.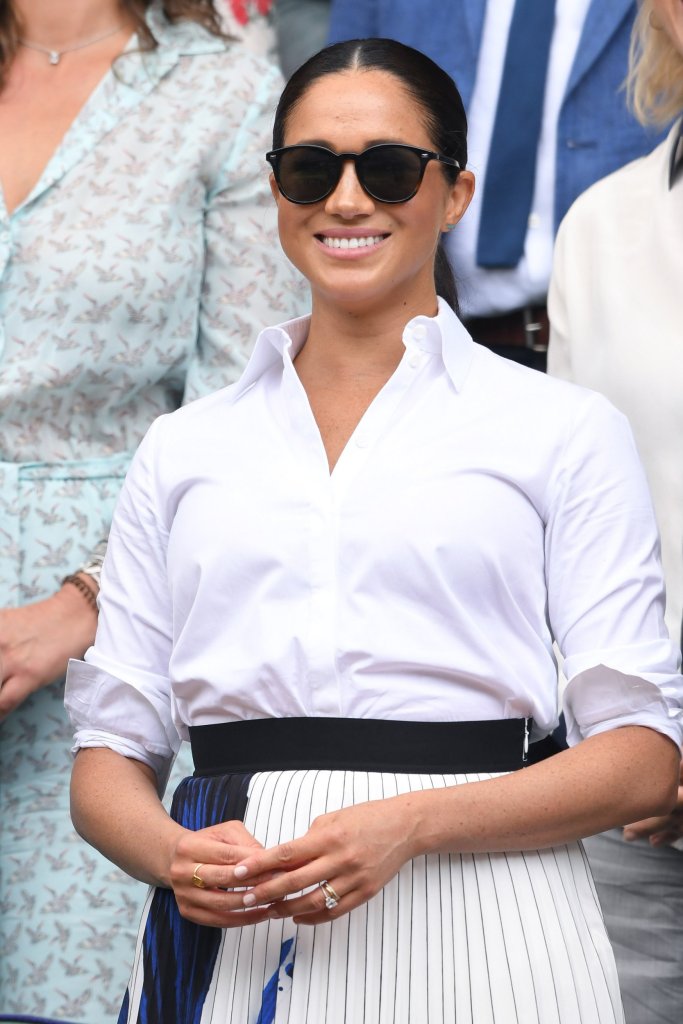 8. Mix prints for a standout look 
Even if you're a pattern lover, mixing prints can seem rather overwhelming. Claire Foy's stylish look for Wimbledon in 2019 – a floral halterneck dress and striped bucket bag – however proves that two prints can look incredibly stylish together.
Whilst traditional style rules might tell you to match the tones or size of your prints, this combination shows that the contrast between two completely different prints is actually a giant sartorial do. So play around with your printed pieces and if you're unsure start small, with a contrasting print bag like this, before upgrading your print game to mix and matched separates.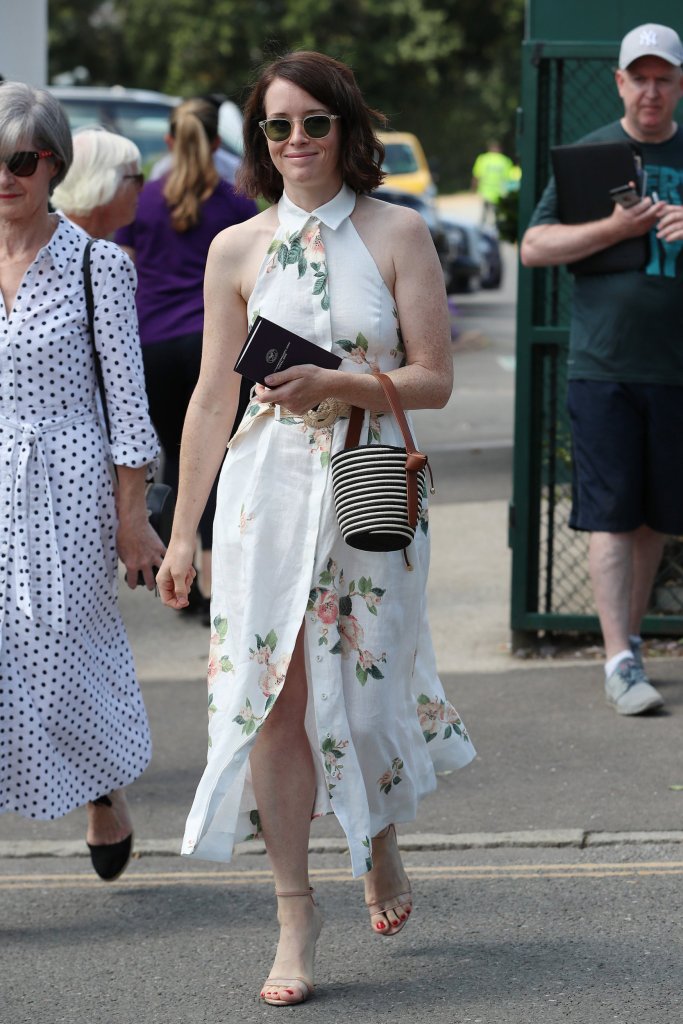 9. Green dresses are trending
 Have a look through Kate Middleton's best fashion moments, and you'll quickly notice that she's rather partial to a green dress. On occasion she's gone for a print – florals or a polka dot – but tonal dresses are her Wimbledon go-to, and we're still in love with this standout green dress she wore to the 2019 tournament.
This year, green dresses are trending for summer in a big way. So, why not follow Kate's lead and rock one to Wimbledon? Besides being in the colour of the moment, it's eye catching in an understated way. So take note – a single, bright block colour is an effortlessly chic look that requires minimal accessorizing for maximum results.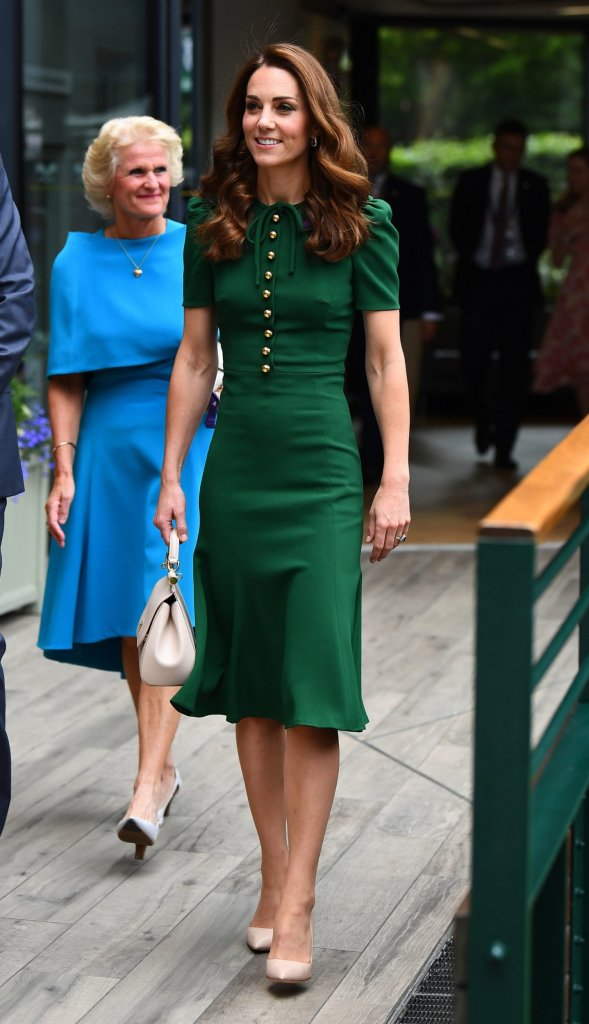 10. Classic accessories never date
Although 90s fashion has made something of a comeback, as a millennial I can confidently say that most of us would prefer its trends (*low-cut jeans*) never be seen again. With such overt trends, it might seem surprising to take style tips from a mid-90s Wimbledon but take one look at Brooke Shields' 1995 look and you'll see why.
Her simple but classic outfit wouldn't look out of place today – mainly due to her timeless accessories. Her gold statement pendant, gold hoops and classic black Wayfarers are pieces that have stood the test of time – and more importantly the test of trends. Invest in pieces such as these, rather than what's all over your Instagram right now, and you'll find they are still items you'll reach for in 20 years.  
11. Wear what works for you 
It's perhaps the most important style tip of all and, fittingly, it's inspired by one of the most important women in fashion: wear what works for you. Anna Wintour is a huge tennis fan and has attended Wimbledon on numerous occasions over the years.
This look is from 2017, but you'd never know the year – because she always sticks to her formula of a fitted dress, statement necklace and large sunglasses. Her outfits aren't overtly swayed by trends; rather she wears what suits her body and her personal style and, as a result, is always on the best dressed list.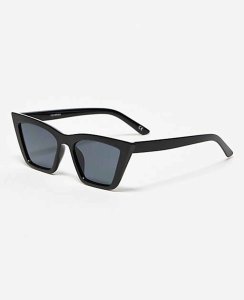 12. Simple looks don't have to be over accessorised 
A plain navy dress, a classic black handbag, sunnies and no noticeable jewellery might sound like a boring outfit, but Keira Knightley's classic 2014 Wimbledon look is anything but.
Her outfit is simple but still sartorially on point, proving that just because you choose a classic silhouette in a plain colour you don't need to go crazy on the accessories. It might be tempting to add in a pair of statement earrings, an eye-catching bag or a bold shoe anytime your outfit is pared back, but sometimes less really is more.