Slip dresses have earnt their right as a core wardrobe staple and whilst we welcomed itty-bitty minis and lightweight fabrications for the summer, the winter slip dress is the longline and even more timeless equivalent. It's become the designated 'going out-out' piece that makes you look chic at a moment's notice. They're slinky, figure-forming and often hit mid-calf, so winter slip dress outfits are apt for the ever-decreasing temperatures.
My favourite slip dress of the moment
Ghosts' Palm dress has become a highly coveted piece and many fashion editors (including Krissy) are owners of this classic dress. Ghost have mastered the slip dress to suit all shapes, busts, ages and not to mention occasions.
The Palm dress offers a skimming cut, thicker straps to conceal bra straps, a bias cut and a fluted hem that encourages flattering movement with each step. It now comes in 8 colourways, including a newly released berry hue.
From family occasions to date nights, work events and even weddings, it truly is one of the hardest working pieces you can have in your wardrobe, making it a sound wardrobe investment.  
The best winter slip dress outfits on the high street
The slip-dress phenomenon doesn't stop there, however. There are many to choose from, depending on budget, shape, and occasion. There's much fun to be had with winter slip dress outfits, so if like me you're obsessed with this dress and looking for style inspo then look no further.
Below I've picked some of my current favourite slip dresses (including the infamous Ghost Palm slip dress) and styled them in 6 ways for various winter scenarios – from work meetings to fancy date night venues – proving the hard-working nature of this piece.
The end-of-year office Christmas party
It's that time of the year when Christmas invites start flowing as loosely as festive tipples and we're left making the important decision of what to wear on a team night out. There's one formula that you can also rely on time and time again and it's the slip dress, oversized blazer, and heels combo. Although it's a safe option, it's sexy, unassuming, and chic – a winning winter slip dress outfit combination.
The Ghost Palm dress wins the title of the most universal slip dress. It offers thick straps (to cover bra straps), a slightly scooped back (but not too scooped that said bra is exposed) a curved neckline and a fluted back. With the addition of silver jewels (a popular metal this year) and a cushioned rhinestone bag, you'll look instantly glamorous.
Dinner with drinks
This slip is as classic as they come and because of that, it can be worn on many occasions. Paired with the timeless overshirt, mules and of course dangly jewels (I'm partial to a bold earring for amping things up), it's glamorous yet understated with a Parisian lilt, which by now you may know I'm partial to. Wear the shirt unbuttoned, a size or two bigger and with the sleeves rolled up for the nonchalant 'I borrowed my boyfriend's shirt' look. All components of this winter slip dress outfit can also be worn separately.
I'm particularly impressed with this Monki shirt as it offers a crisp, tailored look that's reminiscent of designer brands like Frankie Shop. Don't mind if I do!
A day at the Christmas market
This winter slip dress outfit is the perfect juxtaposition of textures, lengths, and fabrications. On one hand, you have the sultry cowl neck midi in a skimming fit (a piece you can easily pair with heels), yet teamed with classic riding boots, and a daytime bag the dress instantly becomes daytime appropriate.
You can, of course, shed the layers, depending on how you feel and if you extend your market jaunt to somewhere that serves drinks.
Work meetings in the city
Since 2021, the fashion world has been riding the wave of Toteme's cult striped knit and the high street is brimming with many cost-effective alternatives. The thick striped knit makes a stylish and practical layering piece. Pop it over a slinky midi for the juxtaposition of textures and weights.
Omnes' best-selling Riveria dress has been re-released due to its fly-off-the-shelf popularity which demonstrates how timeless this style of dress is. Also, with the addition of a sleek pointed knee-high boot, you can instantly veer on the side of smart casual for those ambiguous dress codes.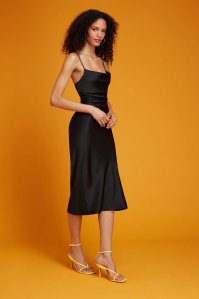 Date night to a Christmas Production
Although sleeveless slip dresses are mighty popular, there's also space for the slightly elevated grown-up version – the long-sleeved maxi. Even cult brand Realisation Par (known for their barely-there pieces) has followed suit with the release of the zebra print sweeping maxi that's doing the rounds on Instagram this autumn.
& Other Stories' offering is every bit as glam. The golden jewels and strappy heels complete this ultra-chic and timeless look. I've tried this in-store and it fits in all the right places – offering a slinky silhouette that's perfect for winter nights. It's also a piece that can be transformed into chic daytime wear, with the addition of a thick knit and riding boot. There's something to be said about a hard-working piece and this dress fits the quota. With the many ways you can wear this the cost-per-wear is guaranteed to whittle down.
Sunday pub lunch
If ever there's a time to polish your Sunday lunch outfit it's these coming months where roast dinner, mulled drinks and family time is high on the agenda, not to mention the many miscellaneous activities – Christmas tree picking and trips to outlet stores hunting for decorative items, you know the sort? This uniform will work for all of the above.
It also serves as an example of how you can extend the wear of summery slip dresses and turn them into autumnal outfits with a change of footwear and added layer or two – weather permitting.