It's the final working week before Christmas and the diary is still full of Christmas parties and events, so I've been scouring the high street for the best buys to save you from that dreaded last-minute outfit panic. Finding you Christmas party outfits is my favourite pastime, but when it comes to putting together a look that's work party-appropriate, I've realised there are a few more things to consider.
Levels of dressiness for work Christmas parties vary wildly, from smart cocktail dress codes at fancy venues to laidback choices for work lunches and drinks at the pub. They might all be the occasion for adding some festive spice and sparkle to your look (it's Christmas after all), but I think it's safe to say your outfit choice for a work occasion will be tamer than a pulling-out-all-the-stops big night out outfit, you'll find in friendsmas dinner and clubbing outfit ideas.
This week we've also been contending with freezing temperatures, so working out what to wear has been extra difficult. What are the best shoes that look dressy and keep your feet warm? What layers can you wear that are work-appropriate and smart, but with a party twist? Here are my style solutions…
Trouser suits
For two recent work Christmas party events, I chose a trouser suit. The first was a pink satin two piece from H&M, and the second was a sparkly studded black velvet co-ord from Never Fully Dressed. I liked the idea of wearing a suit, because intrinsically they feel as though they have a work vibe about them. But these two felt different to more traditional tailoring for the office thanks to their dressier fabrics, satin and velvet.
I'd feel too smart wearing them to a friend's Christmas house party, but for a work event they were perfect.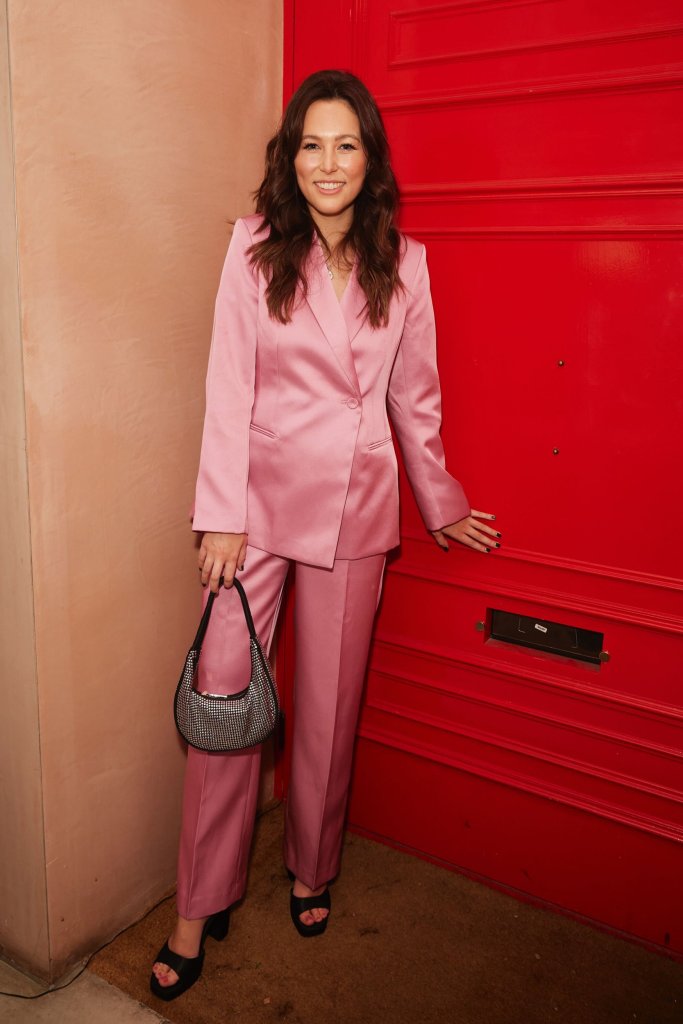 Work Christmas party tops
To save you from the floor-drobe situation I had going on trying to find the right top to go with my suits, with the beauty of styling hindsight I've found the tops I *wish* I'd known about before wearing my suits. In the end I wore both buttoned up with simple camis and tops underneath, but if I'd been more prepared, and for next time I wear them, I would choose one of these tops. You then have the option of taking off your jacket and feeling just as glam.
Skirts + sequins
Instead of a coordinating trouser suit, you also have the option of wearing a pair of smart statement trousers on their own or wearing a chic skirt. All of these styles would look great with some winter tights and knee-high boots. While the trousers would look amazing with a silk shirt and longline coat layered over the top for extra warmth.
Dresses + jumpsuits
I've cherry-picked these dresses and jumpsuits for work Christmas party outfits because of their luxurious and sophisticated looking fabrics and fits. They're aptly festive but you know you'll feel comfortable and confident wearing them all day long.
More on party dresses:
Work Christmas party shoes
For these chilly days and even more freezing evenings, the right footwear is crucial. Unless you're immune to the cold, open toe shoes are not the one right now. Switch for pointed toe slingbacks, closed toe platform heels or chic ankle boots instead. Or wear a knee high boot with Christmas party dresses if you'd like even more protection.
Finishing touches
For lots of Christmas events and nights out, you'll likely be coming straight from work. I always struggle with leaving enough time to get ready if I'm at the office, so I solved the problem this year by going to Beauty Club London the morning before my working day. It's a 1 minute walk from Oxford Street tube station so it was really easy for me to get to, and Louise rescued my hair in under 30 minutes with a wash, blow dry and expert curling with the Turbo Tong X curling tong. I loved the result and it didn't drop all day long, so it looked just how I wanted it to by the time I got to the work Christmas party.