Once upon a time, shopping for affordable skincare was a pretty laborious experience. If you weren't looking for uninspiring jars of 'anti-ageing' cream, pore-stripping, tea tree-laden anti-blemish masks, or grapefruit cleansers, you might as well forget it.
Now thankfully, it's a different story. Walking through your local Boots or Superdrug has pretty much turned into a Charlie and The Chocolate Factory experience, with thousands upon thousands of brightly candy-coloured beauty products available for you to pick up and take home.
But with so much choice, and high-end and high-street cohabiting side by side, how do you know what's worth spending your money on? And which brands can you call on to deliver efficacy on a budget?
Budget skincare brands such as The Ordinary and The Inkey List were no doubt some of the first to disrupt the budget skincare market, offering transparent and ingredient-led skincare at prices that would still offer you change from a tenner.
But as much-loved as they've become, there are other great budget skincare brands out there that also deserve a space on your bathroom shelf. Read on for our edit of the 6 best budget skincare brands and why they're truly priceless, and then browse beauty editor Rebecca's guide on how to build a simple, accessible skincare routine.
Looking to discover more of our favourite affordable beauty products?
SkinChoice
Spots. We all get them, so having a toolbox of blemish-busting skincare ready to go when one raises its head is key to catching it early and shortening its lifespan. Skinchoice has become one of my go-to brands for spot patches which are, honestly, one of the best things to come onto the beauty market.
Thin, discreet and suitable for all skin types, hydrocolloid patches work by drawing the gunk out from your spot while protecting the area from further infection. I whack one of these on as soon as I feel a spot brewing, and it takes the unwanted invader out in half the time it would normally stick around for. At £6.99 for 30 patches, it's affordable and effective spot clearing at its best.
SC's Classic Nose Patches, £14.99, Skinchoice, are also SO satisfying to use. An alternative to the stripping charcoal nose strips you used as a teenager, these patches are much gentler, using hydrocolloid to draw impurities out of your pores without any ripping or damaging your skin.
e.l.f Skincare
Unless you live under a beauty rock, you've probably heard of e.l.f's affordable makeup range which has caused quite a TikTok frenzy thanks to its formulations which have been hailed as dupes for more expensive products. What you might not know is its skincare line which IMO is also seriously deserving of the same level of fanfare. Budget-friendly, its skincare products start at just £6, with ranges for all skin types that are accessible and easy to navigate.
E.l.f's most recent line, Holy Hydration! has some of the standout products for me, with the Makeup Melting Cleansing Balm, £10, e.l.f, as well as the Suntouchable! Whoa Glow SPF30, e.l.f, which is a pretty close dupe for Supergoop Glow Screen SPF30.
Byoma
A relative newcomer to the skincare world, Byoma is all about boosting your skin barrier. A pretty important cause, since a compromised or irritated skin barrier can lead to issues including dry skin, acne and sensitivity. You can still shop Byoma's range by individual skin concerns, such as treating blemishes or soothing inflammation, but with the added benefit that every product focuses on keeping our skin barrier nourished and fortified.
The packaging isn't just aesthetically pleasing but informative too, making it clear when to use the product, which ingredients are inside, and how to apply it.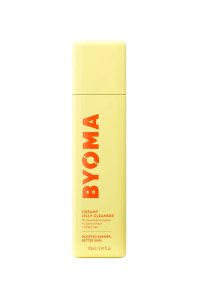 Q+A
If you're looking to simplify (not over-complicate) your skincare routine, Q+A has the answers. The brand's website offers a speedy skin type quiz to get you started with building your skincare routine, and from there offers recommendations on which products you should be using, from cleansers to moisturisers.
Q+A also has some iconic products in its portfolio, like the Oat Milk Cream Cleanser, £7.22, Sephora, which is one of beauty editor Rebecca's favourite affordable cleansers (she says it reminds her of her morning oat milk latte…).
If natural ingredients are important to you, Q+A comes up trumps there too, with a 98% natural skincare range and mostly vegan formulations (just keep an eye out for beeswax in some of the moisturisers).
Skin Proud
As you might have guessed from the name, Skin Proud is all about championing yourself. The product range has been designed to help you feel like your best self in your own skin; that's why you'll never find retouched images in the Skin Proud campaigns, and why the products are not only fun but super easy to understand and use.
There's no set of rules when it comes to using Skin Proud's products (a lot of them are multi-use), so whether you have one ride-or-die product that slots into your current routine or want to kit yourself out with the whole collection, you'll still get noticeable results.
Carbon Theory
If you're looking for an affordable range to treat your acne prone or oily skin, this brand is the way to go. Take a browse on Carbon Theory's website and you'll come across impressive before and after pictures from its customers who have seen clearer skin after using its products.
If you're sceptical when it comes to website reviews, take a look over on TikTok too; Carbon Theory's Cleansing Bar, £6, BeautyBay, which has a very pleasing minimal design, has gained a cult following thanks to its ability to reduce the appearance of blackheads and eliminate excess oil.
Glow Hub
Super affordable and ultra-cute, Glow Hub offers a line of gentle formulations perfect for younger or more sensitive skin. Each range is colour-coded and focused on a different skin concern, allowing you to purchase a start-to-finish routine with no product costing more than £15 a pop.
The brand's calm and soothe range, especially the Calm & Soothe Cool Whip Moisturiser, £7, Sephora, is a lifeline for aggravated, stressed-out skin.
Revolution Skincare
Similar to The Ordinary, Revolution Skincare focuses its products around ingredients, while also offering affordable alternatives to more expensive cult skincare products.
Whether you agree with dupes or not, you'd be hard-pressed to find something that doesn't work for you in Revolution's extensive range. As well as skincare products, you can also stock up on affordable skincare tools such as the Revolution Skincare Jade Gua Sha, £10, BeautyBay.