It goes without saying that I am an extreme skincare lover. As an NHS Junior Doctor, I split my time between the NHS and my passion for all things skin; when I'm not in hospital scrubs, I'm busy testing all the latest skincare products and growing and educating my engaged social audience.
One of the questions I have heard a lot recently is about retinol, and how to push through that uncomfortable period when first using a new one. Fear not: I have the answers…
First of all, what is retinol?
Let me begin by bidding you a hearty congratulations if you've just picked up a retinol – good skin days are certainly ahead. Topical retinoids like Adapalene or Tretinoin (available predominantly on prescription) play a key role in the management of acne and hyperpigmentation and are also vital for anti-ageing.
However, while the benefits to the skin are innumerable, the side effects can also be harsh – particularly if you've not used one before. As one of the most powerful weapons in skincare, it is important to treat your new retinol with some care.
What is retinisation?
Let's start with the basics. Retinoids work by increasing skin cell turnover, reducing sebum secretion and breaking down the newly-formed spot. Whilst your skin is adjusting to these new and significant changes, you might notice several adverse side effects.
For example, skin may become noticeably dryer, more irritated, red and sun sensitive (retinol increases your skin's sun sensitivity).
The time when your skin is adapting to these retinol-related skin changes is called the 'retinisation period'.
Retinisation looks different on everyone depending upon the type and strength of the retinoid, your skin type and how often you're using your new product. Indeed, some individuals won't experience any adverse side effects at all.
The retinisation period is common to those who first start using a retinol or increase the strength of their existing retinol, including anybody who goes from over-the-counter formulas to prescription strength options. On average, symptoms should reduce within the first month, but there are some steps you can take to reduce the intensity of these side effects.
How to take care of skin during the retinisation period
1. Use a hyaluronic acid serum just before your retinol
This hydrates your skin's barrier, helping to counteract the dryness caused by the retinol. Hyaluronic acid is a super hydrator, so can therefore stave off flakiness or discomfort. Top tip: hyaluronic acid should always be applied onto damp skin for best results. For more about this wonder ingredient, read our guide to the best hyaluronic acid serums next.
2. Step up your SPF game
Retinoids increase your sensitivity to the sun, which means that you are much more likely to experience UV-related burning, irritation and hypersensitivity. If you haven't already, pick up a high sun protection factor SPF of at least 30 when you buy your retinol, and be sure to reapply it during the day (mists are great for this).
3. Slowly incorporate your retinol into your skincare routine
As a potent ingredient, I recommend starting off with using your retinol once or twice a week, then slowly phase up to every other day and then – when you're ready – daily.
4. Use a lower strength to begin with
Some of the common strengths of retinol are: 1%, 0.5%, .0.3% and 0.25%. Start low and build as your skin is able to tolerate more. A good retinol for beginners is CeraVe's Anti Aging Retinol Serum, £34.99, Amazon, an encapsulated retinol formulated alongside hyaluronic acid and ceramides to comfort the skin against drying side-effects.
For something mid-strength, the La Roche-Posay Retinol B3 an Anti-Ageing Serum for Sensitive Skin, £38, LookFantastic, features 0.3% gradual-release retinol to give visible results without irritation.
Once your skin has become accustomed to retinol and you feel ready to move onto a stronger percentage, Paula's Choice Clinical 1% Retinol Treatment, £46, FeelUnique, is an investment, but the refined texture and firmer appearance of skin it achieves is worth every penny.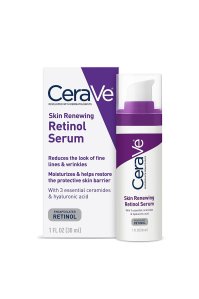 5. Avoid combining your retinoid with other irritating actives
These include vitamin C, glycolic acid, lactic acid, salicylic acid and physical scrubs, all of which are also strong, potent ingredients. Use these in different routines or on days you don't use retinol.
6. Moisturise effectively to protect the skin's barrier
Looking out for ingredients like ceramides, peptides, oat and urea is recommended. This will ensure skin is best prepped to handle the retinol.
When should I discontinue use of my retinol?
Consistency is key when it comes to retinoids. And with diligent use, you should start to see an improvement in your acne within weeks to months, and an improvement in pigmentation and anti-ageing within months to years (it's a long game!).
If you're experiencing the normal, mild side effects that are common in the retinisation period, you should continue use and consider some of the tips above to help manage.
However, if you are experiencing consistently severe redness, irritation, warmth and swelling, these are signs that the retinol is inflaming your skin and you should stop use and speak to your GP. You know your skin better than anyone, and if a particular product is not right for your skin, don't keep using it.
The bottom line is that retinoids are one of the most important ingredients in skincare and it's important to be consistent. With careful and considerate use, you can reap the full benefits of this wonder-ingredient whilst reducing the side effects that may come with it.
Got a skincare question you need answering in my next column? Follow and message me at @dr.fab