Face mists are an unsung skincare staple, if you ask me. They are easy to use, feel-good and versatile – I keep one in my bag every day for an instant pick-me-up. They're perfect for boosting skin hydration and one quick spritz is all you need to wake yourself up during that 3pm slump. Feeling stressed? A mist packed with the soothing scent of essential oils is even great for reducing anxiety. There's nothing a good face mist can't fix.
Come summer, they're a skincare essential for me. I always take one on holiday to refresh my skin in the hot weather. Plus, they're the easiest way to top up your SPF, too, offering maximum protection without disturbing your makeup. Win, win.
There's a huge variety of face mists out there, focusing on everything from boosting your skin's moisture levels to self-tanning. And some of them are even on sale for Amazon Prime Day. Here are the ones to shop now.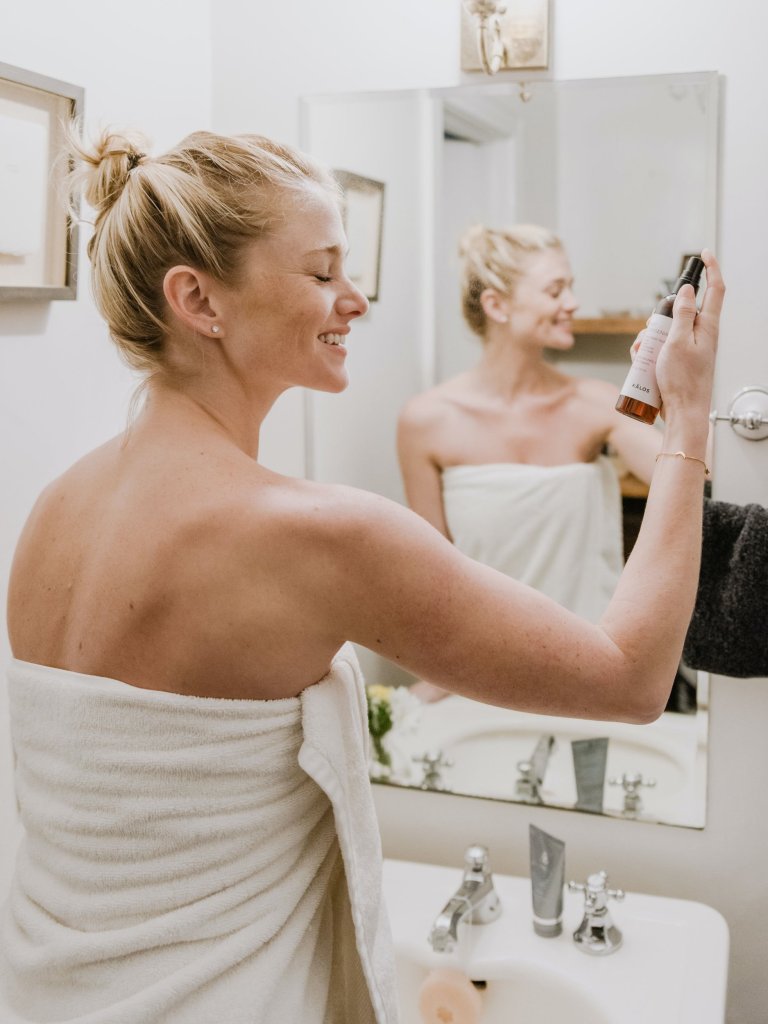 What is a face mist?
Face mists are exactly as their name suggests: ultra-fine sprays that are misted onto the skin, instead of being massaged or patted in like serums and creams. They sit somewhere in between skincare, makeup and self-care products, with different types offering a range of benefits.
Mainly water-based, enabling them to be easily spritzed, the lightweight formulas include everything from glycerin and hyaluronic acid to vitamin C and aloe vera extract, meaning there's an option for every skin type and concern.
What are the different types of face mists?
Face mists are wrongly often associated with only hydration, and while that is the main benefit of a number of products, they can do so much more than that. Thanks to their easy application method, face mists can be used for toning, self-tanning, makeup setting, sun protection and even as a mood enhancer, thanks to the addition of key aromatherapy scents. Just as you can get different types of serums, you can think of a facial mist as a more lightweight (and often more diluted) version of these skin treatments for a quick pick-me-up as you go.
How should you use face mists?
One of the greatest benefits of face mists is how easily they can be applied, without the use of hands, sponges, brushes or anything other applicators – meaning you can apply on the go without worrying about transferring bacteria. Simply hold the bottle 10-20cm away from your face (most products will give their own recommended distance) and spritz for instant coverage.
Depending on the type of face mist chosen, you can use it anywhere from once or twice a week (in the case of self-tanning mists) to every couple of hours (think hydrating or SPF formulas). However, it's recommended that most mists are used just after cleansing to prep the skin for serum absorption or makeup. If you do find yourself spritzing a lot, just keep an eye on your skin as you don't want to cause any irritation. And remember to always shake the bottle well before each use.
6 of the best face mist formulas to have on your radar:
So whether you're looking to tackle dryness, oiliness or even to set makeup so it lasts all day, there's a face mist out there for you. Here's what you need to know.
Best face mist for SPF over makeup
A spray SPF is one of the best facial mists you can buy, promising year-round sun protection with minimal faff and easy reapplication even over makeup. With UVB (ultraviolet B rays are associated with skin burning) and five-star UVA (ultraviolet A rays are associated with skin ageing) protection – the highest level possible – this sunscreen shields while also moisturising the skin. Reapplication is recommended every two hours and can be done anywhere from the beach to the train within seconds, without the need to touch your face.
Best face mist for fake tanning
Fake tanning your face can be tricky, as often thick and sticky products cling onto hairs and leave you with stained fingers. Fortunately, Sienna X's self-tan mist means you don't need to use your hands or a mitt to apply, as it easily covers the face and body with a lightweight, almost instantly drying glow that develops over eight hours. And with key ingredients squalane, glycerin, aloe vera and pomegranate extract, it also helps to boost skin hydration levels.
Best face mist for calming skin
This balancing skin mist from Byoma is not only affordable, it's refillable, too. (If you've already tried, loved and used up this product, you can shop the top-up here: £10.99, Cult Beauty.) The pH-balanced formula works to shield skin from environmental aggressors (which can cause redness and inflammation) while also supporting the skin's microbiome for a healthier complexion. Perfect for refreshing your skin throughout the day.
Best face mist for hydration
This new release from legendary makeup artist Charlotte Tilbury is a skincare powerhouse: it's packed with hydrating, glow-boosting ingredients for a bright, refreshed complexion in just a few spritzes.
The hero ingredient is, of course, hyaluronic acid, while kombu extract reduces signs of digital fatigue (caused by too much staring at your phone and laptop screens). There's also niacinamide to help strengthen the skin barrier and reduce the appearance of fine lines, and glycerin to hydrate and soften. It's a mini facial in a bottle.
Best face mist to set makeup
Compared with most setting sprays, this one is incredibly lightweight and has no sticky or tacky feeling. Infused with coconut water, glycerin and apple extract, it's extremely moisturising, promising up to 16 hours of hydration while also smelling like a tropical holiday. And, even better, it sets your makeup in place, taking you from day to night without the need to reapply.
Best face mist for toning
Dermalogica has long been a brand associated with expert products for every skin type, and this facial mist toner is no exception. Targeting dryness, dehydration, oiliness and signs of ageing, the ultra-light spritz combines lavender, aloe, balm mint, arnica and cucumber to cool, soothe and help condition the skin for ultimate moisture absorption. Spritz over the face and neck after cleansing and before any serums or moisturiser for optimal benefits.