The colder weather can quite literally zap the life out of me, my social life, oh and my skin — and I know I'm not the only one. As soon as the temperature starts to drop, if I don't crank my routine up a notch, my skin starts feeling dry, irritated, dull, and generally a bit lacklustre.
The good news is, there are plenty of ways you can combat your skin woes as the winter draws near.
Now, I'm by no means telling you to overhaul your entire routine — far from it! In fact, this is less about swapping things out of your routine, and more about reaching for a few simple additions that have a big impact on your skin. We are existing in a cost of living crisis, after all…
To help you maintain a glowing complexion through the dreary winter months, I've called in the help of expert facialist Michaella Bolder. Here are 4 simple but effective winter skincare swaps you can make to your skincare routine during the wintertime to keep your complexion happy, healthy and glowing.
1. Slow down on the chemical exfoliators
First and foremost, protecting your skin barrier should be top of the priority list. Your skin barrier essentially keeps the bad stuff out (think: pollutants and everyday chemicals) and the good stuff in (we're talking hydration and moisture). When this is compromised, your skin becomes dry, sensitive and breakout-prone.
One of the easiest ways we can destroy our barrier is by over-using physical and chemical exfoliators.
That's not to say you shouldn't use them at all during this season, because they absolutely have a place in your routine, just tone it down a little. Consider reducing the frequency and strength, for example; try only using acid-based exfoliators once a week instead of twice.
The same goes for retinoids; you might find that using a retinol daily is making your skin irritated, so consider reaching for them less.
To avoid retinoid sensitivity, you can also try the 'sandwich' method. This essentially involves putting your retinoid product over the top of a thin layer of moisturiser, and then adding another layer of moisturiser over the top of that. This creates a little barrier between the active ingredients, making the product less irritating for the skin whilst still benefitting from it.
2. Switch from a foaming cleanser to a cleansing balm or milk
Your skin will thank you for switching your drying cleansers for rich balm or oil cleansers. If you're really oily or just don't like balmy textures, choose a gentle formula — essentially anything that isn't stripping, like a milk.
Think of this as a 2-in-1: you're giving your skin added moisture whilst washing off leftover makeup and grime from the day.
I love Beautypie's Plantastic Apricot Butter Cleansing Balm, £19.50, Beauty Pie, and E.L.F Holy Hydration Makeup Melting Cleansing Balm, £10, Boots.
Michaella loves The Body Shop Camomile Cleansing Butter, £12, The Body Shop, which is a favourite of mine, too. For a comforting milky cleanser, give the Q+A Oat Milk Cream Cleanser, £7.50, Sephora, a whirl.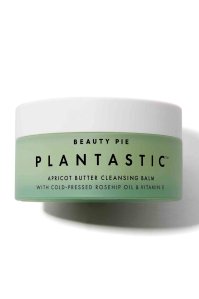 Be sure to remove your makeup and build-up from the day effectively with a muslin cloth or flannel in warm (never hot!) water.
3.Treat your skin to hydrating oils
The addition of an oil or serum in your routine can work wonders during the winter, no matter your skin type. You don't need much; 2-3 drops will do it and there are a few ways you could incorporate one into your everyday routine.
You can either mix the oil with your moisturiser to give your skin added oomph without changing your existing favourite cream.
Or, you can always press in a few drops over the top of your moisturiser before bed. There are plenty of wonderful oils out there, but I particularly love the Indie Lee Squalane Oil, £14, Cultbeauty and Trilogy Certified Organic Rosehip Oil, £19.99, Holland & Barrett.
Finally, if you have oily skin, you can swap oils out for hydrating serums underneath your moisturiser. Byoma Hydrating Serum, £12.99, Cult Beauty, and Naturium Quadruple Hyaluronic Acid Serum 5%, £18, Space NK are great for extra hydration without heavy ingredients.
4. Indulge in masks and facial massages
During the dreary winter, I personally need anything and everything to pep me up, and Michaella recommends doing with a face mask and massage. She suggests doing them at the same time to get the benefits of moisture-boosting ingredients with a relaxing ritual, too.
For masking, I love the Overnight Recovery Mask, £22, Aurelia London, Flawless Revival Mask, £32, Dr Sam Bunting and the Caudalie Vinosource-Hydra Moisturising Mask, £24, Lookfantastic to nourish without causing irritation to my rosacea-prone skin.
If you don't want to buy a separate face mask, you can also apply a thicker moisturiser overnight or layer them over the top of each other. For this, I often rely on the La Roche Posay Cicaplast Balm, £8, Boots or Dr Jart's Ceramidin Cream, £32, Sephora, and Michaella loves Weleda Skin Food, £13, Boots.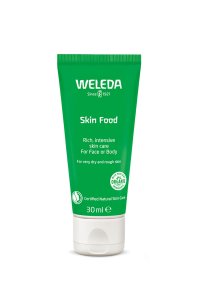 My last tip? Don't make all of these changes at once. Introduce new products one at a time, meaning "if you have any type of adverse response, you will know which product to eliminate," says Michaella.