Tis the season for a good party, girlies, and if like me you suffer from major FOMO and have RSVP'd 'hell yes' to absolutely everything this year then this article is for you!
We've got events left right and center: your friends' engagement party, the Christmas work do, office festive casual drinks, home friends annual festive get together, Uni friends annual get together, Dance Club cocktail night and the list goes on and on. Now, with this comes the intense pressure of 'dressing up' and evening wear, IMO, is the hardest to nail down.  
You want that balance of not trying too hard but also being completely and utterly show-stopping. We also want to make sure we aren't buying anything we won't wear again or is too seasonal. I'm looking at you, christmas tree light up/singing jumper…
So this month I've made it my mission to find the best pieces on the high street to fill that gap of dressy-cool whilst still being able to re-wear each piece throughout the next year. Think lots of separates for unlimited outfit combinations for every occasion. So slip on those dancing shoes, sip that champagne and deck those halls!  
More on petite fashion:
Ruffle Your Feathers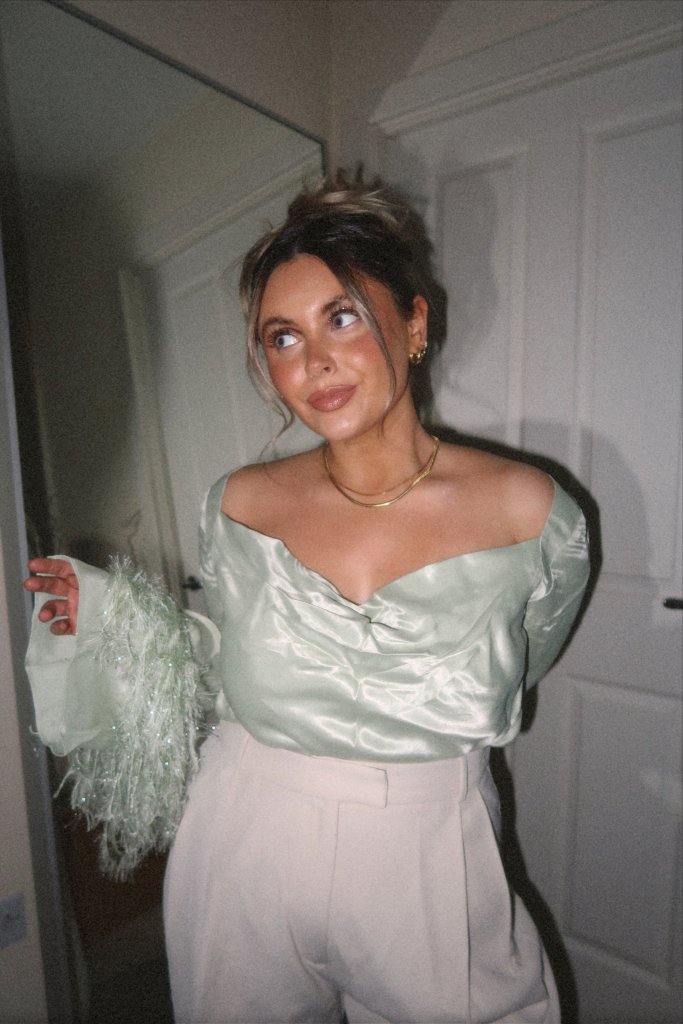 I feel strongly that sage is a neutral and also a forever colour now. I love a dressy top and tailored trousers combo (an elevated jeans and a nice top look) – it looks super chic and understated but is also comfortable for a full evening of activities.
I was also immediately drawn to The Party Moment happening on these sleeves and felt compelled to add to cart. This silky number does all the talking which means you can style this in a much more paired back way. The cowl neck drape is also universally flattering and never dates.
Fringe fever
Now I'm always here for a power shoulder moment. I have an insatiable desire to collect every oversized, vintage blazer on earth, so when I found this fringe 70's dream of a jacket I couldn't resist.
It's labeled online as a top but personally this falls more on the jacket side to me. It's the perfect last minute throw-on piece that'll instantly change up your outfit to become something of a statement. I went full maximalist with this and paired it with a tight fitting gold shimmer top to really let my 70s disco self shine through. This jacket also makes the perfect dancing partner as it does all the hard work shimmying for you…  
Diamante disco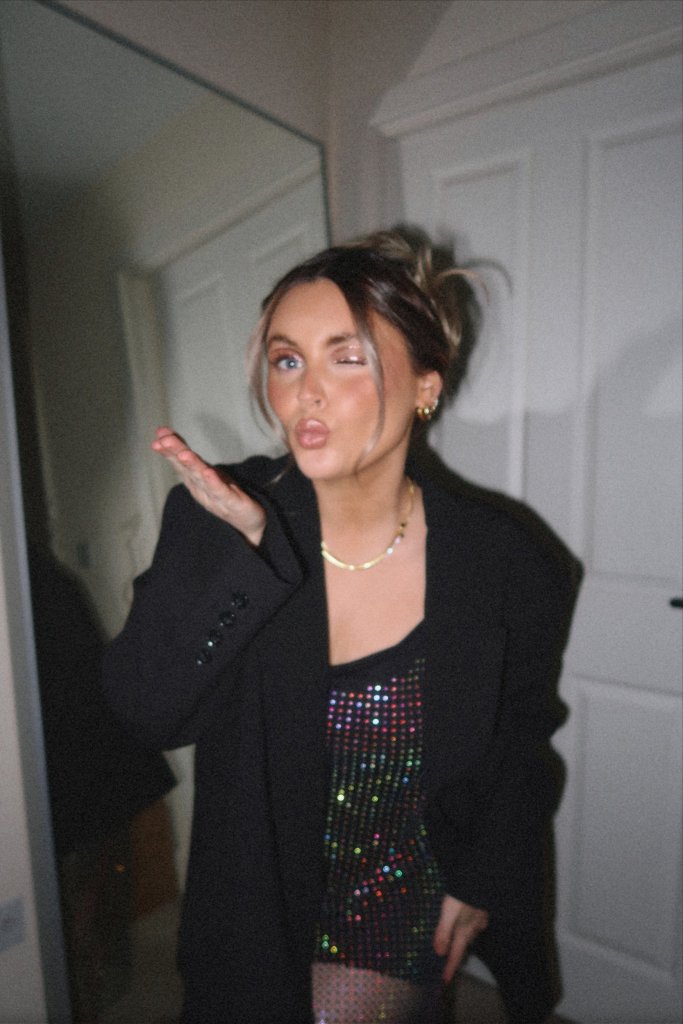 This feels full 90s glam and I am absolutely living for it! I almost paired this dress with tight flares to go all out but thought for a more glam evening out, I would love to wear this on its own as a mini dress, so here we are.
Being a mini, it's the perfect hem length for us short queens. Pair with some strappy heels and an oversized blazer its the dream! I love the black base to the dress as it really makes the diamante studs pop under the lights which I'm sure will be a hit if there's a dancefloor involved… Again, don't be worried about being petite and wearing an oversized blazer. I feel this silhouette is super flattering against a more bodycon slip dress and can actually make you look and feel taller (tried and tested). Especially when paired with heels.
I'm the gift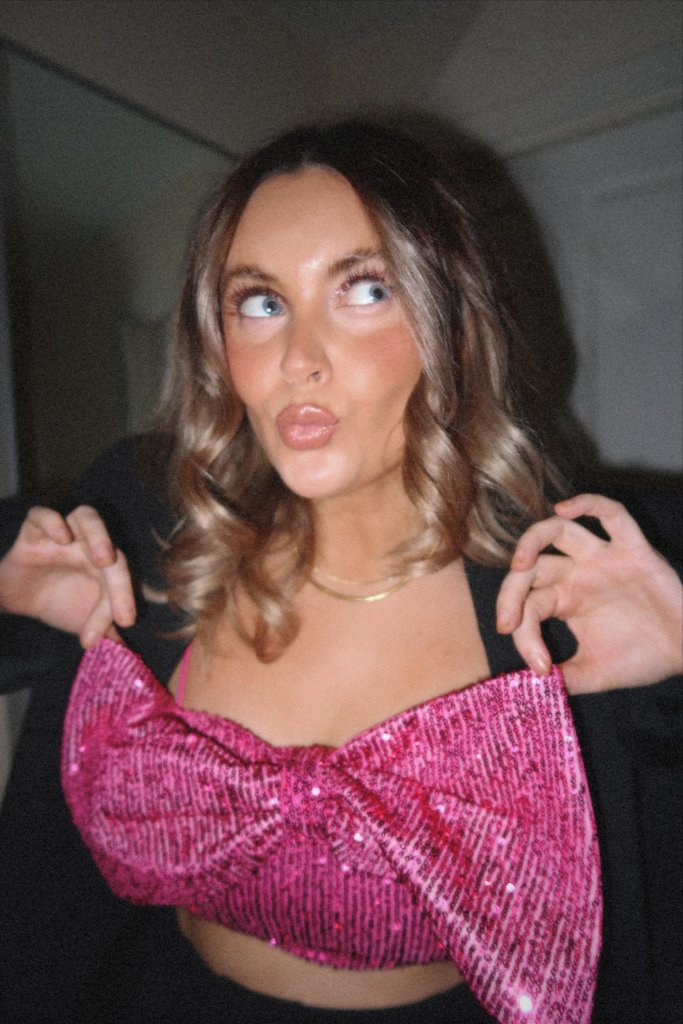 Bows are big news this year! Whether that's being worn in your hair, in your jewellery or as a cute shoe design (Mach & Mach I see you) they are everywhere. Now I don't mean to brag but this top screams 'I'm that girl' energy. Not a top for the faint hearted but I love how it really plays to the girly feminine style of a huge pink sequin bow.
Being petite really has its advantages when it comes to a crop top – its proportions help to balance us out and give us the appearance of longer legs, whoop whoop! Like me, if this frightens you slightly I like to pair with an androgynous style blazer and trouser suit combo to help soften the sugar-coated vibe. In all honesty, I just adore this look and think it would look super cute on all ages and sizes.
Cardi cool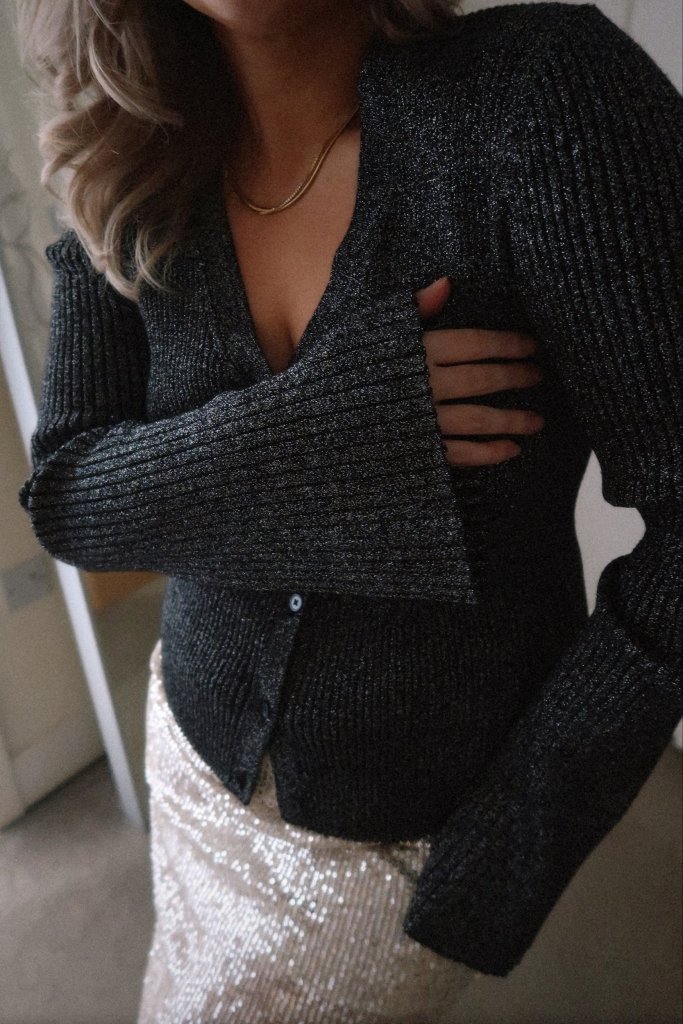 This is one for my babes who want to dress up but will not and cannot sacrifice their comfort. I respect that. So I've heard you loud and clear and styled this super-comfortable but very festive.
You've got glitter AND sequins. It's never too much this time of year so take advantage of pairing the more casual designs with sequins for the glitz factor! Petite styling is done best when in monochrome shade ranges for the ultimate elongated silhouette and this time I've gone for the people's favourite: grey.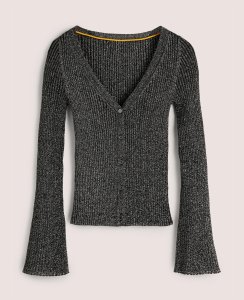 A super sophisticated shade for this time of year and perfect for pairing with silver accessories. I love this simple combination of a OTT sequin midi skirt with an old favourite cardigan. Relaxed but still tres cool and tres festive. Pass me the mistletoe!