Alexa, play "Bejeweled" by Taylor Swift. If there's one thing I'm going to do during party season it's rock up and make the whole place shimmer. This is the time of year to really go all out with a look as we are in the throes of Christmas and New Year's celebrating, so why not add a little (or let's face it, a lot) of sparkle into your look?
The high street has really got us covered when it comes to show-stopping sequins so I have come to show you a few of my favourites that you can get your hands on in store and online now for all of you pre-planners or last minute shoppers. There's also always the option of renting your partywear as well should you be so inclined.
Now, let's get into a bit of shimmer, shall we?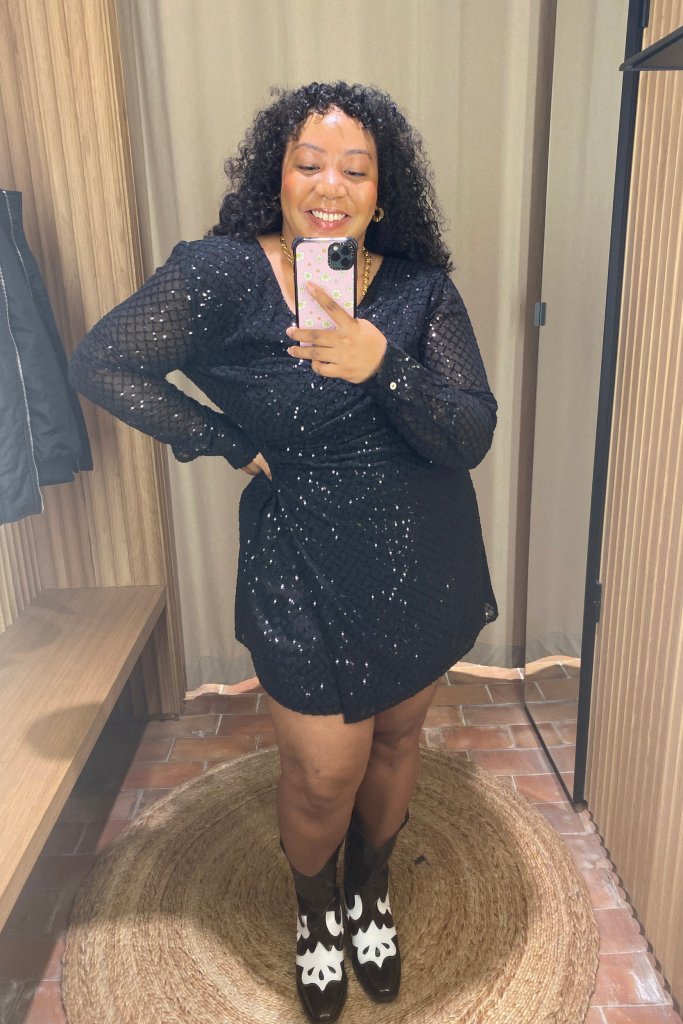 Every time I go to Oxford Street I have to pop into Mango – the partywear is truly next level this year! I found this short black sequin wrap dress that's probably the most wearable of all of sequins you'll come across. It's a LBD, it's mini, it's chic – something you'll pull out of your wardrobe time and time again for a festive do.
More party season inspiration:
I happened to be wearing cowboy boots on the day of my shopping excursion and I actually think they're a total vibe together! Otherwise, some silver heels would make a real statement.
I came out of the changing room and these silver sequin heels quite literally caught my eye, they were beaming in the light. I had to grab them and head to the checkout immediately. Imagine these with a crushed black velvet suit or a hot pink maxi dress? They are quite literal disco balls for your feet! Obsessed.
I dashed over to M&S to see what sparkles they had on offer and spotted this silver sequin tea dress. I love the midi-length, the puff sleeve and the dropped hem. It's a classic shape for a dress, super-wearable but with a sparkly festive feel! You can really dress this down with black chunky sole boots or trainers, or a simple black court shoe for something a bit more elevated.
H&M has this rose-gold sequinned mini dress that feels very fashion-girl-festive! It's not every day just black, silver or gold – let's mix it up a bit shall we? There's nothing subtle about this beauty and the pink hue is giving! With a look like this all I can think is the bolder the better with gold accessories, gold clutch and gold platforms to match for an almost Studio 54-esque, retro feel.
But if you wanted to go the other way and tone it down a notch, a nice oversized blazer would pair it back a bit but still make it feel very luxe.
I also found this dark green sequin skirt that's also something a little different when it comes to making a statement. The green is festive without being too on the nose and the high slit is very chic. I paired it with a black and white flounced one shoulder top which you can mix and match with so many different looks.
I found some real showstoppers in River Island. First up this black sequin maxi dress which would be the talk of any holiday party! I'm envisioning this during New Year's Eve with platform heels and champagne in hand. Make sure you have your affirmations ready to go because this dress is bound to manifest nothing but good things in 2023.
Now if dresses aren't your vibe, this long-sleeved sequin cropped top is bound to be more your speed. She is the moment! I paired them here with some faux leather flared trousers to toughen them up, but you could go for a velvet or even a black or silver denim. A skirt with this would also be such a mood, you'll be glimmering all night long.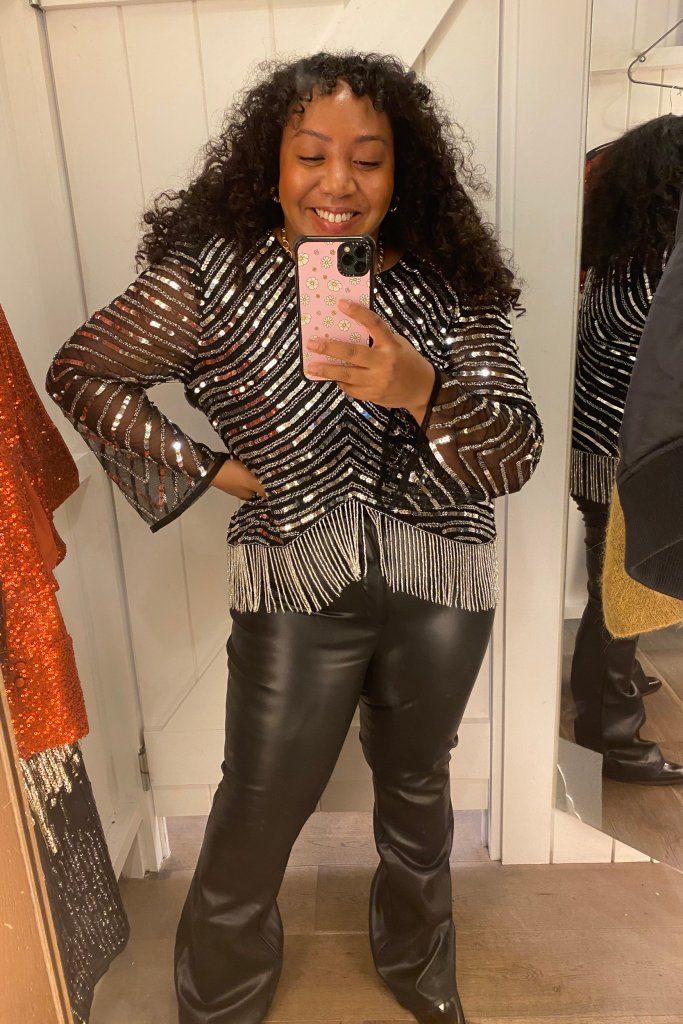 Well, my fellow magpies, that's the sparkle season well and truly covered, I'd say! I hope you found a little bit of inspiration for your festive outfits – these are looks that'll make you feel like your absolute best self whether you're at the office Christmas party or doing up NYE at a house party.
Go full glam in head-to-toe sequins or dress them down to make them feel as casual as you want them to. Or keep it simple and accessorise with a glittery heel or bag if you don't want to go all-out with the sequins! As always with fashion, there really are no rules. Have fun with it!