PSA: I've found *the* perfect white T-shirt. This is not a drill. Having sampled nearly all of the plain white tees the high street has to offer, I can say this with confidence. The T-shirt in question is from Arket, a store renowned for its expensive-looking basics, so it's no surprise it has nailed the elusive Perfect White Tee, a crucial part of the minimalist look.  
What makes it so perfect, I hear you ask? Firstly, it's made from organic cotton. That means it's super soft and sustainable. The sleeves are also the perfect mix of smart and slouchy, so it can be worn with everything from joggers on the weekend to tailored trousers for the office, though more on that later.
It's not too long either, which means it hangs nicely and doesn't look sloppy, if you like to leave yours loose, but can just as easily be tucked into jeans or trousers without leaving a bunch of material around your waist.
Since it's the heavyweight version of the style, it's at least 50% thicker than the average white T-shirt, which means two things.
1) It looks crisp, all the time. Where flimsier white tees might start to look a little worse for wear after a few washes, this one stands up strong, literally. It also means it's a breeze to iron.
2) It's not see-through. Any T-shirt lover worth her weight in them will know that a properly 'nude' and smoothing bra is a must underneath, but that needn't be the case with this one, since it's so thick.  
The best bit though? Like any white T-shirt, it's super versatile, but the unrivalled high quality of this one means it truly can be worn in a handful of different looks without looking shabby.
Still not convinced? Here's how I wear it four different ways:
Smart and sleek for work
If you work in a corporate office, I'd understand why you might raise an eyebrow at the idea of a plain T-shirt in that formal environment, but bear with me. Pair a pussybow blouse or stiff shirt with a trouser suit, and you could find yourself in tricky, stuffy territory. Throw in a cotton tee instead, and you have a modern, relaxed look that feels fresh.
Make sure every other element in your look is slick and elevated, and my hero T-shirt will slot right in.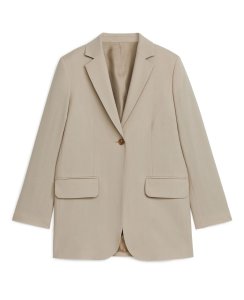 Read more on hero high street buys:
Dressy for dinner
I'm sure some will see it as a faux pas, but I'd rather be slightly underdressed than overdressed, and the T-shirt always comes in handy for this for effortless evening looks. A silky bias cut skirt or dress, heels and sparkly jewellery might feel too glam with a coordinating camisole, but with a crisp T-shirt, it feels modern and interesting. I'd throw on an oversized black blazer, too.  
Casual for weekend errands
The T-shirt is arguably in its natural habitat as the base of a casual weekend look. I'm always in a tracksuit when I'm off-duty, so a sturdy T-shirt is a must under or in place of a sweatshirt. Even in casual ensembles, I'll add leather accessories and gold jewellery to elevate it.
This one is also longline, so leggings fans can rejoice as it comes up long enough to pair with a black jersey style and chunky trainers.
Chic and low-key for shopping
When I'm out shopping and trying on handfuls of new items in the changing rooms, I always aim for a 'base' look. Typically, that means a white T-shirt, blue jeans, trainers and gold hoop earrings. It means I can try on skirts, trousers, shirts, jeans and tops with my 'base' separates to really see what they'll look like.
This tee is ideal for that, since it adds a crisp, fresh vibe to any look, and allows for a clean, pared-back base to let those new items take centre stage.