It's beginning to look a lot like Christmas everywhere you shop, take a look in the H&M, glistening once again, with strappy shoes and silver tops aglow… Away in a Zara, all sequins and thread, as endless "fun" dresses go over your head… Dashing through a Schuh, on a Christmas shopping day, trying on shoes you go, laughing all the way… What a bright time, it's the right time, to browse the night away… So have yourself a merry little Christmas, let your clothes be bright, from now on the best outfits are in our sight…
Feeling Christmassy yet? If that hasn't helped then these outfits hopefully will.  
Christmas party season is upon us and it's that time of the year when the shops are exploding with everything sparkles and shimmer. From mini dresses to maxis, co-ords to jumpsuits, there's no escaping it. But, as some of our favourite celebs show, there's lots of options for dressing up – and they don't have to be head-to-toe sequins.
Can't wait to throw on the glitz and glam? Get ahead of the game with this season's offering of incredible dresses. Or maybe an outfit here will remind you of a little dress tucked away at the back of your wardrobe and you might only need to buy one extra piece to make a brand new festive outfit. Either way, Christmas is an age-old excuse for dressing up (whether you're down the local on Christmas Eve or pulling out all the stops at the work Christmas-do).
More party season inspiration:
Whether you're more festive fear or Christmas cheer, a complete Grinch or you're feeling the pinch and don't want to buy anything you'll only wear once, we want to help you find an outfit for you.
Christmas party dresses
Let's start with dresses! From a classic and sleek LBD to a gorgeous embroidered maxi, the right dress will take you from casual Christmas drinks straight to the dance floor.
The mini dress
One for the daring, mini dresses are a go-to look for the ultimate party girl. If your dancing's not enough to dazzle, then a dress like this will help. My favourite combination is with this season's It platform heels. But for a more low-key outfit, look at chunky boots or embellished flats.

The maxi dress
If the thought of a mini is enough to make you (literally) shiver, then consider a maxi dress. I love the shape of this high-neck, long sleeve, velvet maxi on actress Emma Appleton, which would also be perfect paired with some heeled boots or a platform heel.
A classic slip dress
If you're after something that looks effortless but polished, a nineties-favourite slip dress might be the style for you. Throw a blazer on top (velvet looks extra festive) for a Christmas party outfit combo and you're guaranteed to be the chicest person in attendance.
Cut-out dresses
No longer just reserved for your summer holidays, cut-out dresses give festive glam in winter, too. As Florence and Simone show, they bring minis or midis straight up to date.
Sequin dresses
I love the shape of this Warehouse sequin dress on AJ. Yes, it's sequins. And yes, it's in a bright neon green. But the simple silhouette, skinny straps, and subtle slits on the leg make for a dress that's super striking and classy.
Likewise with Emilia. Yes, she couldn't be wearing more sequins if she tried, but there's still something refined about the look, especially with a blazer casually draped on top.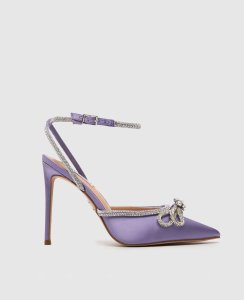 Shimmer dresses
If sequins are one step too far, then you can still dazzle with metallic shimmer. I dream of owning one of these The Vampire's Wife dresses, but in the meantime I'm on the hunt for all the high street dupes I can find.
The colourful Christmas party outfit
Christmas dressing doesn't have to be all monochrome and metallics. The catwalks were saturated in bold hues for autumn and winter, so a Christmas party is the perfect chance to make a statement with colour. If sequins aren't your thing, go for bold, exaggerated dress shapes, with Paloma inspired styling.
The leather dress
Leather dresses were all over the autumn/winter catwalks this year and are a great option if you want to add a bit of edge to a Christmas party outfit. If there's feathers too, even better.
Festive jumpsuits
If you steer clear of dresses all year round, there's no need to wear one for Christmas parties either. Feeling extra? Take Pixie as your inspo and go all-out with a fitted sequin jumpsuit. Or, for a more understated look, there's slinky satin styles and structured velvet jumpsuits (which will feel just as special).
Timeless trouser suits
A tuxedo suit is timeless, especially on winter evenings out when everything feels that bit more electric. Elevate yours with a lace bodysuit like Emma Willis or a silky cami and you're guaranteed to feel more festive than fuddy-duddy.
I love jewel tones and velvets at Christmas time and they look especially good as a lux tailored suit. And if you're not in the market for a whole new suit, then you've got the option to invest in an incredible blazer that you can pair with some smart trousers too.
Christmas co-ords
If a suit feels too formal, but you love a co-ord then Christmas is the time to have some fun with one. After all, I feel this has been the year of them, with matching skirts and cardigans, trousers and crop tops. From a metallic or embroidered outfit, like Fearne and Dua, to a sleek and simple style like Daisy, a Christmas co-ord could be the one for you.
Festive pyjamas for the comfiest Christmas party outfit
Pyjamas for a party? Only if they're fabulous! And especially if they're Daily Sleeper-inspired. The comfiest co-ord option out there, but with a smart silky finish and flirty feathers to bring just the right amount of glam.
Trousers + tops
Corsets have taken over Y2K trend-obsessed wardrobes this year and are showing no signs of disappearing. Match yours with some tailored trousers Zendaya-style for rocking around that Christmas tree, or get the party started like Anne Marie with a pair of pleather trousers.
Skirts + tops
If head-to-toe sequin looks are all a bit much, a skirt and top combo might strike the best balance. You might even be able to bring together pieces you already have in your wardrobe.
Zendaya's sequin skirt pairing is simply masterful – the cropped shirt is so cool but elegant. If you're not up for baring as much tummy, then look to Katherine for inspiration. Her sheer purple shirt with the oversized bow feels just as party-ready.