You've squealed in excitement over Facetime, heart-eyed the 'he/she said yes' selfie, heard the full story and pored over the ring (if there is one). What next? The engagement party, of course! And, more pressingly – what to wear? It's a particularly pertinent dilemma for me right now as my not-so-baby sister recently said 'yes'.
What's great about an engagement party is some styles that might not feel quite right for a wedding – white, black, denim – are good to go. Season, location and size of party are all important considerations, but it's a great opportunity to dress up. Tweaking accessories or shoes according to the vibe of the party is key – a bold red lip can and will instantly elevate understated styles, a bold jacket will transform that dress you've owned for years. Here are five looks to have on your radar…
The slinky slip
The slip, a '90s classic, is very much back for 2022. I love the asymmetric straps on this Mango style, though you might have to forego a bra, but this is the engagement party so (almost) anything goes. And the bold emerald shade makes the perfect statement. A kimono-style jacket is the dream partner for a slip – the unstructured cut makes it super versatile, treading the line between relaxed and dressed up, perfect for an engagement party.
I'd pair this duo with simple mule sandals, though if you wanted a more laid-back vibe, white plimsoll trainers would also look great. A sprinkling of gold jewellery and you're good to go.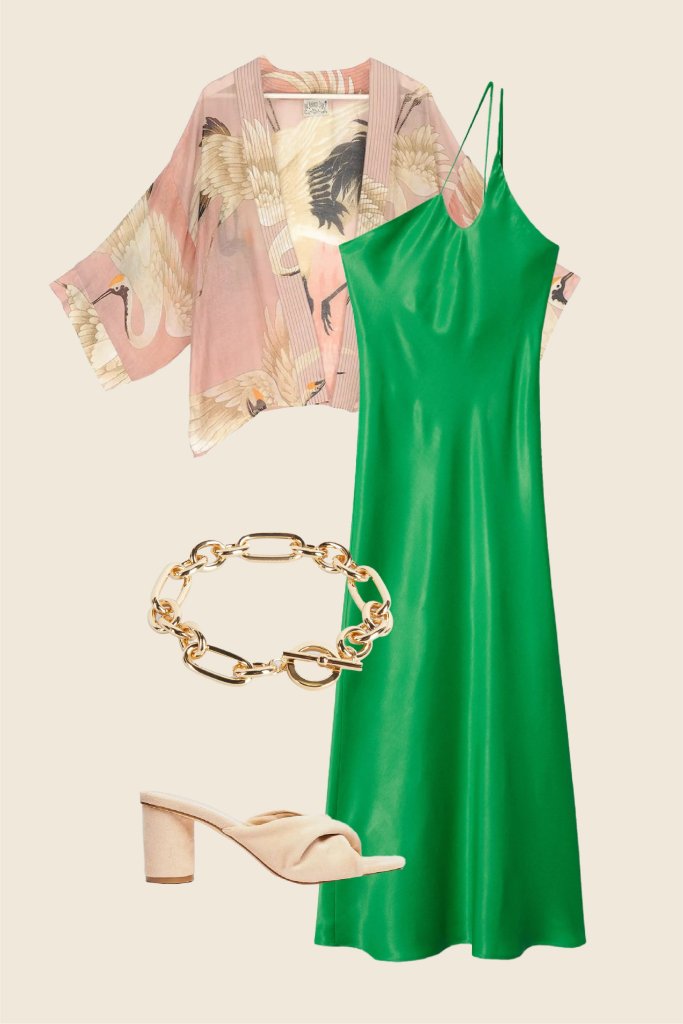 The long sleeved mini
Engagement parties tend to be more relaxed than a wedding, so it works well to style up a daytime piece. Enter the long-sleeved mini dress. High neckline, short hemline? Yes please. The great thing about this style is it doesn't need a jacket, and the more demure neck and sleeve cut balance the leg on show. Perfect.
A mini silhouette always nods to the 60s, especially in the a-line denim of this & Other Stories star, so I'd keep that theme going and pair it with knee high boots. A bit of a heel is always good with a mini and will elevate the denim to evening status. Then, accessorise, accessorise – statement earrings are a great choice with a high neck, and a pretty beaded bag will add a party note.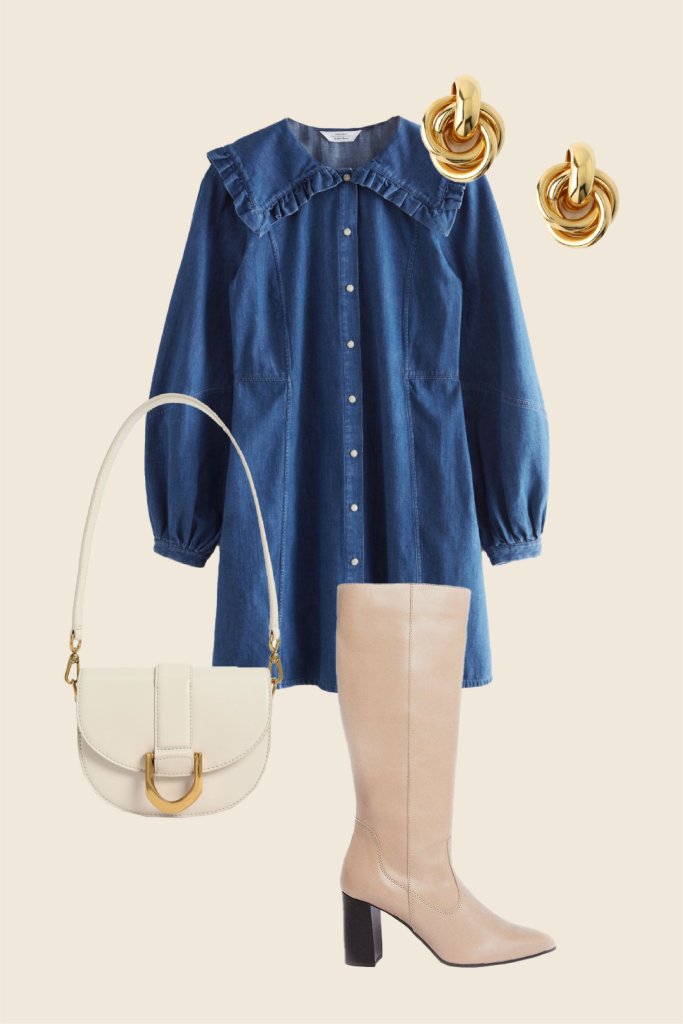 The trouser suit
You may well be heading straight from the office to the party, in which case, you need a look that works for both scenarios. Enter the trouser suit. Sleek and pulled together for the work day, with a couple of tweaks it's dreamy for a celebratory glass of fizz. Plus, you'll wear it again and again.
Opt for colour – there are beautiful jewel tone options all over the high street this season – Arket, Mango, Warehouse, Ted Baker, almost every high street store has a version. I love the cerise of this Warehouse duo – I'd pair it with a satin cami and flat sandals – the waist tie is a perfect addition for evening.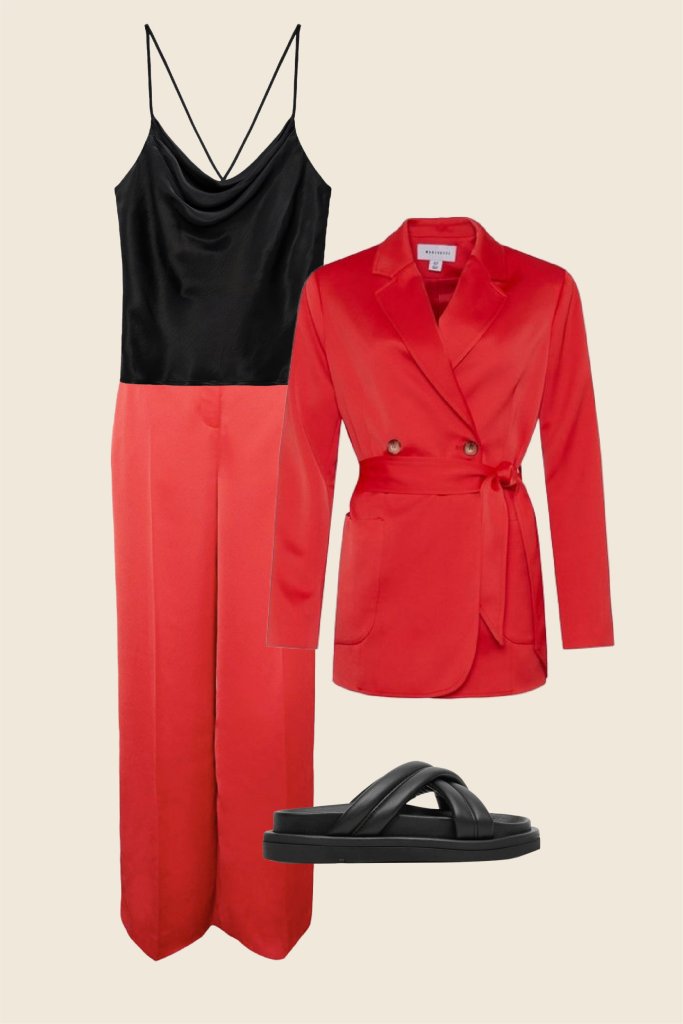 The printed jacket
What to wear when the gathering is more relaxed – think pub garden – but you still want to look as though you've made an effort? A statement jacket is a great solution. And while a blazer will always look great, I love the fun note a printed design brings.
This quilted Kitri style is beautiful – wear it over a silky cami. And, if you're going all out on top, you can get away with wearing jeans on the bottom. The joy with a jacket like this is you can dress it down at a later date by pairing it with a white T-shirt, or wear it over an LBD if you want to smarten everything up. In terms of your denim selection – ankle-cropped jeans work really well with strappy heeled sandals – but don't forget a pedi!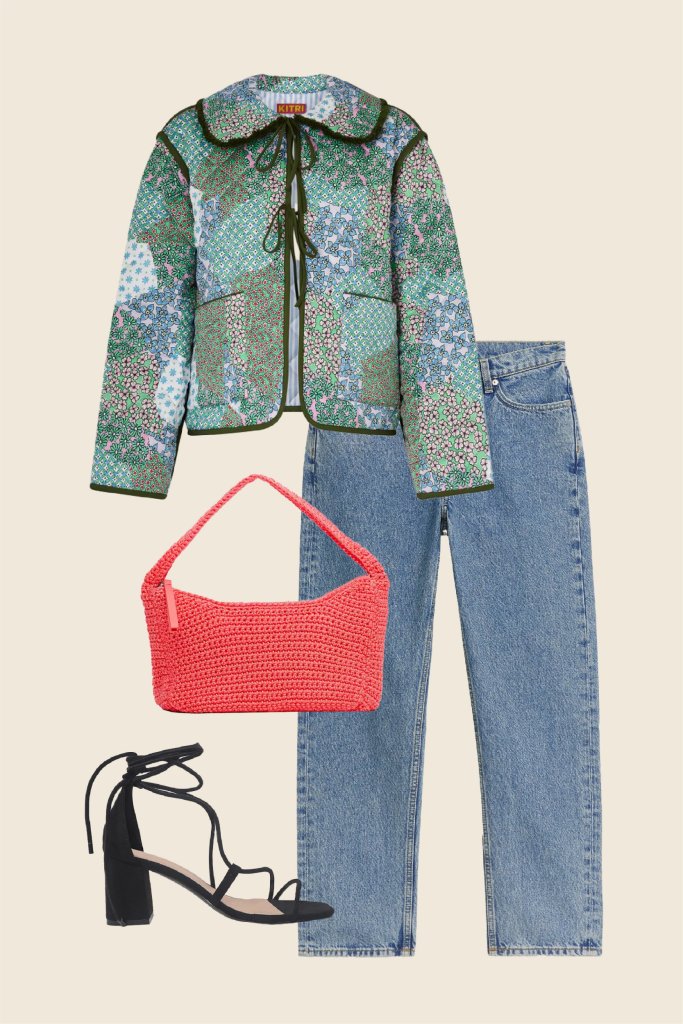 The printed jumpsuit
The jumpsuit is my go-to for most events – bar the ever-present going to the loo dilemma, it's a fast-track to sleek, modern style, needing very little in the way of accessorising, which I love. The high street is always awash with different iterations on this silhouette, with the likes of ASOS, Mango and Zara excelling time and time again.
Now, I know I promised upstaging the bride isn't on my agenda, but this fabulous style might run the risk of doing just that, particularly paired with a white blazer, eek. But it's so fabulous, I defy you to resist. And if it's your engagement party? Your outfit hunt is officially over.