Hey team Eliza, help! I love wearing dresses and have lots of different ones in my wardrobe, but I find it really difficult to style them with a jacket – for some reason the pieces I put together always look wrong. How can I make sure my dress and jacket pairings work to look stylish and flattering?

Carla from St Albans
Georgie says: 
This is such a common dilemma, Carla – it can be a minefield making sure colours, lengths and silhouettes work together.
Happily, there are a few failsafe combinations that will make this all much easier. And it's worth remembering that sometimes a simple styling trick – pushing up sleeves, belting, flicking a collar – turns a jacket and dress from mismatched to dream team.
Plus, many of the jacket styles that look great with dresses, you may well already have in your wardrobe. Read on to create the perfect pairing…
Denim jacket + jersey dress
Every wardrobe needs a great denim jacket – I love a vintage-inspired design like this Gap style – an oversized silhouette with all the classic details; blue denim, press-stud buttons and topstitching. Denim jackets really do go with most styles, but there's something about the simplicity of the style over a jersey silhouette that works particularly well.
Topping my list is a figure-skimming midi – the fitted cut perfectly offsets the roomier jacket design. It would look great with the jacket sleeves rolled up, or simply slung over shoulders – shrobing-style. Add chunky Chelsea boots and a few layers of necklaces and you're set.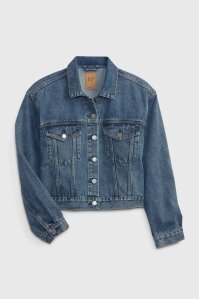 Khaki shacket + broderie anglaise dress
If you don't own a khaki shacket, order one immediately. I tracked one down last summer after years of hunting and it's truly one of the most versatile pieces I've ever invested in. I love it best over white broderie anglaise – this Zara style is pure whimsical romance and the oversized shacket brings a utility edge that somehow works perfectly.
Roll back the sleeves, flick the collar or, as per the denim jacket, on warmer days simply sling it over your shoulders. Mango's knotted sandals bring a minimal Scandi mood to proceedings. And you can't go wrong with gold hoops and red lips.
Quilted jacket + shirt dress
A hybrid of puffer and bomber, quilted jackets started cropping up last year and are here to stay. Warm and practical with an edge of modern cool, there are numerous iterations on the high street – I love the simplicity of this Aligne one. The quilted jacket is a great partner for a shirt dress – think clean lines and normcore overtones.
In terms of styling, button the dress and unpopper the jacket. Or, for a more polished take, you could loop a belt over everything, cinching at the waist. I'll wear mine with white trainers and varsity socks, though stompy track-sole boots would work just as well.
Suede jacket + tiered dress
Depending on the sartorial mood of your office, a tiered dress is the sort of style that transitions seamlessly from 'work to weekend'.
Cliched as that phrase is, the cost-per-wear of any piece of clothing is multiplied if you can wear it seven days a week. Jacketing a tiered dress can be tricky – horizontal lines all falling at different places and anything too oversized can end up more sack-ish than stylish.
Enter the suede jacket. The weightiness of suede gives it instant structure, and if you opt for a boxy, cropped silhouette it will complement rather than drown the dress' volume. Fringing optional. I'd add a silk scarf and boots that nod to a western vibe.
Biker + slip dress
Nothing beats marrying the toughened-up edge of the biker jacket with the whimsical girlishness of a silky slip dress. It's a match made in '90s-inspired heaven, beloved of many a grunge-loving style icon (Kate Moss, the Olsen twins) and as far as I'm concerned it will never go out of style.
The key is a slightly oversized jacket cut to offset the slinky lines of the dress – this Warehouse one is a particularly good version, with all the hallmarks of a classic biker. Zipped cuffs are a great detail and mean there's enough space to add a chunky knit come autumn.
I love the wider straps on this Zara slip – vital for adding a bra, for those of us without the gravity-defying assets of aforementioned slip lovers.
Blazer + floral midi
The blazer and the floral midi are, on paper, unlikely bedfellows – one unstructured and dreamy, whispering of summer days spent in bucolic meadows; the other carefully tailored, traditionally 'smart', cut for boardrooms in the city. But this paradox is precisely what makes them such a good team.
A longline double-breasted blazer works particularly well in terms of proportions – you want the jacket hem to hit just under your bum. I'd button the blazer over the dress for a wedding and add simple kitten-heel pumps, or unbutton it, push up the sleeves and wear with trainers for an everyday look.
And the chances are we all have at least one floral dress and one blazer in our repertoire, so this duo is wonderfully simple to execute.