Maternity dressing is a minefield. One that hadn't even occurred to me before I found out I was pregnant early last year.  
If you'd have asked me about maternity fashion pre-pregnancy, I would have happily imagined myself breezing around in floaty dresses and under-the-bump denim without a fashion care in the world. The reality is very different.  
Pretty quickly I discovered my expanding tummy was hard to navigate – I wanted to be comfortable while still wearing clothes I felt most 'me' in. Sadly my go-to jeans and a blazer weren't cutting it.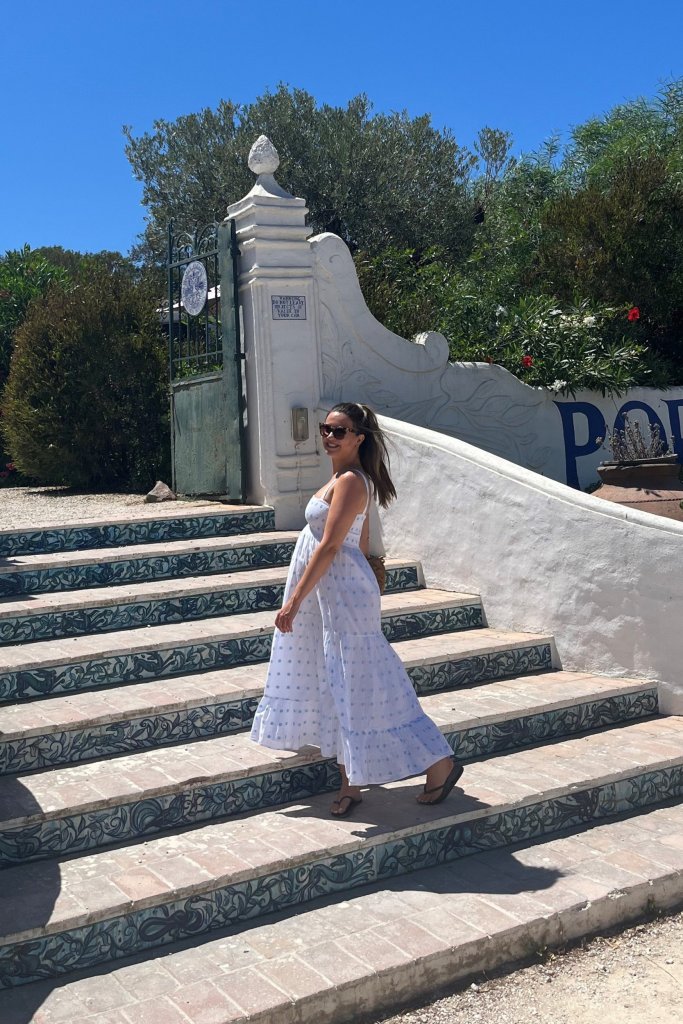 I even tried sizing up in mom jeans and trying the hair band trick (tying one end of the elastic through the buttonhole and the other end over the button to extend the waistband). But after a day in the office, I was desperate to get into my comfies the second I walked through the door.
Feeling totally uninspired by maternity collections – for me there are too many floral dresses and tight t-shirts and leggings – I turned to the high street. I was determined to find pieces in my favourite shops, that suit my new body.
And the good news is, I did. I found by honing in on certain silhouettes and clever sizing, you really can continue to wear non-maternity clothes that you'll be able to wear after you have the baby. After all, who wants to splash out on a new wardrobe that will only have a nine-month life span.
Here are six non-maternity pieces your summer wardrobe needs…
The knitted dress
Knitted dresses may seem the antithesis of summer, but a lightweight knit is exactly what you need.
The straight cut and stretchy fabric will expand with you – so you're safe investing in one in those early few months and it will see you through to the end of pregnancy and beyond. The wearable oatmeal shade of this Mango one feels less startling and intimidating than white, while still looking summery.  
The sleeves mean you can wear a trusty nude bra underneath (bonus points for comfort as I hate wearing strapless bras right now). Wear it with chunky dad sandals and as much jewellery as you like.  
The co-ord
Whether you're going on a summer holiday or staying home this year, a shorts co-ord is a must-have for staying cool and comfy in the heat. The elasticated waist on these shorts is snug, but I sized up to a 14 and it fits over my six-month bump.  
The fabric is soft (it's a linen and viscose mix that doesn't crease as much as 100% linen) so you could be forgiven for wearing it as pyjamas. But do not fear – it is suitable for leaving the house. A co-ord always makes you look put together, right?
The pieces mix and match brilliantly too. The shirt looks great with maternity jeans, while the shorts also work well over a swimsuit.
Drawstring trousers
Drawstring elasticated waists really have become my failsafe in the last few months, and these striped linen trousers are no exception.
They are a great option smart casual option for work. Perfect with an oversized shirt tucked in (yes, tucking in, remember that?!) I found myself avoiding tucks when my bump first started to grow. But I've learnt to embrace my new waist and tucking into these gives a smarter feel.
As my pregnancy continues, I'll opt for looser tops worn over the waistband rather than tucked in.
A trusty one-piece
Beachwear filled me with dread until I discovered how well crinkle fabric stretches over tummies. And luckily, there's an abundance of the stuff in swimwear ranges this year. 
Of course the OG is Hunza G. If you've got the budget, I'd opt for the square neck swimsuit in black. I find the bright colours slightly see-through, so black is the safest choice. It's pricey, but the fabric pings back to shape and you'll be able to wear it for years after baby.
For a more purse-friendly option, River Island have a great dupe which is available in 6 different colour options. And if you're fearful of the fabric, don't worry , it's super stretchy without going see-through.
A classic midi dress
I'm cheating slightly including more dresses in this roundup. But with no waistband in site, dresses really are the easiest thing to pull on in the morning and will ensure you're comfy all day.
Thankfully there's a ton of loose-fitting midis on the high street this summer – and they aren't all brightly coloured florals. 
Take the one from Albaray – the khaki tone pairs well with dark sandals, so works in the office or at the weekend.
If you prefer something with a bit more shape, dresses with an elastic waist or smocked detail like this white Zara dress are also brilliant as they stretch with you.
The oversized shirt
The ultimate secret weapon in any maternity wardrobe – an oversized shirt is the most versatile piece you could own. Whether you need a beach cover-up, a light jacket to throw over dresses, a top to wear with jeans or an extra layer for evenings, an oversized shirt has you covered.  
I have a denim one, a beige linen stripe and this white With Nothing Underneath one. Size up so you can still button it up in months to come, but even if you have some old ones languishing at the back of your wardrobe – dig them out, roll up the sleeves and wear them undone over your outfit.
If I'm worried a top or dress is a little tight, a shirt thrown over the top fixes everything. From covering my arms, hiding VPL and just making me feel more secure – they really are my ultimate pregnancy must-have.