If you're a gold jewellery lover like me, you'll probably have heard (and lived) the story I'm about to tell you MANY times. You're browsing for a new pair of gold earrings (because you most definitely need another pair) or another gold ring to add to your curated stack and you find it: the perfect piece to add to your collection.
You take it home and you love it as only a true gold jewellery lover could, wearing it non-stop for the coming weeks. Until one faithful day, you remove it to find a sludgy green ring around your finger, or that your gold hoops have turned a brassy orange shade. Cue sadness and another browse online to repeat the process again.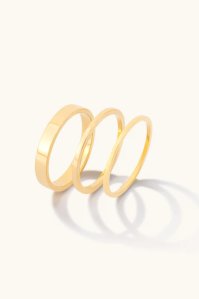 Now, not only is this no way to live, but in a time when sustainability is at the front of all our minds investing in jewellery that doesn't last longer than a Netflix binge just isn't ideal. So, when I started spotting a new wave of brands offering non-tarnish, waterproof gold jewellery my interest was most definitely piqued. I had to investigate…
So, what makes the gold non-tarnish?
Unlike traditional costume jewellery, which is usually made by gold-plating metals like brass or sterling silver, non-tarnish jewellery is made of stainless steel. It may not sound glamorous, but this steel is the perfect base for ensuring your jewellery lasts as long as possible. You see, stainless steel is not only super durable, but as the name suggests it's also resistant to rust and tarnishing.
As if that wasn't enough, the steel is then coated using a process called physical vapour deposition, which deposits colour onto the metal that is 10x stronger than gold plating. So, no matter how many times you forget to take your jewellery off in the shower it'll still look as fresh as when you bought it.
But does it actually work?
Before starting this test, I have to say I was sceptical. Waterproof gold jewellery just sounds like a gimmick to me, or, at the very least I thought the pieces would look or feel different than my other gold-plated jewellery meaning I wouldn't want to wear them. Wow was I wrong!
The first test was water: I washed up with my rings on, left my earrings in when I washed my hair and even got caught in a rain shower (all in the name of research) and every piece I tried still looked as shiny as the day I put it on. Yep, no browning, no fading and no green lines round my fingers. Water was a success.
Next up, was lotions, and this is one I was a little apprehensive about. I am an obsessive when it comes to moisturising and slather it on morning and night. Impressively the jewellery stood its own against the oils. I even sat a necklace in a pot of toner overnight (I was very serious about this testing business) and still it stayed rust free.
Lastly, came sweat and as I'm not an avid gym go-er I roped in some friends to help in this field. Unlike me, the jewellery made it through spin class and a gym session unscathed. The results? I'm officially a non-tarnish jewellery convert.
3 of the best non-tarnish, waterproof gold jewellery brands
Hey Harper
The OG in the waterproof gold jewellery movement, you've probably seen Hey Harper pop on your insta timeline, as since their launch they've quickly amassed a cult following thanks to their classic designs with a difference.
Proud to define themselves as anti-luxury, Hey Harper's mission is to put quality at the forefront of their products without the high-end price tag. And, they believe in this so much, they even offer a lifetime warranty on everything. Yep, you read that right. Even though 99.6% of their customers say their jewellery didn't fade or lose shine (and I can vouch for this too!) if you're in the minority 0.4% they'll simply replace your pieces for you hassle free. My top pick? Their newly launched DNA watch not only features a tarnish-proof bracelet band but the watch is actually water resistant too.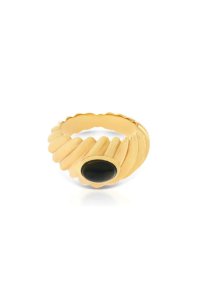 Read more on smart shopping:
D.Louise
Founded in January 2021, in the midst of the pandemic, D.Louise is the brainchild of girl boss Olivia and features timeless designs that reflect the world we live in. Named after Olivia's mum Deborah, who sadly passed away from cancer in 2017, it's a brand with heart and their collections definitely show this. From the self love collection, which donates 20% of it's profits to Cancer Research UK, to the bee collection, which helps support the bumblebee conservation trust, their pieces don't just look good but they do good too.
And, as if that wasn't enough, sustainability is also engrained into all aspects of D.Louise's processes too. All the packaging is recyclable and plastic free AND they plant a tree for every order to help offset their carbon footprint. One things for sure, these guys deserve a gold star (or gold necklace) for their efforts.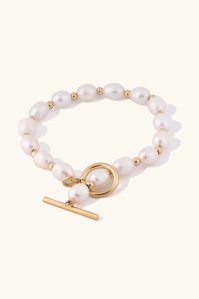 Seola Jewellery
Translating into rule-maker, Seola create jewellery designed to empower. Each of their pieces is named after a great female athlete and they promise all their styles are sweat-resistant and workout approved meaning you can do your best Serena Williams impression without the need to ditch your earrings (although do be careful out there, a racket and a pair of hoops are not designed to be the best of friends).
Alongside their more classic designs, like bracelets and chunky rings, I've also got my eye on Seola's more fashion forward pieces. From made to measure waist chains to 00s inspired anklets, these styles are made to be shown off.