Wednesday Addams is 'not like other girls' in pretty much every way. She's relentlessly morbid, a hater of people and a lover of torture techniques – all qualities that make her wickedly watchable. Jenna Ortega's take on our favourite Addams in Netflix's Wednesday comes with an impeccable wardrobe, if strictly monochrome with a big dose of goth-grunge attitude is your thing.
The hashtag #wednesdayaddamscosplay has over 190 million views on TikTok (and counting), and what you'll see is a masterclass in black and white dressing. There's that iconic black dress with its white contrast collar, which costume designer Colleen Atward says she has made even sharper in the latest Tim Burton-directed incarnation.
More on style:
Then alongside her Nevermore uniform – preppy striped blazer and pleated skirt in black and grey, while the other pupils wear a vivid purple version – Wednesday rocks stripes and checkerboard layers for day, dramatic chiffon, tulle and lace by night (for the Raven Ball, at least).
If you love the look but like Wednesday's colour-loving roommate Enid Sinclair, you find the shades of black all a bit 'funeral parlour', we're here to help.
We've reimagined some of Wednesday's signature looks with a serious injection of colour. I'm sure our leading lady would describe this edit as a 'dystopian hellscape', but we're running with it. Lots of these pieces are in the pre-Christmas sales so why not treat yourself or a fellow monochrome refusenik to something? Just add some chunky loafers or boots and Wednesday's favourite lip stain to retain a bit of Addams edge at all times.
Signature dress
Swap Wednesday's iconic black for mini dresses in peppy pinks, reds and greens. In the place of the skull-and-crossbones print, try bold florals. The peter-pan collar stays, but bring in rounder edges and embellishments for a softer-but-no-less-striking look.
Checkerboard knits
Checkerboard in contrasting brights make just as much impact as the OG palette. For an off-duty look, like Wednesday, layer knits over long-sleeved tees and finish with a bomber jacket. Or opt for a shirt and a more tailored coat for when you need to look more put together.
Striped tops
Stripes are another Wednesday staple. On the high street, you'll find tops in every colour you can think of – just throw a hoodie over one of these to nail another of our girl's signature casual looks.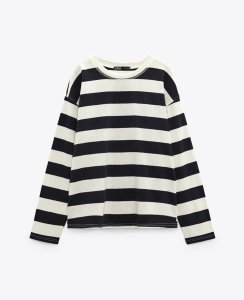 Tulle Party Dress
Okay, so your budget may not stretch to an Alaia gown like Wednesday's choice for the Raven Ball, but you can recreate the delicate-but-striking vibe with tulle, organza and lace options from your favourite retailers. We love hot pink for the ultimate goth-antidote.