"Something with Velcro, because knowing you it won't be staying on for long", was one delightful reply I received when asking my male friends for advice on what to wear for a first date.  
I want to preface this by saying at the time of asking said male friends, this was a hypothetical first date because I've been too lazy to re-download Hinge.
It's a question I've often wondered but never asked before.  From my experience, women, more often than not, dress to impress other women. We love to check out what others are wearing, admire them from afar and wonder 'is that Zara?' or 'oh my god, she has the new Loewe bag!'. Ultimately, we are first and foremost dressing for ourselves, but secondary to that, there is a real sense of satisfaction to be had in impressing another woman with your outfit.  Right?  
Very occasionally though, us single girls want an outfit that's going to impress the object of our desire. In my case, that's men. It's never occurred to me however to ask the few men in my life what they think is attractive on a woman, especially for that all-important initial impression – the first date.   
So I asked them.  
My favourite reply was "I don't want you dating, they're not good enough for you," (sweet), but among the genuine outfit suggestions (and some questionable pieces), the bottom line was the same: wear something that you're comfortable in and you'll feel confident.   
Well, here are the first date outfits that will (apparently) do just that, courtesy of six of my male friends. The results will surprise you…   
Josh: "Something tight with good trainers. And all-black everything is always a vibe."  
I like this one as I really do love to be in all-black. It's uncomplicated and clean and, I think, super-cool and sexy, so it's great that Josh agreed.
I decided a black top and skirt combination would be nice here to show a little skin. I also went for a dress option as a back-up, and then paired with some trainers to make it more low-key. Reformation is a favourite for me for date outfits because you always look good in Reformation, but Zara's offerings are great this season too. This would be a good one for casual drinks, I think. 
Jack: "I can see you in a full-length dress (is maxi the right term?). I also like jewellery on you."  
Umm, Jack, are you ok? Ok honey, whatever you say. I don't think the outfit I selected is quite what Jack had in mind, but if I'm doing a 'full-length dress' for a date then it would have to be a printed one like this.
I actually think a sheer knit with a pretty bra under and some jeans is also cute for evenings out, but again, not sure that's what Jack had in mind. Maybe the jeans and top combo is good for mini golf or movie date, and then the maxi dress for a nice dinner?
Keir: "I would say the first things I tend to notice are shoes and accessories, like lots of gold jewellery. I feel these are a really good expression of personality and style (plus all guys appreciate a strong shoe game)."  
This was one of my favourite answers because I'm an accessories addict. Jewellery is such an easy way of showing off some personality with a simpler outfit, and he's right – guys do love good shoes.  
I love to dress up then throw in a casual element like some sneakers. I've done an edit on my favourite jewels and kicks for dates. These trainers are boy-friendly but still dressy enough to add some edge to a date look. Gold jewellery for me is like air – I have to have it, date or no date, so I'm happy to add some in here.
Graham: "Go cute and understated, but confident and classy. Maybe a band T-shirt with a leather skirt and some boots?"   
A simple and effective answer and outfit combination from Our Graham. I think a leather skirt andsandals with a t-shirt is actually a winning combination: the leather is sexy but the t-shirt keeps it low key, and I can drape an oversized blazer over my shoulders too.
I'm not one for a band tee so this is my interpretation. This outfit is Graham-approved and Laura-approved. Winner. Ideal for a date in a dimly-lit cocktail bar.
Leo: "Stylish, but not overtly sexy. I think interesting trainers and streetwear vibes, but with an emphasis on independent brands rather than labels. I also love gold jewellery."  
Ok, so trainers and gold jewellery seem to be a theme here so maybe this is the overarching style tip to take from this group of men?
Again, I've paired some cute sneakers and gold jewels from my favourite brand Daphine, plus more 'streetwear' vibes with this utility skirt and jacket. I would definitely wear this for a date, but I would have to be dating a style-conscious guy otherwise I think it could be a bit intimidating. Any skateboarders reading this, take me out and I'll wear this, ok?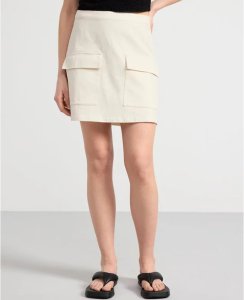 Ben: "Something like a black 90s'-esque spaghetti strap top with well-fitting cropped jeans, and a humorously small bag so I can take the mick when I'm flirting with you. Then a strappy mid-height sandal." 
The second gay man to appear on the list and, spoiler alert, he actually suggested I wear head-to-toe Versace. Sadly, my bank balance doesn't allow, so here are links to his other very specific outfit request. I love this outfit and would wear this if I was being taken somewhere fancy.
John: "Whatever you're most comfortable in. Men shouldn't have expectations for women having to wear a specific outfit for a first date"  
Ok John, this is a nice answer but I did want an outfit suggestion from you, mate. This was, however, what every single guy I asked said. Aren't they such good eggs?   
Ultimately the perfect first date outfit is something that allows you to be yourself, where you aren't having to wriggle pulling down a top because you think you're showing too much skin, or hold back on sharing some fries because your jeans are too tight.
It may sound cheesy but all of them said it, so I guess it has to be true – being comfortable and having confidence is the sexiest thing to wear. And hey, you're never fully dressed without a smile, right?