Eliza I need your help! I changed jobs this year so I need to overhaul my work wardrobe and find some winter clothes for wearing to the office I can dress up or down depending on the day. I went out shopping the other day and felt completely overwhelmed by everything in the shops and didn't know where to start. What should I invest in?

Emma from London
A new job is always a great excuse to refresh your work wardrobe and with all the excitement it's very tempting to splurge on something for that extra boost of confidence.
But we all know spontaneous shopping sprees are never the wisest – you don't want to buy something you'll only wear once or twice, especially when we're trying to be careful with our money going into winter.
You've got your basics sorted for what to wear to work all year round, getting to grips with a capsule wardrobe and classic workwear outfits for summer, but what happens when temperatures start dropping and all you want to do is hide under a duvet? Those gorgeous The Row inspired blazers and trench coats might not be warm enough.
Yes, there'll be plenty of dreamy duvet coats around to throw on at weekends, but are they smart enough to head to the office? Not always.
Perfecting your winter wardrobe boils down to some core cosy essentials. However, when it comes to winter workwear, there are a few more things to factor in.
What to consider when picking out winter work outfits
My top priorities for putting together a winter work wardrobe consider warmth (I don't want to be freezing on my commute, but equally I want to avoid overheating in the office), comfort (I need clothes I can sit, stand, and work in all day long) and style. Thrown together with just enough put togetherness and polish to make me feel ready to take on whatever comes my way.
A basic formula for winter work outfits can be extremely useful to save you from splurging on unnecessary items you only wear for one month a year. It also gives you options for elevating your work look on dressier days and pulling together outfits that feel more comfortable and low-key on days working at your desk.
Of course, office attire varies widely, ranging from completely laidback and anything-goes vibes to very smart, with that ambiguous smart casual dress code in between. But once you've put a bit of thought into it, with the help of a failsafe formula, I think winter work outfits are some of the most versatile, compared to struggling over what to wear in heatwaves and in-between rainy days.
A smart winter coat
Your biggest investment for the autumn season is a stylish winter coat and for winter work outfits you can't go wrong with neutral, earthy shades (khakis, browns, taupes and black) that will go with everything.
If you're a fan of trousers and midi dresses look for a longline coat that has a hemline below the back of your knees, as it'll give you the chicest silhouette.
A winter suit
Yes, trouser suits are having a moment, but what happens when the weather gets colder? Switch out suits made from cottons, viscose and polyester for blazer and trouser combos made from weightier wool fabrics. On extra cold days you can layer your smart winter coat over the top.
A winter co-ord
Again, it's all about fabrics when you're finding the best co-ords for winter. Replace your silky and satin matching sets for co-ords in heavier fabrics, such as corduroy and wool, like this skirt and cardigan set from & Other Stories (paired with the best tights) and this cosy shirt and trousers co-ord from H&M.
Wool trousers
If you lean towards relaxed tailoring looks when dressing for the office, invest in a great pair of wool trousers – a reliable, comfortable, and stylish foundation to many winter work outfits. The thicker woven fabrics will keep you warmer than the loose linen and cotton styles we've been loving for summer.
Corduroy trousers
If your work dress code is more laidback than formal then a pair of corduroy trousers are ideal for winter work outfits, perfect for wearing day to night from desk to dinner and drinks out after. I've got my eye on this slouchy pair from COS which strike the ultimate smart casual balance, but they also have straight corduory chinos if you're looking for a more fitted style.
Cotton shirts
A great shirt is a work wardrobe staple, but what types are best for winter months? I like a poplin shirt style, because the weave of the fabric tends to be stronger and gives your look that extra crispness. Layer tank tops (autumn's unexpected essential) underneath for extra warmth and when it gets even colder switch to fitted rollnecks.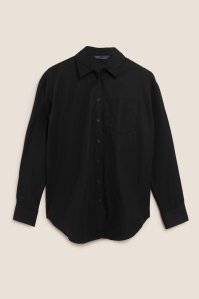 Corduroy shirts
Corduroy shirts are some of the cosiest layers around. They're more casual, but are a great investment if your office dress code is fairly relaxed, as you can wear them for work and at weekends.
High neck shirts
Save the chill with a high neck shirt, just tuck into trousers or skirts and layer with a knitted tank top over the top on extra cold days.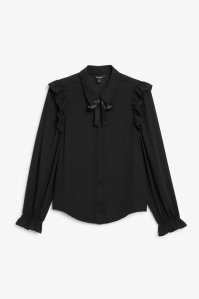 Fine knit rollnecks
You can never have too many rollnecks in my book. Wear them on their own with trousers and skirts for a sleek look, or layer underneath shirts and dresses. Just make sure they're not cropped and are long enough for tucking in.
Crew neck knits
When there's a chill in the air a crew neck knit will keep you cosy. Keep them fitted for smarter winter work outfits and tuck into tailored trousers or underneath winter suits. Cashmere knits like these are worth the investment for wearing at work, as they'll be soft against your skin all day long – even looking after your special knits doesn't need to be as daunting as you might think.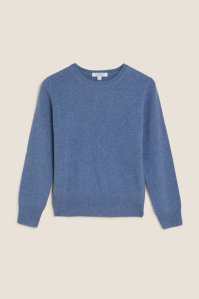 Winter dresses
As you switch out your favourite summer dresses for autumn dresses, keep shapes and fabrics in mind. Velvet, corduroy and wool will keep you warmer than thin cottons. We were a fan of Albaray dresses this summer, and for winter they've renewed their popular leopard print style with a high neck. We also love classic shirt dresses for autumn – just layer a rollneck underneath when it gets super chilly.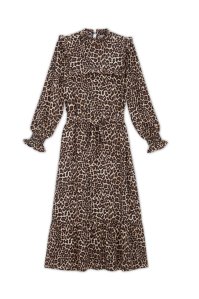 Knit dresses
Columnist Chloe Robertson's called it, knitted dresses are the petite dress of the season. We all love them for autumn, for a cosy and chic outfit. My tips for work-appropriate styles? Avoid any that are too slouchy and any with back cut outs which are better for weekends. Steer clear of any light shades too – darker fabrics will look pristine for longer (a white knitted dress is just asking for an AM clumsy coffee moment).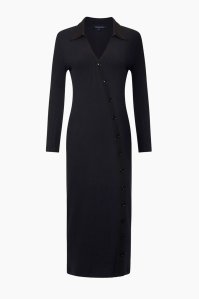 Smart flats
There comes a point when it's too cold even for trainers. Thankfully we're a long way off yet, but to get ahead of the game with flats you can start wearing now, buy some chunky loafers. Not only are they are a smart (but stylish) work shoe, the extra tread will keep you warmer for chilly morning commutes.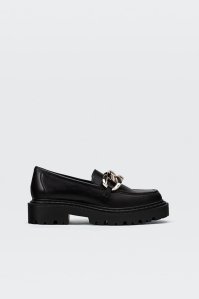 Winter work boots
The best autumn boot styles will have you covered for any occasion from date nights, dinners out, and your go-to pub outfits to winter work outfits. An ankle boot will look great underneath wide leg trousers, while knee high boots will look smart with knit dresses.