Ever since 2016 when Dyson first launched hair tools, I have been utterly fascinated with the technology and design behind the brand.
Watching my beauty editor peers rave about the products made me want a hairdryer or styler even more (I am the most easily-influenced shopper, trust me), and to my delight, I finally got my hands on one in recent months (praise be, hair styling gods).
But as someone who had also recently chopped off most of her hair, was I in for a disappointment?
What is the Dyson Airwrap?
You'll likely know all about the Dyson Airwrap if you're a haircare enthusiast. The first iteration of the pricey tool launched in 2018, two years after the brand released its now-iconic hairdryer.
Dyson's styling tools were a product of a cool £50 million investment that was put into engineer research. The brand wanted to deliver a more efficient, powerful airflow with a less bulky motor (and design), and less noise. The hairdryer resulted in a quicker drying time, less disruptive sound, and a lightweight, sleek approach to drying hair.
The Airwrap uses similar technology, along with the innovative Coanda effect, which allows hair to curl using just air, rather than damaging heat. The 'aerodynamic phenomenon' creates a 'spinning vortex of air' around the barrel of the tool to pull in pieces of hair for drying and curling. In short, it helps to dry and style your hair in one go, with minimum damage and maximum efficiency and performance. Pretty smart, hey?
How does the newest Multi-Styler Complete work?
This leads nicely to the newest version of Dyson's design: the Airwrap Multi-Styler Complete.
Dyson describes its latest update (and the first major one since the Airwrap's 2018 launch) as the 'best-performing and most-efficient Airwrap yet.'
So what's new?
First up, you now have the ability to change the direction of your barrel as you're using it with just one click (meaning a mix of both clockwise and anti-clockwise waves), rather than having to change the barrel entirely. This is pretty handy, and certainly speeds up your drying/styling process.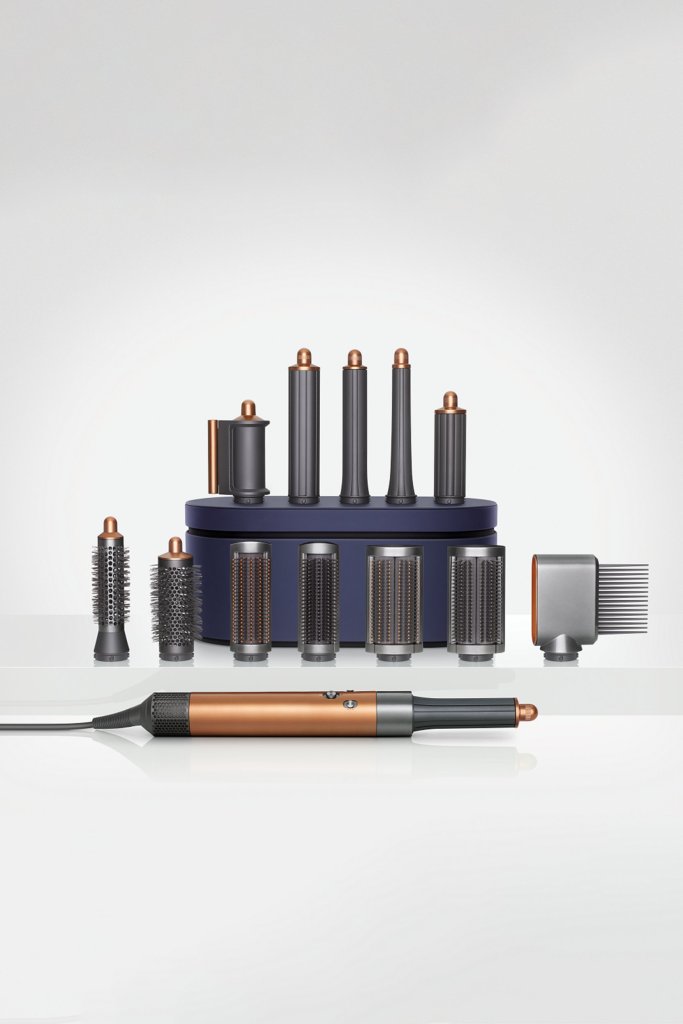 Then there are the re-engineered attachments, all of which the brand promises work the best they ever have. This includes the wide-tooth comb attachment designed for curly and coily hair, which has been made to add shape, volume, and length.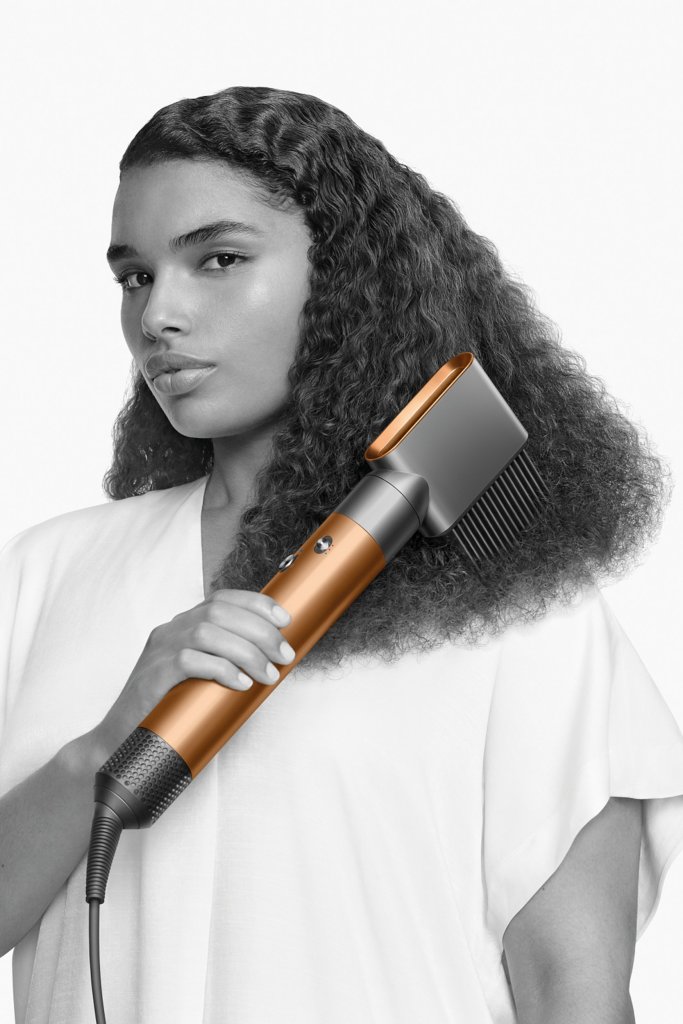 Dyson makes clear that this new design has been made to perform for a wider range of hair types, which James Dyson reiterates when he says: "Most styling tools ignore that hair types are very different – what attachment may work for one, could be detrimental to another. The advancements in the Dyson AirwrapTM multi-styler build on the success of its predecessor, through relentless research, user trials and advancements in computational fluid dynamics."
There are a few new attachment additions too, including the smoothing dryer, which consists of the original Airwrap rough drying head, but now with a flyaway-beating, smoothing attachment for hair that's dry. There are also new firm and soft brushes in small and large sizes, designed for different hair types.
Does The Dyson Airwrap Complete work on short hair?
Here I get on to my personal experiences with the Dyson Airwrap. As mentioned, I have always put this tool on a pedestal despite never trying it myself. I have been eternally jealous of anybody who has one, and have been desperate to own it.
However, after growing my hair for some time, I recently ended up chopping it off into a bob, just as I was offered the chance to receive one of the newest iterations of the Airwrap.
I saw this as an opportunity to give an honest review on how the tool works for shorter locks; indeed, most people I know who use one have Rapunzel-esque locks that seem to play pretty nicely already.
The first thing to mention is that there are two versions of the Airwrap Complete: one for hair that's shorter than chest length, and another that works for long locks. This immediately gave me confidence in the styler, as it meant real attention had been paid to those with bobs and shorter hair.
Cutting to the chase, if I were to answer whether the Airwrap works on short hair, I would say yes, it absolutely does. The length of your hair (to an extent) does not really affect the performance of the tool – however, as with any hair length trying it for the first time, your patience and ability really does.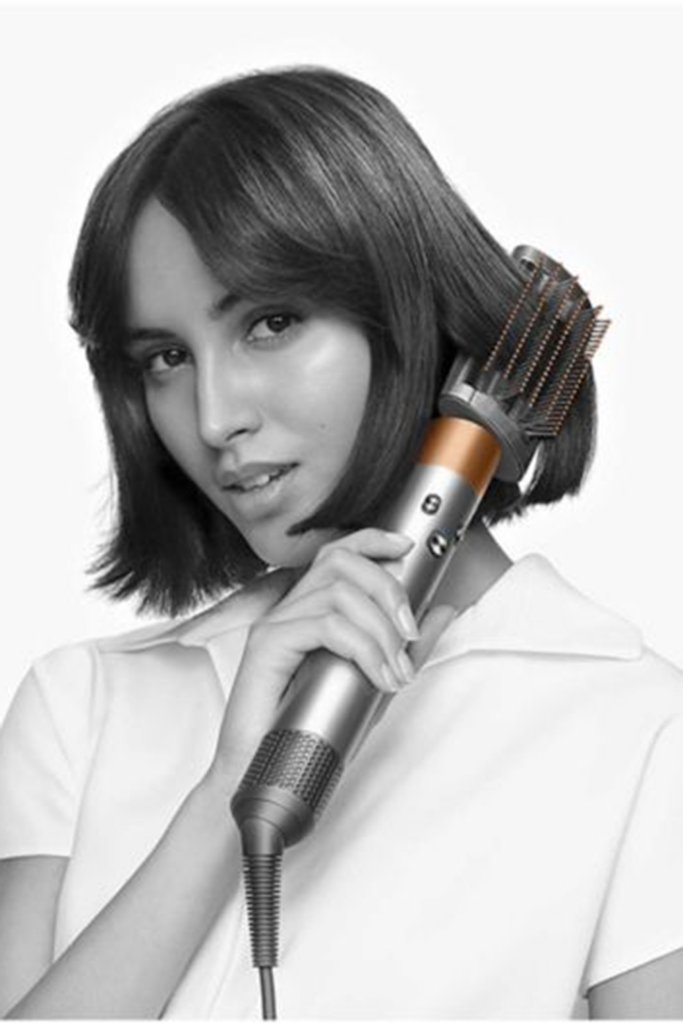 The first time I attempted to use mine, I was utterly baffled. As someone with a questionable level of spatial awareness, I found placing the tool correctly and getting my hair to attach pretty tough. In fact, I had to receive a comprehensive tutorial from Eliza's two Dyson Airwrap super fans: Georgia (who worked on social) and Hannah (on the beauty team with me).
This is where my most important finding comes into play: practice most certainly makes perfect with this, especially if you do have shorter hair and thus have less length to play with, which makes the process a little more fiddly.
After taking the tool home and having a few plays with it alone, I have definitely picked up the technique more, but I believe it will take me a little time to fully nail it (which I am told, is definitely worth the graft in the long term).
Need some tips? Dyson ambassador and esteemed hairstylist Larry King tells me: "The Dyson Airwrap multi-styler works really well on shorter and bob-length hair; if you use the shorter 30mm barrels you can create a nice flick and shape to the hair."
IMO, the product is best designed for those who love a bouncy, voluminous blow-out style with a retro feel. Admittedly, I am not used to this look as I have always been a beachy wave stan, but I do love the effect it creates when it's done on hair that's 80% dry already with the dryer attachment.
You see, I am notoriously lazy with drying my hair and always return to the humble rough dry approach, citing irreconcilable differences with blow dry techniques at every turn. This guy sure makes an at-home blow dry the most achievable I've ever found however.
King agrees that the tool "gives that nineties/noughties look and feel to it," so it's worth considering which styles you prefer before purchasing.
More beauty reviews:
My verdict
So, do I think the new styler works on short hair?
Yes, I do. I think with the new developments in the tool and the option to buy one for chest-length or shorter hair, length is not an issue.
I would emphasise that shorter-haired gals may find getting to grips with the technique a touch tougher, just because it can feel a little more fiddly. But if you persevere, great hair is on the other side.
I should also say that I have very fine, straight (slightly wavy when damp) hair. Using the tool on short hair that is thicker or curly may have different results.
I'd also point out that you need to think carefully before buying the tool (it is nearly £500, after all), depending on the type of style you prefer.
If you do like more of a textured, beachy wave, this may not be for you, and another Dyson tool may be a better investment.
Or, you could try out a Dyson dupe, such as the Revlon model or the newest Shark iteration, which you can see above and below in action on longer hair.
But if an easy, achievable at-home blow-dry is your goal, you may just find the Airwrap is worth forking out some extra £££ for your cute bob.