If I'm speaking frankly, I don't know a person alive these days who doesn't suffer from some form of stress or anxiety – and I am most certainly one of those people. I've been on medication and in therapy for years now due to OCD and anxiety, and am on a healing journey that has seen me face up to past traumas and other concerns.
But as well as traditional medicine, I've also always been interested in alternative therapies that can help in my journey, be it reiki, acupuncture or meditation. For many, these approaches can help sustain a healthy mindset and ongoing wellbeing, whereas for others like myself, they can be great supplementary therapies alongside medication and counselling.
And one I have wanted to try in recent years since hearing about it is ear seeding, so when I was given a chance to go for an appointment with Sarah Bradden to trial her 'Bradden Method' (which combines traditional Chinese practices with modern technology), I jumped at the chance.
More on treatments:
But what exactly is this ear seeding thing all about? You may have heard about it, but here's everything you need to know…
What is ear seeding?
Ear seeding uses acupressure and the application of ear seeding crystals. It works on the premise that applying said crystals to specific parts of the ear can help in a multitude of bodily and emotional issues as each part directly corresponds to specific organs, emotions and systems around our body.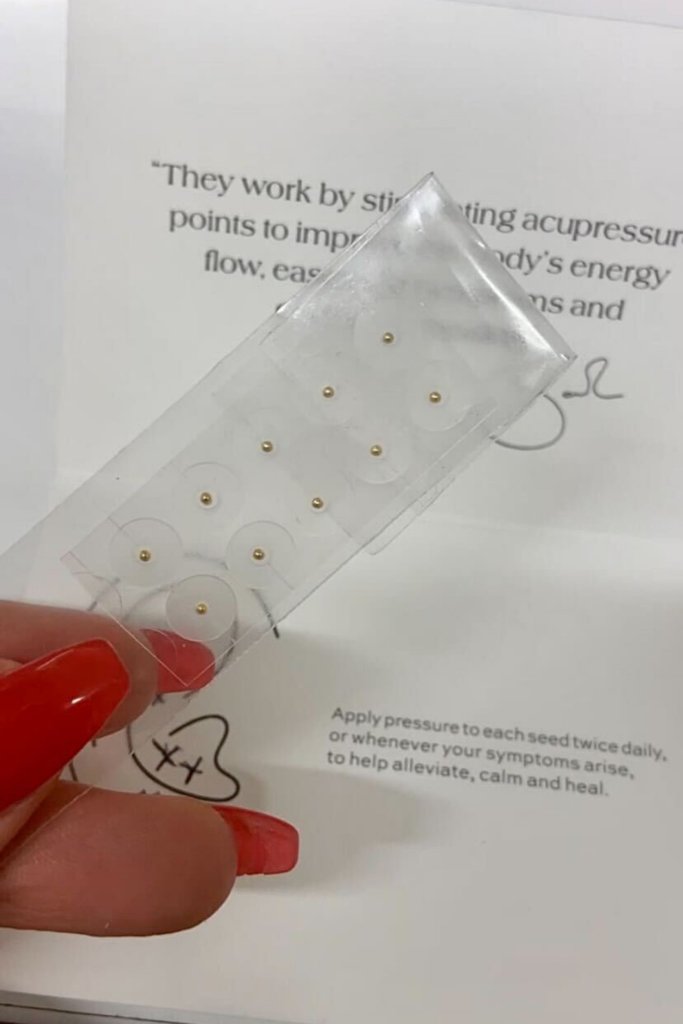 For example, if you are jet-lagged, hungover or recovering from an illness, the kidney can be targeted to reduce fatigue, inflammation and dehydration. Or, if you feel like your hormones are a bit all over the place, there are specific placements to leave you feeling more balanced and centred.
"The ear is like a direct line to the brain," says Sarah on her website. "When you apply acupressure to the ears, you are actually massaging your parasympathetic nervous system to restore energy and calm. There are more than 200 acupuncture points in the ear, which is why the ear is considered one of the most powerful microsystems."
Sarah offers 20-minute appointments, where she assesses your main concerns and picks from her 'menu' of five approaches: Calm, Balance, Recovery, Energiser, Antiager.
It's important to point out that while ear seeding has amassed a buzz online lately, it actually dates back thousands of years as a part of traditional Chinese medicine. In fact, it is said that there were references to ear seeding in Chinese texts as early as 221 B.C.
What can ear seeding treat?
As mentioned, ear seeding promises to help with a variety of bodily and emotional concerns, from inflammation and illness to stress and anxiety, which is what Sarah treated me for.
Sarah chose specific areas of my ear to aid in recent stress I had been experiencing, worry, and that feeling of being emotionally overwhelmed. The aim of the treatment was to leave me feeling more grounded, and able to go forth from that cosy little room with a renewed sense of clarity and calm. It's less about taking the source of your stress and anxiety away (which would be impossible for her to do!) and more about enabling you to focus and deal with things better.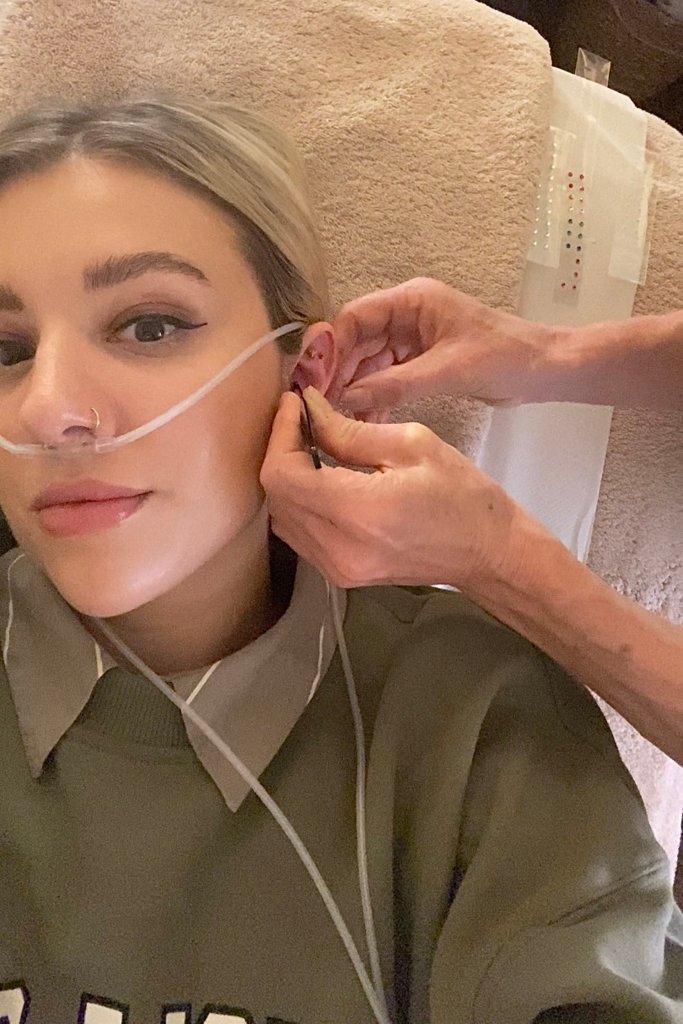 Does ear seeding hurt?
The treatment began with Sarah hooking me up to an oxygen tank through my nose, so I felt renewed as soon as the it began. She then spoke with me about my goals for this treatment, and then got to work applying the ear seeds. I was able to pick between pretty coloured stones and simple tiny gold balls, and went for a combination of both.
Sarah used both a pair of tweezers and her fingers to apply the seeds. I won't lie; the sensation when they are first applied is pretty uncomfortable – obviously, it's not as sore as a piercing, but it's like a sharp scratch when the stud goes on and the pressure is applied.
When you leave the treatment, you are told to apply pressure on your studs whenever you are feeling especially worried or stressed out, and are given a spare set to reapply any that fall out (along with a little illustration of where to put them). They should stay in around four to five days, after which they will begin to fall out naturally.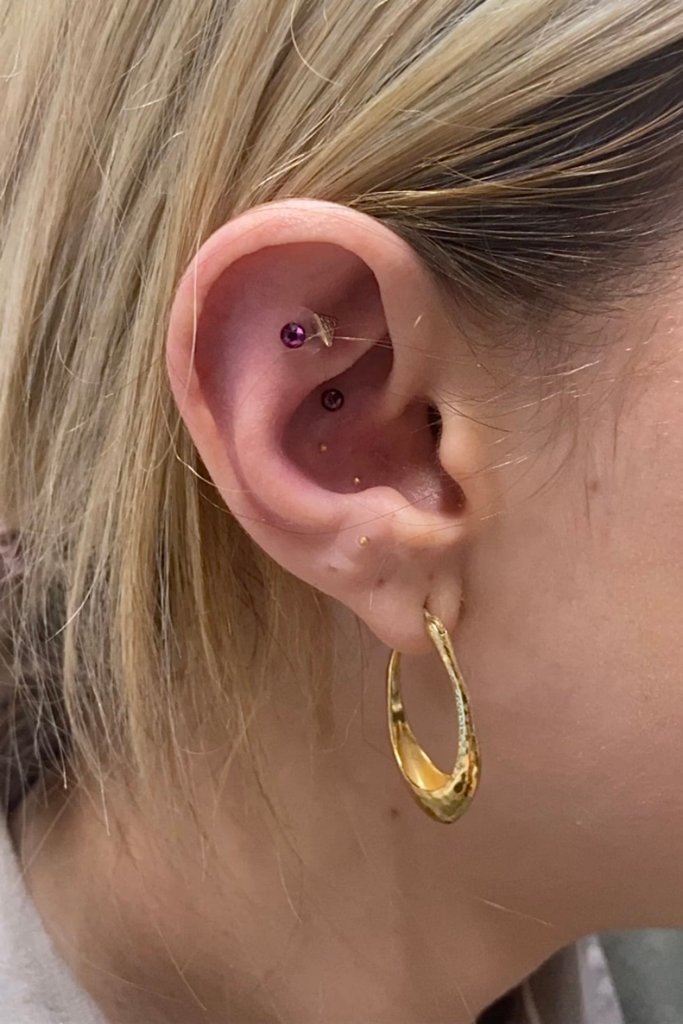 Ear seeding: my verdict
I have to say I definitely felt a renewed sense of calm after I left Sarah's treatment room. This may have been due to a combination of having the ear seeds themselves applied, and being in such a safe space with the lights down and a plush pillow to lay my head on!
As the days went on, I found it comforting to reach for my studs and apply some extra pressure during times of stress and worry. It may have been more psychological, but it certainly helped me to feel more grounded and together on the whole.
What I also loved about the treatment from a purely superficial stance was how lovely my ears looked. As well as the wellness benefits ear seeding can bring, it also gives you four of five new temporary earrings to show off.
A treatment that's beneficial for your health as well as stylish? Sign me up for this one again.
Where can you get ear seeding done?
Sarah runs her clinic out of Hershesons, Belgravia in London, but you can get it done nationwide if you do a simple Google search for nearby acupuncturists who carry out the treatment.
Alternatively, you can apply ear seeds yourself, but be sure to follow the guide that comes with your kit, or check out a YouTube tutorial for best practise.