My favourite thing about this time of year is the sheer abundance of glitter. It feels like everybody throws caution to the wind and finds themselves adding all kinds of sparkly adornments to their everyday makeup.
But then, of course, there are those who say "it all ends up down my face", to which I reply, "you just haven't met the right glitter!" With this in mind, let me introduce you to some of the greats, just in time for party season…
More party makeup ideas:
The best glitter makeup buys for party season
If you're a total beginner, one of the easiest brands to start your journey with is Half Magic Beauty. After Euphoria aired, Donni Davy, makeup designer and department head on the show, was inundated with questions about how to recreate the incredible looks debuted on Rue, Jules, Maddie and co.
She thus co-founded this brand so that people could create colourful, playful makeup looks easily at home. Exactly what we all need at this time of year, right?!
Start with one of her Glitter Pills (a gel-like glitter with a tiny applicator), which allows you to retrace your liner for a soft but noticeable pop of glitter.
Though it only came onto the scene in 2022, this brand is now home to some of my total kit staples. It ships from the U.S., so if you are rushing and wanted a local alternative, try the Collection Glam Crystals Metallic Eyeliner, £3.99, Sephora.
Once you've found your feet, exploring the Peaches and Cream loose pigments is imperative. In all my years as a makeup artist, these are without a doubt the best pigments I have ever used.
Peaches and Cream Gatsby, £4.80, Fabulous Makeup, a champagne glitter and Peaches and Cream Mermaze, £4.80, Fabulous Makeup, a reflective turquoise, should both be first on your wish list.
Peaches also offers a fantastic Pigment Drops, £4.76, Fabulous Makeup, solution you can mix into any loose pigment to make it a paste. Not only does this give you a dense glitter pay off, but it also means you won't spill anything when you apply it.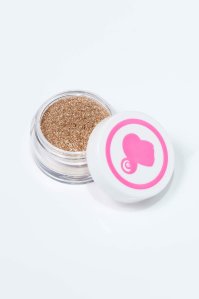 Glitter makeup tips from a makeup artist
All of this said, framing your glitter can be key in helping you to feel comfortable in it. If you take a wash of colour all over the eyelids and through the brow bones, then add a kiss of glitter to the eyelid itself, it helps to soften the entire look.
Urban Decay's Naked x Robin Eisenberg Eyeshadow Palette, £39.05, Beauty Bay, is one of my favourite launches from the brand in years. Essentially, it has grouped three colour families (soft golds, pinks and blues) each in various finishes, and made it easy to dial up or dial down in terms of sparkle.
Some of these shades, like many glitters, will work beautifully when applied with the ring finger. Brushes can often be too fussy and messy for glitters, whereas a dense finger print can create a more pigmented wash of colour.
Another way to feel more comfortable in glitter (or more generally, pops of colour around the eyes) is to keep the groundwork strong. Making sure your mascara and liner are nice and polished will help to frame everything in a more classic way.
And for complete confidence, I'd do your eye makeup first, wipe any drop down, and then do your base. It's the most fail-safe way to make sure there's no flyaway sparkle! For wiping the drop down, a dry brush is far better for swiping away glitter. Sometimes the dampness of a wipe can actually cause it to stick flat to your face with a vengeance.
Whatever time you get home from your big festive night out, please can you promise me one thing? You really must take your glitter off before bed. I'll forgive you the odd time for sleeping in your makeup over party season, but not if there's glitter involved.
Glitters can be slightly more abrasive than your average makeup items, so thoroughly removing them is imperative. You'll thank me for holding you to that in the morning!
Is there something else you want to nail before party season? Let me know @RoseGallagher on IG and we'll make it happen.