Eliza Approved spotlights those hero products worth the spend. Whether it's classic favourites or what's landed on our beauty editor's desk this week, you can put your trust in our recommendations.
If there's one thing I never stop banging on about, it's glow. Seriously, I often wonder how I've not been chucked out of the Eliza office yet for talking non-stop about brightening skincare and glossy makeup. My goal in life is to be practically reflective, with any matte formula landing on my desk instantly becoming an arch nemesis.
So one thing I've been in constant pursuit of in my life is an unbeatable highlighter – you know, the one that makes you look like you belong on a red carpet or fresh off the runway.
As of 2020, I have been in an exclusive relationship with just one highlighter – and just like any good, loyal Love Island contestant, it would take a hell of a lot to turn my head.
So let me introduce you to my one and only: the Refy Gloss Highlighter.
I first came across the product after developing my major girl crush on Jess Hunt and her brow line from Refy. The sell-out collection – centred around the now-iconic Brow Sculpt product – became an instant hit for the Insta set, with tubes of the stuff flying off the virtual shelves.
Next came Hunt's expansion of the line, which consisted of cream bronzers and blushers, and this little illuminating beauty.
As a highlighter connoisseur, I was instantly drawn to the discreet-looking tube, packaged in Refy's recognisable chic, understated branding. I like to think of myself as being a good judge of character upon first meetings, and the good feeling I had about the Gloss Highlighter has definitely confirmed my intuitive nature…
What's the formula like of the Refy Gloss Highlighter?
Let's start with the formula and finish. This highlighter is what I would describe as a 'gel-like' product, existing in the space between a liquid and a cream. It's easy to pat on and blend (I just apply with fingertips), and applies easily to all areas, from the tops of cheekbones to the cupid's bow. It's totally non-sticky, instead feeling smooth and silky to the touch.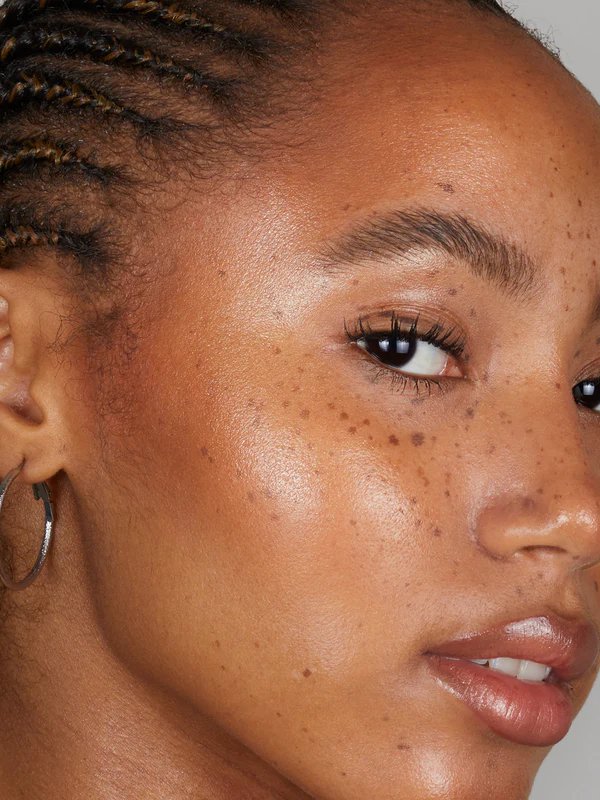 I would label this a thoroughly modern highlighter in terms of finish; the Instagram and TikTok generation don't want something super glittery, full-on, or holographic. Gone are the days when we reach for the Becca Champagne Pop's (R.I.P) of the world – we're now all about that reflective, glass-like glow that enhances skin for a healthy, model-off-duty vibe. This is exactly what Refy's offering does.
In fact, when I wear the stuff (which FYI, is on the daily), I tend to receive numerous questions and queries about what I'm wearing on my skin – particularly when paired with my ride or die Skin Tint by Ciate. I've even been stopped on the street and asked about my highlighter in the past, which is certainly no mean feat.
What is the shade like?
Refy's highlighter does only come in one shade, but I do really believe it is pretty universal due to its ability to naturally boost glass-like skin rather than add glitter or colour. Pictures on the Refy website and Instagram show it working on a range of skin tones, and I have also recommended it to friends with different skin tones, who have loved it just as much.
The shade is Topaz, with gorgeous gold/bronze undertones. It works beautifully on top of makeup, or just to add a subtle glow when blended in on those 'no makeup makeup' days.
Refy's Gloss Highlighter: my verdict
Price: RRP £18
Areas to apply: cheekbones, eyelids, under brow, cupid's bow, lips and collarbones
Benefits: Boosts glow, works well over makeup, lasts forever
Colour: 1 universal shade
A last special shoutout also has to go to the amount of time the tiny tube lasts for. As the product is so pigmented and a little goes a long way, you only need to use a tiny amount at a time, meaning my tube has lasted absolutely AGES. In fact, I'm still on the very first one I ever received, making it absolutely worth the £18 spend.
Buy this and you won't need to pick up another highlighter for a good long while – and I predict you probably won't want to, either.