I'll be honest: I find celebrity beauty brands exhausting. You know that TikTok sound that goes 'today drained me'? Well, that's how I feel every time I read a new A-lister has turned their hand to beauty.
But Hailey Bieber's Rhode Skin somehow sits outside of that category, and I'll tell you why: first, the small-but-perfectly-formed line is based around is based around GLOW, which for anyone who knows me will know, is my jam. Second, each product isn't extortionately priced. in fact, nothing (aside from the sets) is over £30. There was a definite gap in the market for an affordable-mid range celebrity brand that delivers, and the TikTok darling of our generation has undoubtedly delivered.
It took a minute for the brand to make its way over to the UK – it launched in the US in summer 2022, and came to our shores in May this year. And I was just as excited as every other beauty editor in town. The exclusive press list even left the beauty team squabbling over who could try what, making the goods all the more desirable.
So, after some thorough testing, here's everything you need to know about the brand – along with my no-BS review of which products you should try, and what you can press pause on for now.
What's all the hype about Rhode Skin?
If you've had access to Instagram over the past few years, then you can't have missed what can only be described as the 'Hailey Bieber Effect': glazed doughnut skin, glazed doughnut nails, the silky French-girl bob, to name just a few of the trends started by the model. And the source of that glossy, glowing skin? Turns out it's none other than her own brand, Rhode Skin, which was launched in the US back in summer 2022 and came to the UK shortly after, so we can get the effect all for ourselves.
Where can you buy Rhode in the UK?
Rhode is available exclusively at rhodeskin.com. UK users will now automatically be sent to the GB site, where all products will be shipped to our shores.
How much is Rhode?
As mentioned, one of the appealing things for me about this celeb brand is the price point; no individual product is over £30, and the sets you can buy (one which sells all three lip treatments in one pack, and another that allows you to buy all five of the brand's products in one kit) save you money over getting things individually.
The one annoying thing is the shipping charges; unfortunately, the cheapest shipping option you can get is £10, which will see your items arrive within 5–7 days. For express shipping (3–4 business days), it goes up to a cool £24.
But fear not; orders over £95 get free shipping, which is, er, just another excuse to go wild with shopping for Rhode I guess?
Which Rhode products should you buy?
The Rhode lineup is small but mighty. Here are the ones you should invest in, IMO.
The (now) cult lip product
You've probably already heard of the much raved-about Lip Treatment, £16, Rhode, which promotes the most impressive glossy aesthetic. Well, Hailey is now bringing the beloved Vanilla scent to the UK (joining the current line-up of Watermelon, Salted Caramel and Unscented).
The product is super hi-shine, but not sticky at all, instead feeling smooth and nourishing on the lips. It uses shea butter as well as peptides to plump and protect lips, while making them look ultra-pillowy and kissable.
I use the unscented version the most – I find the salted caramel a little sickly. Watermelon is divine for summer, however, and the Vanilla is divine.
My only qualm with this product is the price. At £16, it's pretty spenny for a glorified lip balm and the tube is rather tiny. But you know, you gotta do what you gotta do come payday…
The glow booster
Say hello to the Glazing Milk, £29, Rhode, arguably the most in-demand product from the line. The OG Glazing Fluid (see below) was an instant hit with skincare lovers, and this extra prep-step serves to only boost its glow-inducing powers while also reducing redness. What's not to love?
It's a lightweight milky essence (the clue's in the name), packed with ceramides to boost the skin barrier and a magnesium, zinc and copper blend for plump skin. Rumour has it, this is the product Bieber herself uses to prep her skin for the ultimate Rhode routine, pressing it gently into her face, neck and décolletage.
The one product you *need* now
In news that'll likely be no surprise to anybody, the product I rate most highly is the beloved Peptide Glazing Fluid, £29, Rhode, which promises to help you achieve Hailey's doughnut-glazed complexion.
This gel-serum comes with a handy pump (ideal for lazy girls such as myself), and is designed to be used after cleansing and before moisturiser/SPF/makeup. As well as promoting a super dewy finish on skin, it also supports the skin's moisture barrier with ingredients like hyaluronic acid, peptides, marula oil and niacinamide. It's therefore not just a surface-level booster, but also something that works on a deeper level.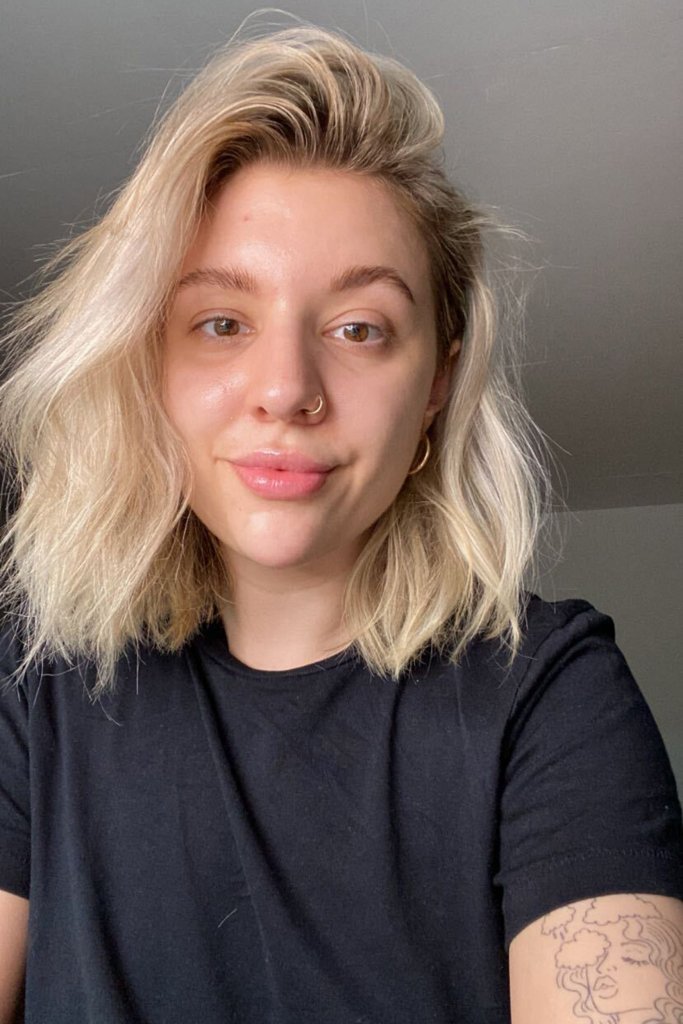 It's £29 and despite being a small bottle, well worth it if you ask me. If you can only buy one thing…
Something you could probably skip (but is still a great product)
In the interest of being BS-free, I had to reveal the product I think you can live without. However, I do so with a clear disclaimer: this is still a great find and one I recommend. I just don't know that you need it.
The Barrier Restore Cream, £29, Rhode, is a rich yet lightweight moisturiser that can be used day and night. I found it worked beautifully after the serum, and complements the radiance given by it. There's an impressive ingredients list with squalane, peptides and niacinamide all up there, and glides on nicely.
The reason it's not at the top of my list is because I think there are plenty of other similar products out there on the market you could buy for half the price. As with the lip treatment, the tube is also pretty dinky, meaning cost-per-use shoots up too.
That said, it's a lovely cream and well worth trying if you have the spare funds.