Is there anything better than dancing through the day and night to your favourite bands, with your favourite people? We'll wait… Festival season is definitely one of the biggest highlights of my calendar and one where it's still deemed acceptable for adults to dress up. Acceptable? I meant expected.
Festival fashion is fun, but it has a lot of practicalities to take into consideration – from the unpredictable British weather, to camping and going to the loo about five times an hour (day drinking, duh). Then do't forget your look at a festival needs to take you from day to night, then back to daytime again.
What should I wear to a festival this summer?
When we think festival-goer who nails the look – Alexa Chung, Fearne Cotton and Sienna Miller come to mind. Great festival outfits are made up of denim cut-offs or a great mini dress, paired with wellies and a rain mac, of course. The best bit? There really are no boundaries, from your hair accessories to your manicure to your footwear. And after (literally) years of being stuck inside, feel free to go all-out dressed in your festival glad rags.
Festival outfit ideas for 2023
Whether you're off to a day festival or a mud-filled weekend, keep scrolling for my guide to what to wear to a festival this year. My top tip? Dress from your shoes upwards – your feet will thank me later…
Festival Outfit 1: Jeans and a tank top
This one might feel wrong, but all the cool girls were rocking jeans to Coachella this year — Kendall Jenner, Camilla Cabello, and Suki Waterhouse included. So, why not go back to basics and opt for a low-key jeans and a crop top combo?
I love the idea of this loose bleach pair with a simple tank, some sturdy ankle boots, a baseball cap, and a '90s shoulder bag (à la Hailey Bieber). Or, if this is too minimal for you, switch the tank for a crochet top and go for flared jeans and clogs to lean in to the '70s Daisy Jones and the Six trend that's so hot right now. I fell in love with this rainbow corset bra from 404 Studio after being introduced to the Spanish brand at 080 Barcelona Fashion Week 2023.
Festival outfit 2: A mini dress & wellies
There are few occasions where you can pull off a sequined dress and wellies – well, if you're Alexa Chung you can pull it off any time – which is why this is a favourite look for festival dwellers. Play around with textures from sequins to knitted dresses. And the shorter the better. Pair with wellies and a denim jacket tied around your waist, for when the sun goes down.
Festival Outfit 3: Rock a band T-shirt
Whether it's memorabilia from your favourite band's concert or a second-hand bargain you found in Camden market, sporting a rock band T-shirt instantly adds extra cool points. Even if it's McFly emblazoned across your chest.
Complete the effortless look with denim shorts and chunky trainers. Ozzy Osbourne-style sunglasses will round it all off.
Festival Outfit 4: A colourful co-ord
Co-ords can solve a summer fashion conundrum in one fell swoop; you only have to choose one half of the look, and the rest of it already matches, therefore cutting your getting-ready time in half so there's more time to affix sequins to your face.
Choose bright colours if you can. And keep it old school and complete the look with flatform sandals.
Festival Outfit 5: A knitted dress & boots
We can thank the Italian fashion powerhouse Missoni for the resurgence of colourful knitted dresses and skirts back in our lives. Sitting high on the practicality scale, a knitted dress looks good whilst keeping you covered without adding any extra layers.
Make it sexy – yes, knitted dresses can be sexy – and show some shoulder with a racerback style. If the sun isn't shining whilst you're dancing, team with a faux leather jacket and a pair of track sole boots. Add a bucket hat for a pop of colour.
Festival Outfit 6: A pretty dress & rain coat
Yes, you can wear a pretty frock to a festival, even if it's raining. Go for a floral midi or a dress with broderie detail on it, for a nod to the boho look. Let's be realistic, it's probably going to rain at some stage, so be as prepared as Alexa Chung and wear a mac over the top. Extra British points if it's got some sort of heritage check or plaid detailing. Converse will dress down the look.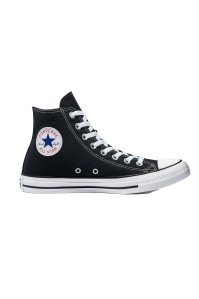 Festival Outfit 7: Try a textured jacket
Festivals are all about layering – you want to be able to peel them off you easily when your two-stepping picks up the tempo, but you also want to make sure you're warm enough when the beer jacket starts to wear off.
Teddy fleece is having a big moment in fashion, as is suede and fringing which are already festival favourites. It instantly transforms a look built from basics. Try worn over a white t-shirt and tonal wide leg jeans. Stomper boots or wellies will shield your whites.
Festival Outfit 8: 70s floaty dress
Patchwork, paisley and any psychedelic prints are the bread and butter of festival fashion and tap into the 70's trend that's on the up. A gorgeous dress covered in a boho print makes for an easy Wilderness-ready outfit. Wear with a clashing oversized plaid shirt. Don't be afraid to go big – the bolder, the better.
Finish off the look with a pair of walking boots ready for the squelchy mud, or for the fashion forward, stick to Timberlands.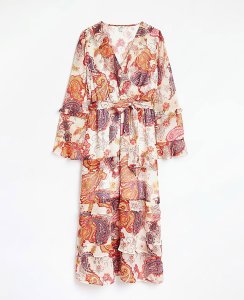 Festival Outfit 9: Cool dungarees
Easy to style, playful and full of pockets (for stuffing loo roll in!). The only downside to wearing dungarees to a festival? I can't lie, they're a bit of a pain to pull down inside a portaloo. But it's worth it.
Opt for blue denim and team with a knitted crop top or frilly collared shirt. To go full '90s, wear a crossbody or bum bag. Turns out they are pretty practical when it comes to dancing carefree, without having to worry about where your phone is.