Your palms are sweaty, knees weak, arms are heavy: the lyrics of a famous Eminem song and also the physical state of the entire nation in the last week before Christmas.
If it's been a really big December you may also have vomit on your sweater, mom's spaghetti, in which case stop reading this article – you can't be saved.
Most of us are limping to the finish line. We've been trying to live our best festive lives but December is long and it is almost impossible to get through it without being hit by the dreaded lurgy or a rogue hangover.
Read next:
If you find yourself in a position where you can't duck out of a Christmas occasion but you look like death warmed up, follow these top tips on how you can restore yourself to the life and soul of the party, even if you don't feel it.
5 ways to not look like you're hungover
1. Liven up your environment
This is the most important step: to get into the spirit you need to trick yourself into thinking you're in the mood for some fun.
Crank the music in your home and attempt a small Christmas dance while you get ready. Try Mariah Carey or Wham on Spotify. See? You feel better already!
2. Brighten up your face
You're congested, the dark circles under your eyes give away your lack of sleep, your lips are drier than the Sahara and your skin has a sweaty sheen to it. These are all major giveaways that you're not feeling your best.
Firstly, you need to de-puff. Pop on some cooling under-eye patches to address the impact of those late nights. My go-to? The Patchology Illuminating Eye Gels, £14, Boots.
Next, treat yourself to a sesh with a jade roller to flush out any congestion and reach for some Breakout Pimple Spot Patches, £6.99, SkinChoice to treat any post-booze blemishes.
Then you need to moisturise any dry areas like your lips and nose, and hydrate the rest of your face that may be feeling the effects of overindulgence. Try the Inkey List Super Solutions 10% Urea Moisturiser, £18.99, Boots or Dr PawPaw Original Balm, £6.95 for those really chapped areas.
Finding that 'inner glow' is key because if you haven't slept well or you've drank too much, your skin can look lacklustre.
Reach for any priming makeup with proven glow-up credentials (I swear by Charlotte Tilbury Flawless Filter, £36, Sephora). Then layer on a high-coverage foundation like Huda's Faux Filter, £36, Boots, making sure you're addressing any dark circles or redness. Ensure you're applying enough base layer, particularly on your cheeks as it will help combat the dreaded sweaty-skin makeup slide.
Take a cream blush high up on the cheeks like Doin The Most Lip & Cheek Glow, £16, Kylie Cosmetics to give the illusion of health and be sure to brush over some bronzer to give some colour – I love this primer-infused powder from Elf.
I would steer clear of any bold lips or eyes as the stakes are too high for tears if it goes wrong. Plus, if your skin is dry and tired, it may just end up looking a mess.
Instead, go for a hydrating balm on your lips such as the Hourglass Phantom Volumising Glossy Balm, £34, Harvey Nichols, and a light sparkle on your lids like the Sparkler Eyeshadow from Mac, with plenty of mascara. Perhaps smudge some eyeliner along the lids to disguise any shadows as intentionally placed makeup.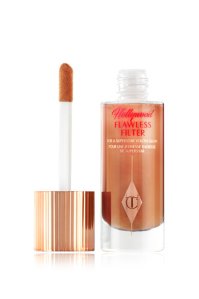 3. Spruce up your hair
If you can muster the energy, wash and blow dry your hair. A big swoopy, shiny blow out is going to make all the difference, with the added bonus that you can hide behind it. If you're in such a state that you can't even get to running water, you're going to have to reach for the dry shampoo.
I would also tie your hair back with a chic little claw clip or in a ponytail because it probably did really need a wash.
4. Cover up the lingering boozy smell
If you're hungover, you're probably going to smell a bit mulled wine-y. You need to reach for a nice fresh perfume that is literally the opposite of how you currently feel and smell. It also needs to be light because you're probably going to over-spray it out of desperation (you don't want the final result to have your unlucky companions choking on the fumes).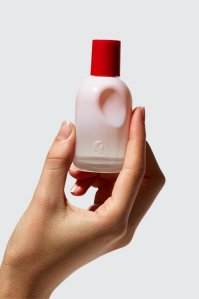 5. Wear something you feel comfortable in
Two schools of thought here:
Either just go all black. It's chic, it doesn't draw attention, you'll feel comfortable in it and you can make a quick French exit when the time is right without anyone noticing.
Or, if you're feeling a bit more adventurous, then what better way to distract everyone from your grogginess than wearing your most extra outfit? I'm talking sequins, sparkles, your favourite trouser suit – anything that says life and soul.