I'm going to a Christmas party this month that my (very recent) ex and his new girlfriend will also be at. What can I wear that I'll feel (and look) great in? Help!
Confidence is key. And what's the key to confidence, when everything inside you is wanting you to shut the door, throw away the key and avoid the awkward situation altogether? The perfect outfit. An outfit that you're not second-guessing, you feel completely yourself in and that you're comfortable wearing. As well as some great friends around you at the party. They're pretty amazing too. (Before we talk about those killer outfits, make sure you have at least one reliable plus one who'll be making you laugh and smile your way through the night!)
There's a fine balance between a head-turning outfit that people compliment you on versus an outfit that looks like you've tried too hard. It all boils down to how much the *outfit* compliments you. Not anyone else. This isn't necessarily the sexiest "revenge outfit" out there your friends might force you to wear (although there's nothing wrong with those if you feel amazing wearing it). This is the outfit you feel sexy in, because it feels right on you…
More on date looks:
Where do you start? I'd think about a high-low and smart-casual balance for this particular Christmas party outfit, in order to get that not-trying-too-hard edge. You can look at our favourite Christmas party outfits for inspo and ideas for what to wear to Christmas parties if sequins aren't your thing, but keep the formulas below in mind for looking like you have effortlessly thrown this look together for what to wear to see your ex.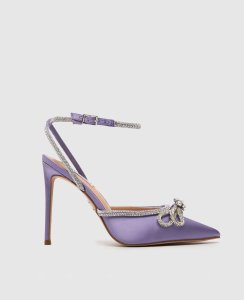 "Wear a big smile, work the room and shine through your personality!", "wear something you refrained from wearing when you were dating because he didn't like it. Add killer heels and a smile. Golden" – the comments section of our Eliza Instagram post is the place to be for that initial confidence boost. Then, when it comes to finding that perfect outfit for what to wear to see your ex, we've got your back. We've listened and gone searching on the high street for some of the best options out there.
Statement skirt + bodysuit
"The H&M rhinestone skirt with a black skims bodysuit" was one of my favourite suggestions from the @eliza.co.uk comments section, so to kick off my outfit ideas for what to wear when you're bumping into your ex at a party I've found you the best statement skirts on the high street and party season tops.
Wear your statement skirts or trousers with a sleek, but striking, top:
Bold trousers + top
If you're more of a trousers kind of gal than skirts, switch in some statement trousers instead. Keep your top sleek and simple to make sure the trousers really pop.
Stand out tops + jeans
Depending on the venue, if your Christmas meet up is more low-key than fancy, it's time for the jeans and a nice top formula for what to wear to see your ex. But, for a Christmas do, don't hold back from wearing a blouse or top that really stands out. Read our guide to Christmas party tops next or take a look at my favourites below.
Co-ords + trouser suits
I've been talking about co-ords and trouser suits all year and the choice for Christmas parties is on another level right now. Sequins, silks, jewel tones… co-ords for Christmas are *luxe*. I'm loving these co-ords from Never Fully Dressed – whether you're a barbiecore devotee or more of a minimalist – the soft fabric meets sparkle for a perfect smart casual balance that's perfect for when you're deciding on what to wear to see your ex.
Party dresses
Top of our trusty Eliza followers' suggestions for what to wear at a party with your ex were Reformation, Nola, and the Mango backless dress. The common theme? Figure-flattering dresses that are all about making your body look and feel amazing.
More on partywear:
Rent your outfit
Get the dress that you've always wanted…[from] one of the hire dress sites like hurr and rent one of their dresses like a Vampire's Wife dress or something designer you think looks really beautiful, maybe a dress you've always had an eye on.
If you've not tried fashion rental before, a Christmas party is the place to start, as you'll have the chance to wear something that's extra special. If there's ever an excuse to ditch the dupes and wear the real thing, this is it (even if it's just for one night). Your ex might not realise which designer the dress is from, but you can bet his new girlfriend will. Plus, no one will have seen you in the outfit before, so it's the chance to kick off a new chapter in unquestionable style.