Sorry not sorry, but Ugg boots are the greatest winter shoe of them all. There I said it. They get a bad rep, IMHO, because what's not to appreciate about a properly cosy boot? The sheepskin lining is at least an inch thick so they're unbelievably warm, even come snow. I've had my current pair for four winters and they still make me feel like I'm walking on clouds.
The classic Uggs that likely first spring to mind when you think of the brand are the most casual footwear option in my wardrobe, and I'm sure that's why they're given the side eye: where a pair of chunky Chelsea boots can feel smart when worn with the right outfit, and slick if they come in a black leather, Uggs (granted) don't have the same appeal. But if luxe comfort is your aim this autumn, they're a brand that should be on your radar.
The new It versions
You might have spotted the new platform styles dotted around your Insta feed, and for those already steering clear of the Ugg, this braid-trimmed Tasman pair complete with a giant sole might be enough to tip them over the edge. But for those in my camp, it's the wintry update that'll bring a fresh feel to our cosiest outfits. The ubiquitous classic mini style also comes in a platform shape for the new season, and they're the quickest way to bring your jeans-and-a-striped-knit combo up to date. That's if you can get hold of them, that is.  
Read more on fashion dupes:
How to shop for real Ugg boots
Rewind to a couple of years ago and getting hold of a pair of Uggs (let's say the classic mini in chestnut, for example), came as easily as stumbling on a white T-shirt in a store. Ugg has a ton of stockists (from Office and ASOS to Schuh and, of course, the Ugg brand itself), so there was always somewhere you could rely on to have your size in stock.
Fast-forward to autumn 2023 however, and you'd be lucky to get a back-in-stock alert after weeks of being signed up, such is the demand for the brand at the moment. I'd recommend heading to the under-the-radar stockists first (La Redoute and John Lewis, I'm looking at you). 
If you plump for the lighter colours (chestnut or grey), I'd recommend spritzing with a suede protector spray before their first wear. Uggs do come with a treatment already applied, but there's no harm in being extra cautious if you're splashing out on a pair. I always have a bottle of Crep Protect, £14.75 – works just as well on my Air Force 1s as it does Uggs – around, since rain and snow aren't an Uggs best friend thanks to the sheepskin and suede material.
When the real cold weather hits later in the year, you'll be grateful for a snuggly pair of Uggs – my feet have never felt so much as a chill when wearing mine.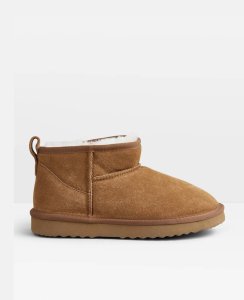 How to wear them now
When it comes to what to pair them with, comfort must prevail. Teaming your Uggs with a smart outfit will have your whole ensemble looking dated. Instead, go for slouchy loungewear vibes to look autumn/winter 2023 ready. I've taken to wearing my mini pair with a grey H&M tracksuit and my new faux-shearling Mango coat. I'll always throw on a ton of gold jewellery and a classic cap for a look that says, 'I'm about to catch a flight and just threw this on while the car was waiting.' 
I'd always recommend pairing with slouchy trousers to avoid any dreaded golf club connotations but if you'd rather wear a fitted bottom half, there's a solution for you. While tucking your skinny jeans into your Uggs is considered an old school pairing, leggings (which are equally slim fitting work well (confusing, I know). Be sure to balance your proportions: wear with thick sporty socks, an oversized sweatshirt and a tailored jacket or relaxed-fit biker. Just think of a relaxed cream knit co-ord with chestnut Uggs and a navy wool coat. Sumptuously chic.
Trousers aside, I'd say the colours in your look are another key to ensuring your Uggs look stylish. Firstly, I'd steer clear of the colourful styles like neon pink if 'chic and polished' is your aim, and instead stick to the neutral shades like navy, chocolate brown, chestnut, grey and black. You want your Uggs to look intentional, even though the overall outfit aim is effortless. Use the boot shade as one of the main colours in a tonal ensemble and you'll look pulled together no matter what. Since Uggs give off a casual air, aim to elevate them with relaxed luxe separates for a 2022 approach.
Where to buy dupes
If you're after a dupe of a pricey item, chances are you want it to look as close to the original as possible, thus elevating your wardrobe in the same way the OG version would. But in the case of Uggs, I'd argue the actual properties of the boot are far more important than how closely they favour the OG Ugg. After all, we've all seen those memes of sheepskin boots with soles so worn out they lean to the side, right? Finding a good quality pair is priority over a pair that are Ugg doppelgängers but will leave your socks wet on a snowy day. Always look at the materials and try them on before you commit.
How to style Ugg boots for the new season
Casual luxe
See what I mean about oversized separates? It just works. Especially with Molly's It platform Uggs, the style to know now.
A little bit dressy
Orlaith's high-low mix of a silky maxi skirt, cosy soft knit and sleek bag are the perfect unexpected partners to Tasman Uggs.
Smart casual
Lara's striped knit and leather trousers are a given a modern twist with those It Ugg boots. Take note!