If you're heading to Wimbledon this year and you aren't sure of the outfit vibe, we've got you. The weather can be variable (you'll be outside a lot of the time) and it gets busy, so it can be stressful worrying about what to wear to ensure you're comfortable and equipped for sun and rain.
Is there a Wimbledon dress code?
Now for the good news: there's no dress code at Wimbledon for spectators. You'll see outfits running the gamut from shorts, T-shirt and trainers to dresses and sleek tailoring with heels. I'd err on the side of smart-casual; think dresses and jumpsuits (you'll see a lot of neutrals and of course whites), preppy shirting and tailored trousers, but styled for comfort. There can be a lot of walking, even if you've got show court tickets, so I'd recommend trainers. Of course, if you're in hospitality, you might want to go for heels but I'd opt for wedges or a low heel rather than stilettos.
Wimbledon is also a breeding ground for celebrities so there's plenty of inspiration to help you figure out what works for you. To make things easier I've put together potential outfits that would be perfect for the championships, inspired by some of my favourite celebrity looks from recent years. The celebs are often in the swankiest areas and are likely getting cars everywhere. For us mere mortals, just swap out the heels for trusty flats. Also, check the weather and if rain's forecast, a lightweight trench will keep things chic.
Wimbledon 2023 outfit ideas to shop now:
1. A linen suit and sunnies
Rochelle Humes can do no wrong when it comes to her style. This year at Wimbledon, she sat court-side in a chic and understated brown linen suit with some statement accessories. And we're drooling over this look.
Thankfully, you can follow suit (excuse the pun) because the exact blazer and trousers she is wearing are from her very own collection with Next. The suit is a perfect choice for Wimbledon and you'll get a lot of wear out of it in the spring and summer months for years to come. It is made from a linen blend so it'll keep you cool while the sun is shining, but since the fabric has a velvety finish, it lacks the casual connotations that normally come with linen.
Copy Rochelle and style the suit with some skinny sunglasses, gold hoop earrings, a woven bag and some thong sandals.
2. A trench and slick separates
Outerwear doesn't have to be banished in the summer months. Actress Elle Fanning turned up to Wimbledon looking effortlessly cool in a floor-length trench coat over an all-white outfit. Without the trench, her look — a smart white shirt, trousers and neat trainers — is still Wimbledon-appropriate. But, the trench really ties it all together.
Worried about overheating? Opt for a linen cotton trench (like this one from Arket) and make sure your outfit can hold its own without the trench, just in case you fancy taking it off.
Pop on some cat eye sunnies (these ones look just like Elle's), and making this simple look a little more unique with a statement bag. Our budget doesn't quite stretch to Elle's Loewe bracelet bag, but this Bowls Bag from The Cambridge Satchel Company has a similar cylindrical shape and double the drama.
3. The jumpsuit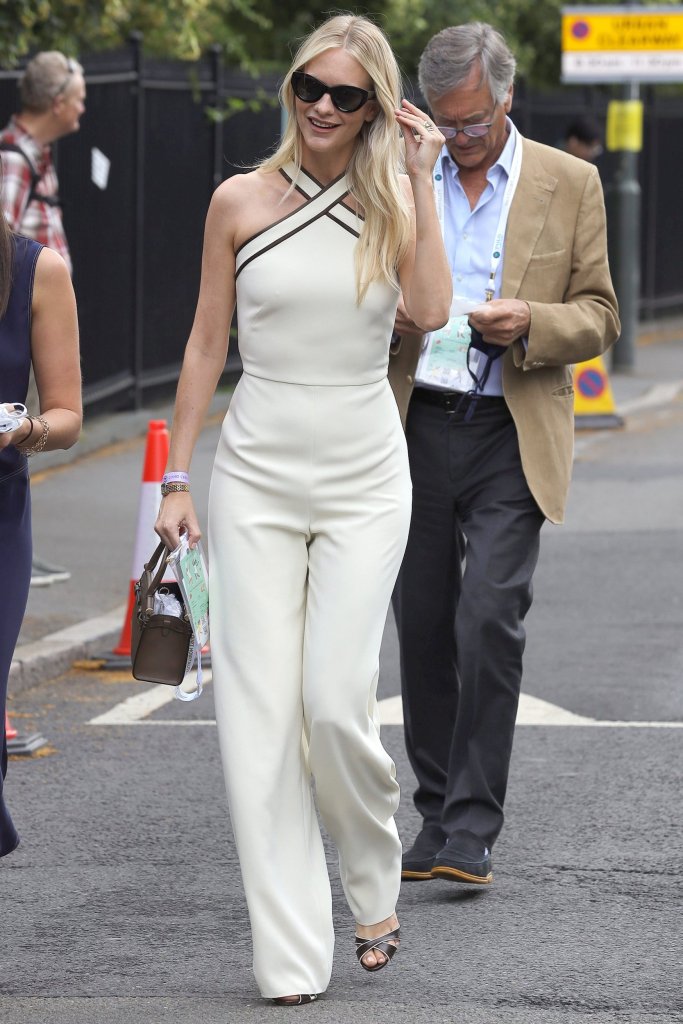 A jumpsuit is ideal when you're flustered about what to wear, offering you one piece of clothing to solve your dressing dilemma — no need to worry about matching your top to your bottoms. Sienna Miller, one of our biggest Wimbledon fashion inspirations, has worn plenty of jumpsuits to the sporting event over the years.
You've got three options when it comes to jumpsuit accessorising. The first one involves rocking a brightly coloured or printed jumpsuit with minimalistic accessories. The second? You guessed it, amping up the drama in the accessories department and keeping the jumpsuit itself fairly simplistic. Or, a potential third is to take the neutral, monochromatic or duotone route à la Poppy Delevingne in 2021.
Opt for fitted, tailored styles in fabrics like satin, silk or linen, as these will look the smartest. Loose styles and fabrics like denim, velvet or corduroy are great for summer, but they're too casual for Wimbledon.
4. The smart summer dress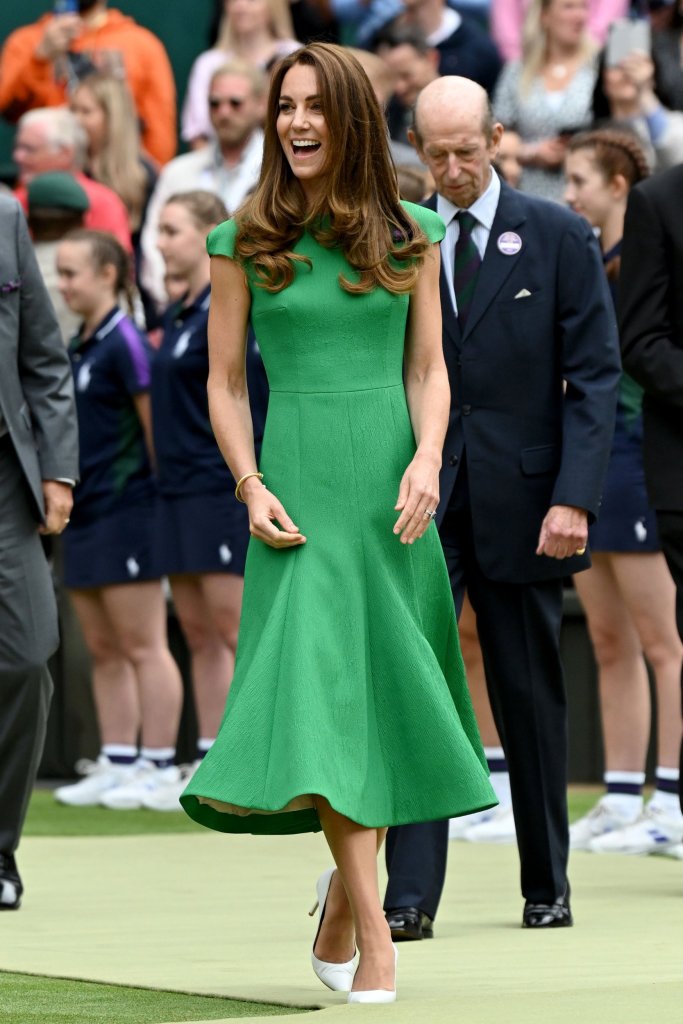 The Princess of Wales has become a style icon for millions of women over the years and since she's pretty much always in attendance at Wimbledon, she's a go-to source of fashion inspiration. Nine times out of ten you can bet she's wearing a riff on a super-sophisticated summery dress and heels.
This is a great option as it's so easy to put together; all you need to do is put one item on and the rest falls into place. And it still looks like you've spent hours getting ready. Green and purple are the colours we associate with Wimbledon so I loved this look of Kate's, which incorporated the green into her outfit. The shape is simple but incredibly flattering and the light-coloured accessories contrast nicely. Although this outfit is more formal – and probably makes less sense if you're just sitting on the grass outside – it's great if you do have your courtside seat booked.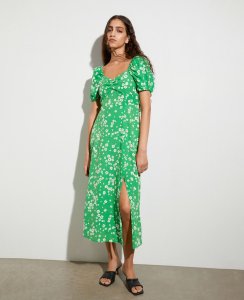 5. The boho dress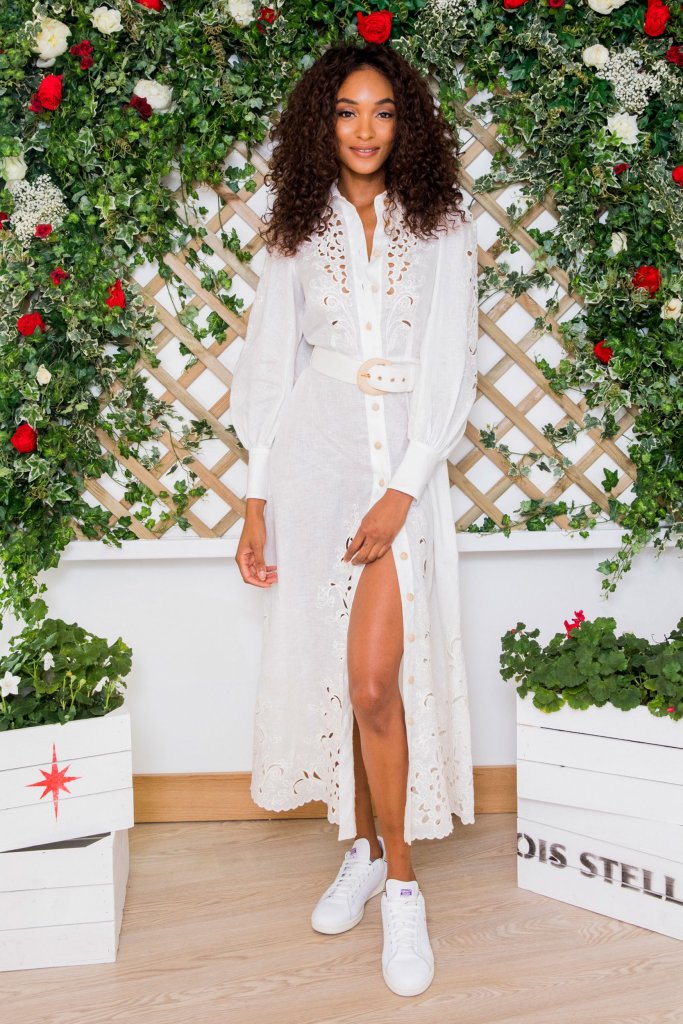 If you love a dress but, like me, prefer something a little more relaxed, then you could base your Wimbledon outfit around this stylish look that Jourdan Dunn sported. Sure, she's a supermodel but a white bohemian dress in the summer is a timeless look for any of us, and one I'd definitely go for to recreate this look.
The loose fit is great for the warm weather (one can hope) and while it's simple, it's by no means basic or boring.
Add as many accessories as you like with this look – jewellery, hat, sunglasses. My advice is to pair this with sleek white trainers and add a pop of colour by way of a bright bag.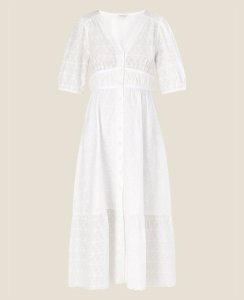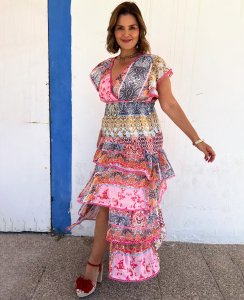 6. The smart separates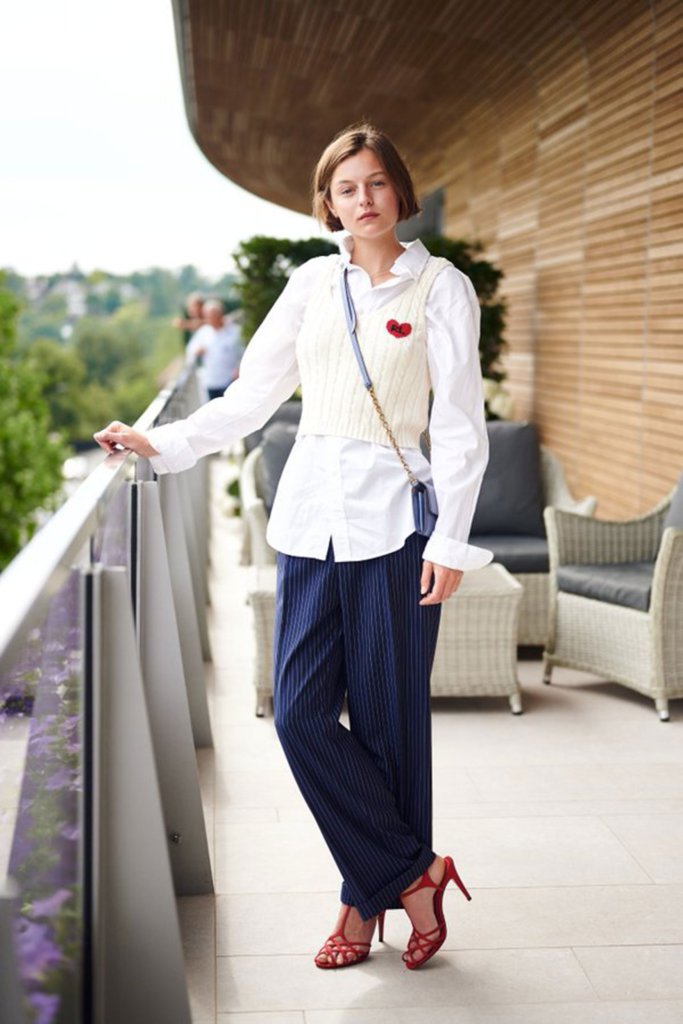 Actress Emma Corrin has become known for her androgynous approach to fashion, and I'm a big fan of this outfit she wore to Wimbledon in 2019. It incorporates the knitted vest trend which has been huge over the past year or so and this look is ideal if the day is looking a little grey. She's paired it with navy trousers – H&M has some of my favourites right now – the shapes are really interesting, and the high rise is great for accentuating your waist. Wear them with a simple shirt, and throw a cream or beige knitted vest over the top.
To keep it from looking a little too 'grandpa vibes', add a pop of colour with your accessories. I think this outfit would look great with red accessories like Emma chose or go for classic white for a fresh feel.
7. The summer suit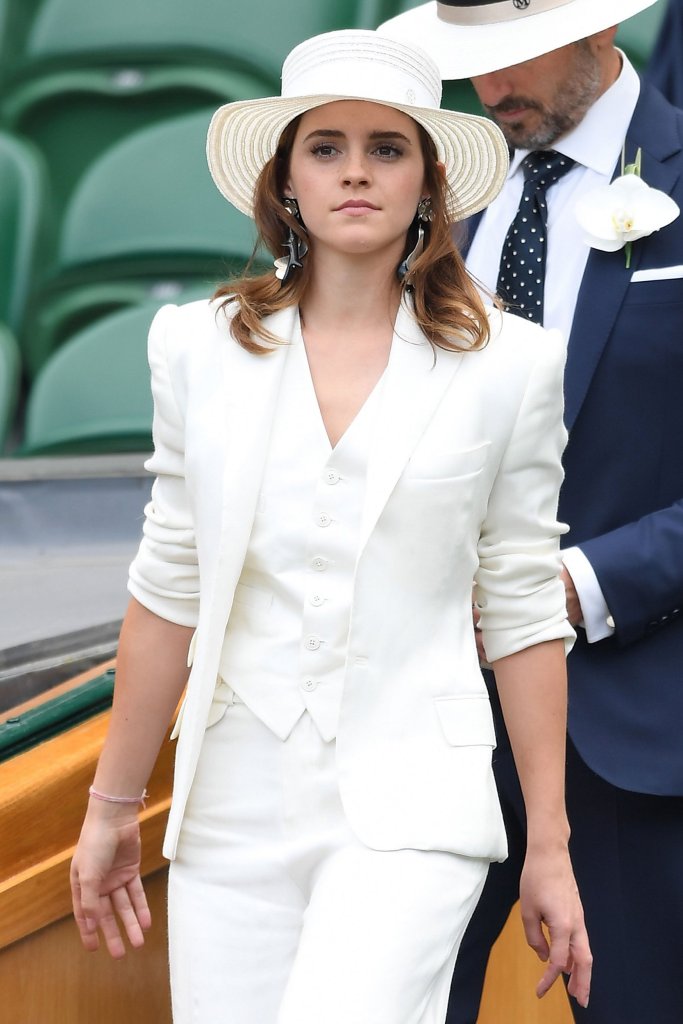 You might associate suits with being more formal but they're actually incredibly versatile. As Wimbledon can be both a more casual, fun affair (definitely the case if you're heading for Henman Hill/Murray Mount) or something more glamorous, a suit is always a great option as you can dress it up or down depending on where you're going.
Emma Watson and Sienna Miller have both opted for this look in previous years and they're definitely on my moodboard this summer. I've combined Emma and Sienna's outfits and chosen cream trousers and a double-breasted blazer. You could wear a thin cami underneath or nothing at all – it's totally up to you. Shoe-wise, I'd suggest simple black heels (like this iconic Aquazurra pair loved by the Princess of Wales and The Duchess of Sussex, or a similar style from ASOS) or mules since there's a lot of walking involved at Wimbledon, the latter of which will add a sleek edge.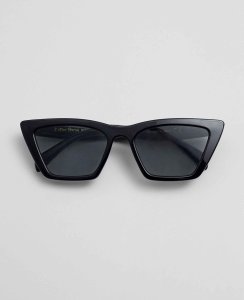 8. The smart-casual look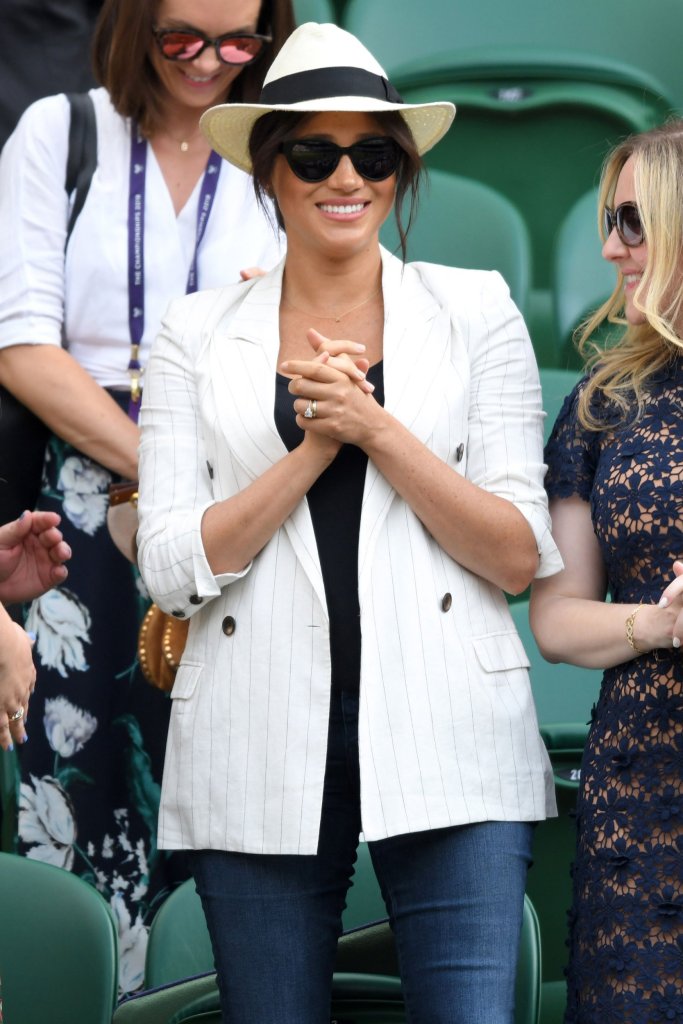 As we've established, the royals are always a source of style inspiration and with that said it's hard to not look to one of Meghan Markle's previous Wimbledon outfits for ideas. She's nailed the more casual look on several occasions – usually picking a chic shirt or top with some simple trousers for that effortlessly put-together feel. This outfit from 2019 is a great example.
To replicate, pick some straight leg jeans – Weekday always do great ones: I love their denim as it's good quality and reasonably-priced. The hat and the blazer are the main statements here so go for a basic tank top underneath. A tailored blazer would look great on top, and elevates a more casual look, while a boxier one feels more relaxed. Finally, finish it off with some strappy sandals and the perfect summery straw hat.